Growing up we occasionally had pancakes or waffles for breakfast. I confess I don't remember exactly what brand of syrup we used (Aunt Jemima looks familiar to me, though, when I see her at the grocery store), but I know it was a great treat to pour out that yummy, sweet brown liquid. A recent report from Consumer Reports about the caramel coloring used in table syrup has left me sad and nostalgic about those mornings. Turns out that the coloring in table syrup and soft drinks contains something called 4-Mel, a potential carcinogen. In fairness, some brands contain more than others and you would have to consume quite a bit of them to be considered at risk. But start your day with some pancakes and then drink a couple of colas and that might add up to bad news. I got to thinking about those mornings back in the seventies when Mom made us pancakes. I wish I could see the ingredient list on the syrup she put on the table. Maybe I am being naive, but I believe manufacturers back then used more "real" stuff in their products. I know I have talked about the chemicals that are in so many processed foods today, but it still astounds me when I read ingredient lists. Google Log Cabin ingredients and take a look. Corn syrup, liquid sugar, water and salt are the first four things listed. Then there are flavorings, preservatives and something called sodium mexaphetaphosphate, followed by caramel coloring. Make sure you don't call this maple syrup since there is no maple in it!
Americans, more and more, demand food that is cheap and convenient and manufacturers oblige. Mass food producers figured out that science can provide cheaper ingredients than Mother Nature. Right now there are people working on making chemicals that taste like strawberries or cheddar cheese or maple or basil, etc.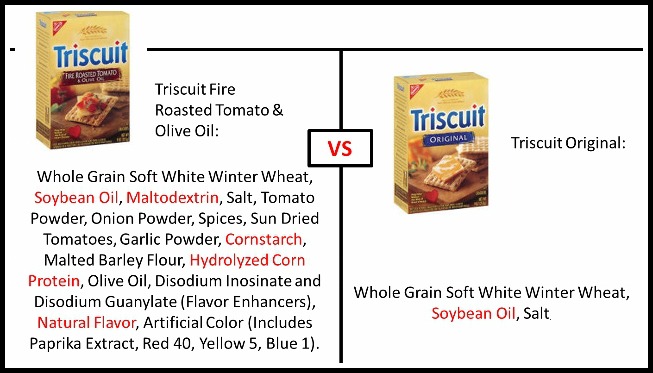 These are then added to processed foods and they appear on the supermarket stores with great fanfare. When I walk down the snack aisle I am amazed at all the choices. Guacamole Doritos! Asiago Wheat Thins! Honey Mustard pretzels! Then I read what goes into these products and I reach for the ones that are unflavored. Triscuits are my go-to cracker because they have only three ingredients: whole wheat, oil and salt. As soon as they make a flavored option the list becomes more than twice as long and is full of words I cannot pronounce. I have decided that if I want Parmesan Triscuits, I will buy the original and use real Parmesan cheese to top it! Going back to syrup, I buy real maple syrup, one ingredient, no coloring. The down side is the cost. But I cannot put a price on our health. I will go without before spending money on products that could potentially cause health problems. Besides, with high deductible health plans, that will cost more in the long run, but that is a whole other topic!
So let's make something real! Put down the box of crackers and make some bread sticks that you can use as a side for soup, dip or just to eat! There is something soothing and rewarding about working with dough. I keep thinking I need to buy a stand mixer, but kneading dough and then baking homemade bread is my way of getting in touch with my pioneer spirit. Ok, that sounds a bit hokey, but you have to admit, the smell of fresh baked bread cannot be beat! And that first slice, warm out of the oven is pretty close to nirvana! This recipe uses only ingredients you can pronounce. It does need time to chill (minimum one hour), so start early or the day before. It makes a lot, but you can freeze them once they are baked, just like bread.
Sesame Twists
makes 30, 85 calories each. (For total nutritional info, follow link above)
Ingredients:
1 1/2 cups whole wheat flour (I use Bob's Redmill)
1 1/2 cups all purpose flour (I use Bob's Redmill)
2 Tbsp sugar
1 1/2 Tbsp baking powder
1 1/2 tsp salt + more for sprinkling on top (optional)
1 stick unsalted butter cut into small pieces (I use real butter from the Pittsford Dairy)
1 1/2 cups lowfat buttermilk (if you don't have any, google replacements for buttermilk)
1/4 sesame seeds (you could use poppy if you prefer)
Combine flours, sugar, baking powder and salt. Rub butter into flour mixture with fingertips until mixture resembles coarse meal. Stir in buttermilk and wrap dough in plastic and chill for one hour or overnight.
Preheat oven to 425. Spray two baking sheets with non-stick spray, or use parchment.
Place dough on well floured surface and roll out into a 15"X15" square. Brush with water and sprinkle with sesame seeds and salt (if using). Cut square in half and cut each half into 15, 3/4-inch thick strips. Twist each strip twice and place on baking sheet, pressing ends lightly to lay flat and prevent untwisting. Bake 15 minutes or until edges are golden brown.
Enjoy!