Last year was tough for me. Between coping with my parent's health and taking over their finances and daily concerns I experienced a huge increase in my stress levels. When this happens I tend to forget to eat or I grab a quick apple or granola bar to get me to the next crisis. As a result I drop pounds. Unfortunately, this is not a healthy way to lose weight. Now that my family has reached a stable balance, I have found the weight has crept back on because I justified a lot of "cheats" by saying I had deprived myself for a long time.
I know that sounds crazy because so many people think I am this super-healthy, clean-eating, non-stop exerciser. But in reality, I am a human who likes to eat and enjoys sitting and reading a book or doing a jigsaw puzzle. And I don't mean eating only lettuce or sitting for twenty minutes. Donuts have a place in my life as does losing myself for hours in a book or puzzle.
I do not weigh myself on a regular basis. When my clothes start feeling tight and I start waking up with sugar hang-overs (they feel like an alcohol hang-over without the alcohol), I know I have to reevaluate my eating. I often hear people say they gain weight because they do not exercise enough. Anyone who has been reading this blog for a while knows I will tell you that you cannot exercise away what you put in your mouth. Most people underestimate how many calories they burn during a workout as well how many calories are in the food they eat. If your main goal of exercising is to lose weight, you need to rethink that, especially if you do not have an eating plan to go along with the workout. That is where I get tripped up. And I know I need to get back on track with my eating. That means finding the balance that works for me.

Finding that balance is a very personal activity. No one knows you better than yourself. If you know you cannot have any sweets in the house because you will binge, then get rid of the sweets! If you can moderate your indulgences, then be mindful and in control of what you are eating. You have the power to be your best self. Studies have shown that getting support from friends and family will help as well. I love my days that I work out with a small group of women. We all encourage each other to give it our all. At home I ask my husband to dole out any decadent treats and I stick to what he gives me. I've got some work to do, but I will get back to a comfortable weight for me. It will be a balancing act, one that works for me.
What is your balance?
This week's recipe is a great dish to take to a picnic. You can make it in advance and let the flavors develop. You can serve it on a bed of lettuce to get even more veggies or as is. It is great at room temperature or chilled.
Ramen Noodle Salad with Peanut Dressing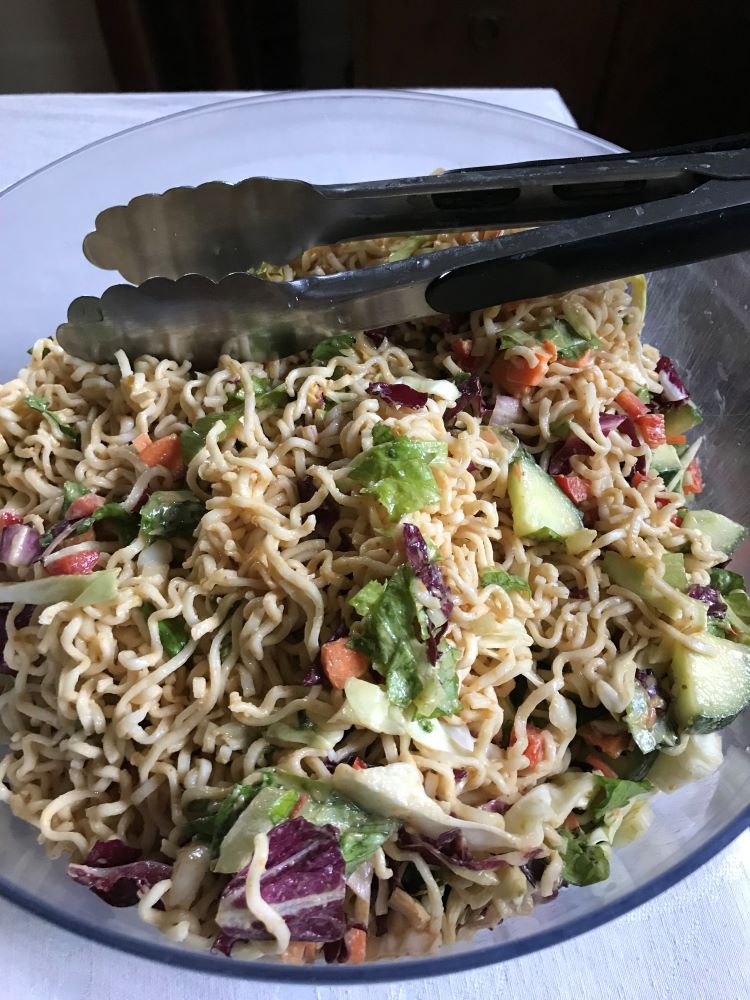 Dressing:
3 tablespoons no-salt, natural peanut butter
3 tablespoons honey
1 tablespoon amino acids (or low salt soy sauce or tamari)
1 tablespoon white miso paste
2 teaspoons sesame oil
1/2 teaspoon toasted sesame oil
2 tablespoons rice vinegar
2 teaspoons sriracha sauce (or favorite hot sauce)
juice of one small lime
Salad:
2 packages curly noodles (I use Asian Gourmet brand)
2 large carrots, julienned
1/2 head cabbage, sliced (feel free to use packaged coleslaw mix)
Small head radicchio, sliced
1 english cucumber, diced
2 green onions, sliced
2 large celery stalks, including leafy tops, diced
Dry roasted, unsalted peanuts for serving
To make dressing, mix all ingredients in food processor or blender. If it is too thick, add small amount of water or extra vinegar until desired consistency. Should be pourable, but not watery. Taste and add more aminos or hot sauce if desired.

Cook noodles according to package and rinse with cold water until cool.

Meanwhile, in a large bowl, mix rest of salad ingredients except for peanuts. Toss with half of dressing.

Toss cooled noodles with rest of dressing.

To serve, place dressed vegetables in a large bowl or divide among individual plates. Top with noodles and peanuts.

Enjoy!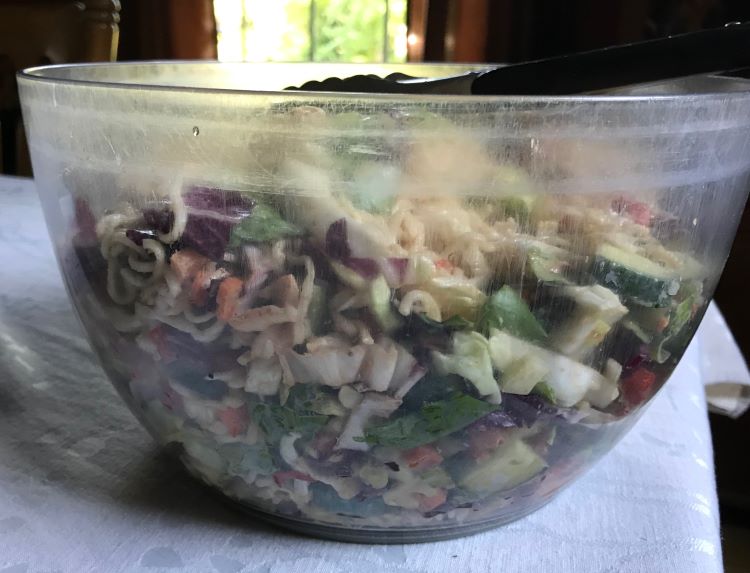 I apologize for the cloudy bowl. Yes, that is my well-used salad spinner! I wanted you to see all the veggies under the noodles!