I can't believe this is my 15th posting! The time has really flown by! I would like to thank everyone who has sent positive comments and who continue to read my blogs. I have written in a journal for most of my life and have even toyed around with some novel and short story ideas, but this is the first time I have written in a public forum and it is a bit scary. I hope I have been able to give you some encouragement if you are contemplating your work out routine as well as providing some new ways of thinking about the food you eat. I would love to hear any questions, comments or suggestions. You can email me through my website or by replying to my email. Also, if you read my blogs through Facebook, you can make a comment and I will see it. Here is a shameless plug: if you are on Facebook have you liked The Task Tamer? You can follow the link I put on this page in the upper right corner. Thank you!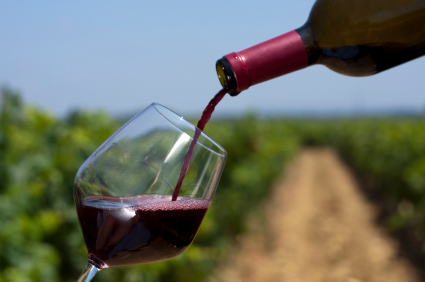 I did something this weekend that I have never done before: tailgate! Yep! We went to a concert with our neighbors and we set up our chairs and table right in the parking lot and relaxed before heading in to see the Goo Goo Dolls. Now some of you might have visions of cheap beer and pizza and hot dogs and Oreos. Not us! We opened a great bottle of Pinot Noir and served up Compte and Jarlsberg cheeses on top of crackers imported from Norway. Then to top it off I brought homemade coconut almond cookies. Then we headed in and sat in VIP seating and had a great time. We even made earplugs look good! Well, at least we like to think we did. I don't think I will be able to go to another concert unless we can do the same thing!
Of course the next morning I was feeling a bit sluggish due to the mishmash of foods so I decided to shake up my workout. What was I thinking! I am sore! I love it! I know that sounds a bit crazy, but when my muscles are aching that means I worked them in a new way and that is good for them. In a few weeks I will change it up again. It doesn't take much to work your muscles in a new way. It could be as simple as changing your grip on a barbell or doing backward lunges instead of forward. Or it could be a whole new routine like interval training or a new yoga class. If you are sore at first, that is positive sign and a good measuring stick for the future. When your muscles get used to the new routine it is time to mix it up again.
I want to share an article that I read recently and found very encouraging. It revolves around myths that go around regarding how to lose weight. It was so heartening to read that you don't have to work out for hours everyday or that you don't have to make dramatic diet changes. It is titled 4 Healthy Ways to Lose Weight. Remember, it isn't just about losing weight, though. It is about being healthy and committing to a lifestyle that will keep us going strong for many years to come.
This week I am sharing one of my new favorite recipes for the cookies I mentioned earlier. I have made these so many times in the past few weeks I have lost count. They are the easiest recipe ever and so good. I have brought them everywhere we have been invited and I am always asked to share the recipe. So here it is! I found this in a book called Powerful Plant Based Super Foods by Lauri Boone. (She is a member at Cobblestone Creek and you can find a copy of the book behind the fitness desk.) The coconut in this is the super food and they are gluten free. As with any sweet, they should be enjoyed in moderation.
Vanilla Almond Coconut Cookies
Recipe from Powerful Plant Based Super Foods
1 c finely ground almond meal (I usually just grind almonds in an old coffee mill to make my flour)
1 c dried, unsweetened finely shredded coconut
1/4 tsp salt
1/4 c agave syrup (I have used maple syrup as well)
1/4 c coconut oil
1 vanilla bean scraped or 1 tsp pure vanilla extract
1/2 tsp almond extract
Preheat oven to 325. Line a cookie sheet with parchment paper (may need two cookie sheets)
In medium bowl stir almond meal, shredded coconut and salt. In another bowl, beat syrup and oil with an electric mixer on medium speed. Beat in vanilla and almond. Gradually add flour mixture, beating on low.
Place small, rounded scoops-about 2 teaspoons each-onto baking sheets. Bake for 18-20 minutes, until tops begin to turn light golden brown. (My oven baked them in about 10 minutes so keep an eye on them!). They will be soft to the touch.
Remove from oven and let stand on cookie sheets for a minute and then transfer to cooling racks. They will firm up as they cool.
Enjoy!