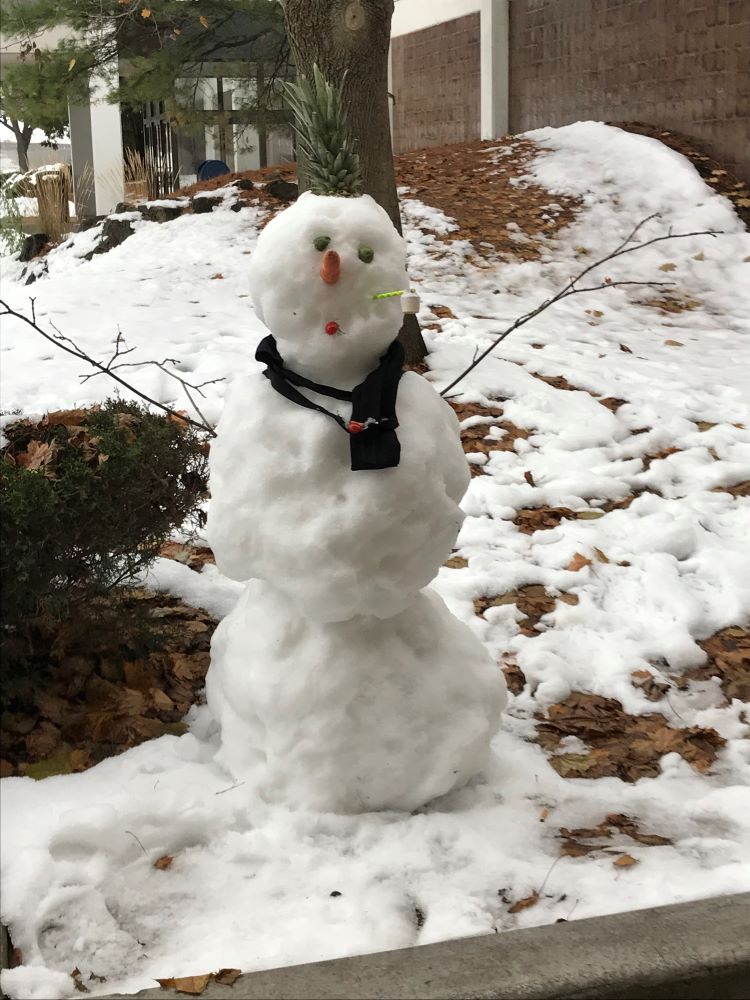 Saw this guy outside the mall and he made me smile!
And we are off! The holiday season is in full swing! I hope you had a great Thanksgiving. It seems this time of year is when we all struggle to avoid overeating. So many parties, office treats, cookie exchanges, etc., can lead to overindulging and, for many, guilt along with weight gain. This week I am not going to write a long post because I am busy just like everyone else, but I do want to take a moment to assure you that common sense and a few extra treats will not be detrimental.
We recently watched a news report on how some people adhere to a rigid, calorie restriction diet in the belief it will lead to a longer more healthful life. I am glad it works for them, but I know I could never live my life always weighing, measuring and tracking everything I eat. No matter what the long term benefits are, I would not enjoy each day if I had to concentrate on each bite I put in my mouth. If I listen to my body and stop eating when I am full I know I will get through the holidays okay. That is what works for me. Of course there will be salads, meals, sides, desserts and snacks, consisting of foods I don't eat very often. And that is okay. Again, I will stop when I am full. I will continue my workouts and walks. And I will not beat myself up for enjoying holiday foods. I do not have to eat every cutout cookie in sight because they will be available next year again!
My point this week is I have a plan and strategy that works for me. What is yours?
This week's recipe came about after I saw a recipe for Smoky Greens and Beans on Toast. I decided I needed to make it but I did not have any cooking greens nor did I want to use bacon. Below is my vegan version.
Smoky Sprouts, Shiitakes and Beans on Toast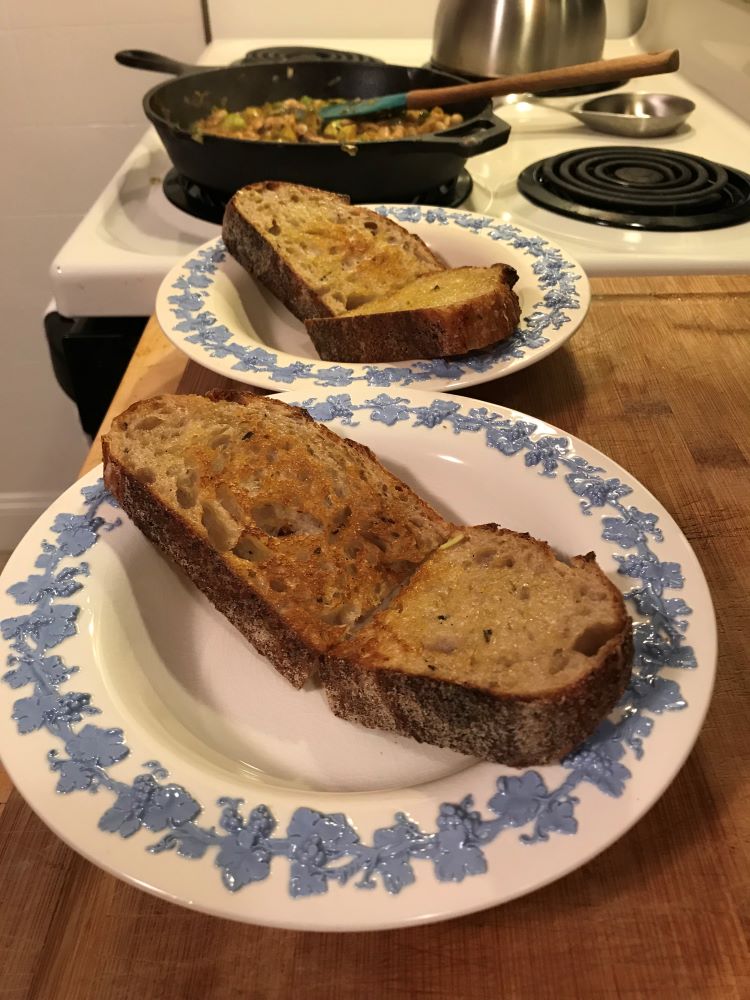 Ingredients:
Two slices hearty, rustic bread (I used Polenta and Rosemary Sourdough from Amazing Grains)
Olive oil for toasting and sautéing
8 oz package shiitake mushrooms, stemmed, cleaned and sliced
1/2 teaspoon smoked paprika
1/2 teaspoon amino acids (or soy or tamari sauce)
1 tablespoon vegan butter
2 leeks, cleaned and sliced
1 cup Brussels sprouts, cleaned and sliced
1 1/2 cups vegetable broth
1 can white beans, rinsed and drained
Toasted Onions for topping (optional)
Directions:
Preheat a large sauté pan, preferably cast iron. Brush both sides of bread slices with olive oil and toast in hot pan, about 90 seconds per side.

Remove bread and lightly coat bottom of same pan with olive oil. Add shiitakes and sauté until juices are released, about 5 minutes. Add smoked paprika and amino acids and continue to sauté until mushrooms start to
brown and get crisp. Remove to a small bowl.

Add butter to pan to melt and then add leeks and sprouts. Sauté until soft. Continue to cook until they start to brown. Use a splash of vegetable broth to deglaze the pan, scraping up any stuck on bits of vegetables. Add remaining broth, beans and mushrooms. Cook until starting to bubble and everything is nice and hot. Add salt if desired.

Place bread slices in bowls and top with spout and mushroom mix

(you may have left overs). Sprinkle toasted onions on top.

Enjoy!