"Eat everything on your plate because there are children starving in Africa!" Did anyone else's mother use that line at dinner while growing up? How clever we thought we were when we would come back with "Let's send them this food!" Moms everywhere have been trying to get their children to eat their vegetables and other healthy food and kids have been resisting for a long time. Unfortunately the result is often that we grow up hating certain foods because our mothers forced us to eat them and so we just declared them yucky! Now, as an adult, I will avoid some foods because I think I don't like them when in reality it is simply because Mom made me eat them. When I get around to actually trying them I am surprised at how good they are and I feel a bit guilty for giving Mom such a hard time!
The first time this occurred was in college and I was at a special dinner. Funny, I can't remember what the dinner was for but I remember what was on the menu: asparagus. The people I was eating with were thrilled! I decided to see why and took a bite. WOW! It was delicious! I couldn't believe it. Since then I have tried to make up for all those years of "hating" it by eating tons of it. When spring comes around I literally salivate for the fresh asparagus I know will be at the market. My favorite way to prepare it is to roast it with a little olive oil and salt.
Next came brussel sprouts. Is there a nastier food out there? At least that is what I used to think until about 15 years ago. I was at dinner at a local restaurant and the vegetable of the day was those awful sprouts. Our server raved about them and my dining partner decided to try them. I told him he was on his own. They came out on their own plate and were all caramelized and blackened just right. I was shocked because I thought brussel sprouts were always boiled and mushy. So I worked up my nerve and tried a bite. I don't think my date got the plate back! Yummo! Now I buy them at the market, still on the stalk, and cut them off before roasting them with a little olive oil and salt.
More recently I got turned on to parsnips. Mom used to try to pass them off as potatoes but one bite was all it took to realize she was fooling! So last year a friend at the gym was talking about how yummy they are. I was skeptical but when we were out to dinner and the entree I wanted came with whipped parsnips, I decided to try them. Yowsa! Who knew how sweet and delicious they were! My favorite way to prepare them is to roast them with a little olive oil and salt.
Seeing a pattern? I love roasting vegetables. Pretty much all vegetables. I buy them at the market, clean them, cut them up and roast them. Beans, carrots, onions, peppers, potatoes, broccoli, cauliflower, mushrooms, etc. I love to read recipes and see other ways of preparing them, but when it comes down to it, I love roasted vegetables so I cook them that way. If you have children to feed I suggest trying this method as it tends to bring out a natural sweetness in vegetables and kids love that. My sister cannot keep enough broccoli and cauliflower in her house because her daughters eat so much when she roasts them. Plus it is super easy! I do not own a microwave, but I cannot live without my toaster oven. I can roast enough vegetables for our dinner while I am making the main course (which is sometimes a grain with roasted vegetables!).
Now there are still some things I will not eat. Please do not ever offer me beets. I cannot tolerate them. Believe me, I have tried. I know there are some of you who are saying "she hasn't had them the way I make them!" but I know they will never be a food I like. They taste like dirt to me! The same goes for beet greens and anything in that family like kale and chard. We all have a food we don't like and that is ok. Keep an open mind, though, and try the foods your mom made you eat. You might find a new favorite.
This week's recipe is a variation of escarole and beans and Caesar Salad. It calls for hard boiled eggs, so make them up in advance and the meal comes together quickly. I have also used Romaine lettuce with good results. You can add 2 teaspoons of anchovy paste to the dressing if you prefer a more traditional flavor. You can also add croutons to the salad.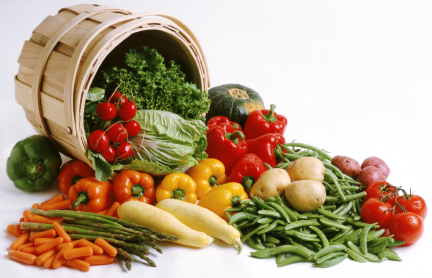 Grilled Escarole Caesar Salad with White Beans
Modified from Rachael Ray
1 large or 2 small heads escarole, outer leaves removed
Worcestershire sauce to taste
1 clove garlic grated or minced
Juice of one lemon
1/4 to 1/3 c Extra Virgin Olive Oil (EVOO)
Handful of grated Romano cheese

Fresh ground pepper to taste
Olive oil cooking spray
2 hard boiled eggs, chopped
1 can cannellini beans, drained and rinsed
Preheat outdoor grill or a cast iron grill pan

Fill sink with water and swish head(s) of escarole to clean. Halve the head(s) and dry well

In a shallow bowl combine garlic, worcestershire and lemon juice. Whisk in EVOO until dressing comes together. Add cheese and pepper.

Coat escarole with cooking spray and grill, turning once until wilted and grill marks appear.

Divide the escarole up between 4 plates and drizzle with dressing and top with egg and beans. Alternatively you can chop the escarole and toss everything together.

Enjoy!