Today in Rochester is a very rainy, dreary day. I find it hard to get motivated to do anything on days like this, including writing this post. My solution is to get somewhere to work that makes me happy. I am writing this while sitting in the mall. The lights are bright, music is playing, I am facing a cozy fire and Starbucks is a one minute walk away. People are walking by and smiling and I have a bottle of water and a homemade granola bar to keep me fueled. (If you go to the Rochester Public Market, Philomena's makes awesome bars. I particularly like the pineapple coconut ones). Most importantly, I can focus on writing instead of the laundry that needs folding, the bills that need paying, the filing I need to do and the various other chores that need attention.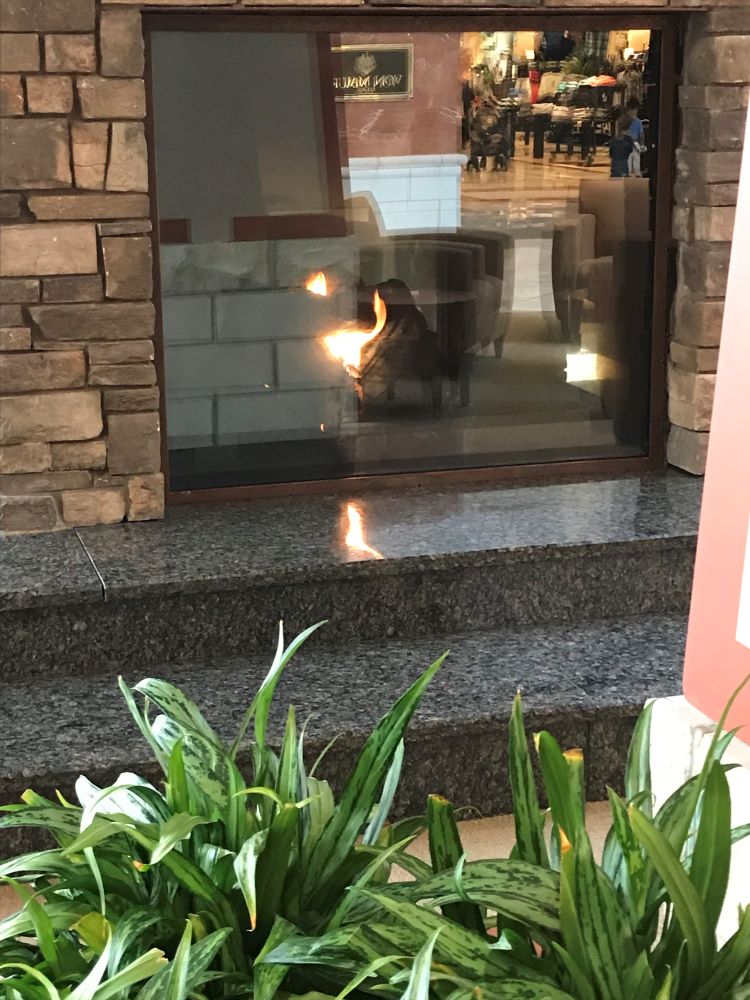 My view while writing
The mall is a great place for me to hibernate. I often come to read a book, undisturbed. I frequently walk with a friend, like we did today due to the awful weather. Many people don't realize how early the doors open. Just because the stores aren't open does not mean the mall is closed. It is the perfect place for us to meet to get in our miles (one lap is one mile, we do three) and catch up with each other. It can be therapy, both physical and mental.
When I mention how much I use the mall I get different reactions from people. One time we were driving by the mall with a friend and the comment was made along the lines of when was the last time we were in the mall. The connotation was it was beneath them to patronize the mall. I spoke up and said that very morning I had been there. Some backtracking was made but I am not ashamed to say I am a frequent user of our mall. Right now I am watching two mothers socialize with each other as their children play together and an older gentleman is making a great audience as he smiles at them and claps at their accomplishments. In other words, I am watching happy people and that makes me happy.
The older we get the better we are at standing up for ourselves and our choices. I know myself and focusing on writing was not going to happen at home today, so I took myself somewhere it would. We are faced with many choices each day. We often know the right path, but it is sometimes hard to choose it because we are more comfortable going in a different direction or not doing anything at all. "Never miss a Monday" workout can be a hard choice, especially on a rainy, cold morning, but I made it happen. Often the hardest part is simply showing up. The bottom line is don't be afraid to do whatever you need to feel productive and satisfied. My choices are not the answer for everyone, but they work for me. To steal a line from some comedian, get 'er done!
And now I can do a little shopping 😊.
This week's recipe is a treat. I love anything labeled cake batter. When I found this recipe for vegan donuts with that name, you bet I had to make them! This recipe makes 6 donuts. I usually double it to make a dozen.
Vegan Cake Batter Baked Donuts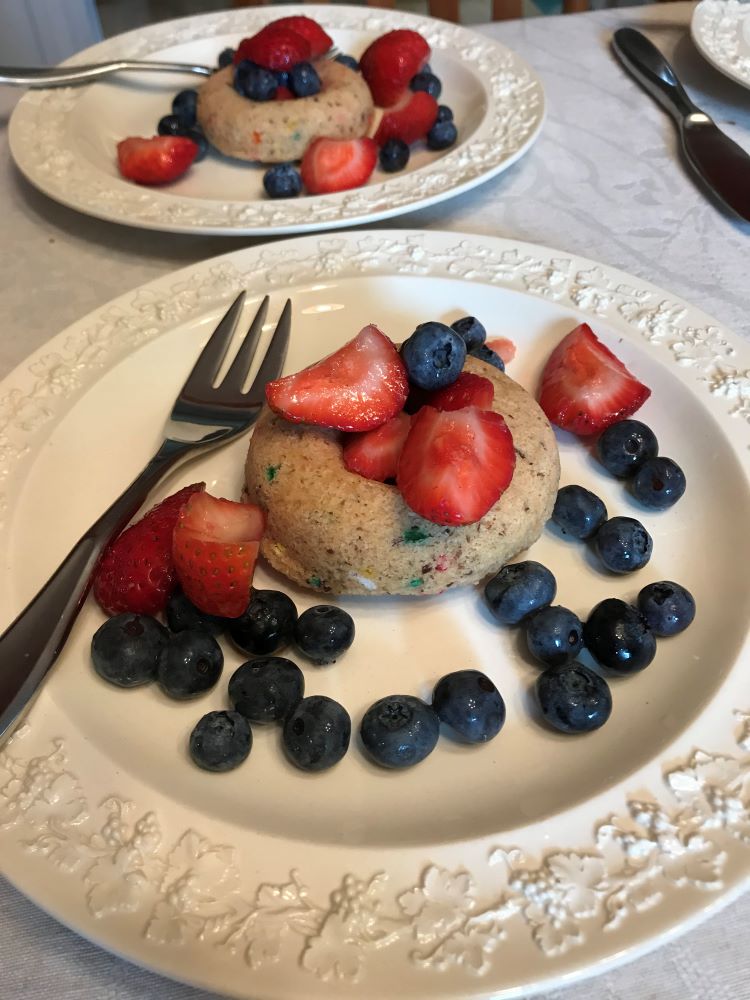 Recipe from One Green Planet
Ingredients:
1 level cup white-whole wheat flour
2/3 cup milk of choice (almond, coconut, soy… don't use rice milk for this recipe)
1/3 cup, plus 1 tablespoon sugar or evaporated cane juice
1/2 teaspoon apple-cider vinegar
1 1/2 teaspoons egg replacer powder
1 1/2 teaspoons baking powder
3 tablespoons oil or pre-melted vegan butter
1/2 teaspoon vanilla extract
1/4 teaspoon salt (if using oil, add a tiny pinch more salt)
1/4 cup rainbow sprinkles
Directions
Preheat oven to 350°F. Spray a donut pan with non-stick spray.

Combine flour, sugar, egg replacer powder and baking powder in medium bowl.

In a separate, medium bowl, combine milk, oil and vanilla. Add vinegar and immediately pour wet ingredients into dry, mixing until moistened. Add sprinkles and stir through but do not over mix.

Spoon batter into a pastry bag or a large zip-loc bag. If using zip-loc, snip a corner off, large enough for batter to be squeezed through, but small enough to control where batter goes. Squeeze batter into individual parts of prepared donut pan.

Bake for 12 minutes.

You can frost these or serve as is. Enjoy!