I have a new favorite saying: four months from now you will be glad you started today (thank you Kick It Up Personal Training). What do you want to get accomplished? Eat healthier? Work out? Train for a challenge? Get organized? Catch up on work/correspondence/cleaning etc? Start today! Imagine how much better you will feel in January if you get going right now on your goal. It probably won't take much. Just a half hour to get jumpstarted and you are on your way.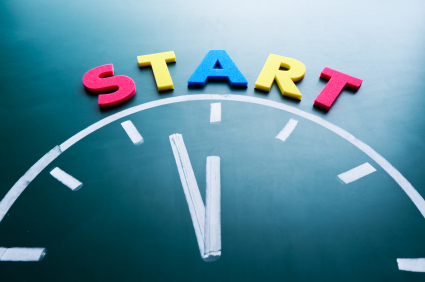 I have had many people ask me recently how I lost the weight I did. The simple answer is I got started. I was unhappy with myself and it showed in my attitude, lack of motivation and on the scale. I talked a good talk, but when it came down to it, I was not walking the walk (sorry for the bad metaphors). I knew to lose weight I needed to burn more calories than I consumed. That is no secret and I believe every person who wants to lose weight knows this. The hard part is putting it into practice. A friend and I were talking yesterday and we agreed that it is all about changing your mindset. Only you can do that and if you want something badly enough you will make it happen. Why not start today?
If losing weight is your goal go to your kitchen right now and look in your cupboards and refrigerator. If you see a lot of processed snacks, sweets, and other prepared foods, you will need to get rid of them (and I don't mean by eating them). Make your local food cupboard happy and then go to the supermarket. Recent studies have shown that simple things encourage people to buy more vegetables and fruits. For example, dividing your cart in half and making sure one half is filled up in the produce department. My favorite trick is the supermarket that put mirrors in the carts so when customers looked in they saw their reflection. This actually got people to chose healthier foods. Can you look yourself in the eye as you put the bag of Chips Ahoy in your cart?
No matter what your goal is, get started! My personal goal is going to be to read more. If you know me you know I love books! The mountain of books I have to read and the long list of books I would like to read never seem to get smaller. That is because I waste too much time on the computer and it is usually doing silly things like watching cat videos or playing games. Today I am going to dedicate myself to reading more. I'll let you know how it goes!
Today's recipe is easy and makes a great dish to serve if you have company. You can prepare it and then bake it while you catch up with friends. (Or sneak in another chapter in a book.) The recipe says it makes 8 servings that have 180 calories, 4.3 g fat, 5.9 g dietary fiber and 285 mg of sodium each. Serve with a salad and your meal is complete!
Baked Artichoke and Pepper Polenta
from New Vegetarian Cuisine by Linda Rosensweig
1 box (9 oz) frozen artichoke hearts, thawed
1 cup spinach, coarsely chopped
1 cup chopped roasted red peppers
1/4 cup chopped fresh flat-leaf parsley
1 Tbsp olive oil
2 tsp dried basil (or 1 Tbsp chopped fresh)
6 cups water
2 garlic cloves, minced
1/4 tsp freshly ground black pepper
2 cups polenta or coarse yellow corn meal (I use Bob's Red Mill Whole grain Corn Meal)
5 Tbsp grated Asiago cheese, divided (or parmesan)
1 cup chunky tomato sauce
Combine first six ingredients in a medium bowl and set aside.

Preheat oven to 350. Prepare a 9" X 13" baking dish with cooking spray.

In a 3-quart saucepan over high heat, bring water, garlic and pepper to a boil. Slowly whisk in polenta, stirring constantly. It will bubble a lot! Be careful not to get splashed! Turn heat to low and continue stirring until mixture is simmering nicely. Let it cook for 10 minutes, until thick and creamy, stirring frequently. Mix in 4 Tbsp of Asiago.

Spread half the polenta in the bottom of the prepared dish. Top with tomato sauce and artichoke mixture. Carefully spoon rest of polenta on top and sprinkle with remaining Asiago.

Bake 30 to 35 minutes until polenta is golden and bubbly. Let stand 5 minutes before serving.

Enjoy!