Last week I went to the dentist and had a conversation with the dental hygienist (well, she did most of the talking). When she found out I like to cook she asked if I use recipes or just make it up as I go. I explained that I use recipes as a guide line and tend to turn them into my own by subbing, adding or subtracting ingredients that suit our taste. She prefers to just create as she cooks.
I admit that I will read a cookbook like it is a novel! I love reading recipes. They are where I get my inspiration for many of the dishes I make. My husband is always commenting about how he loves the dinners I make but he knows the chances of getting the same dish again are pretty small. Because I look for recipes constantly I am always making new things. I know people who are just the opposite. They have a bunch of tried and true things to cook and can make them with their eyes closed. I also know people who have to follow a recipe to the letter. Usually it is because they are not comfortable in the kitchen and need strict guidelines. No one way is right or wrong. There are positives and negatives for each system. I am constantly trying new dishes but quickly forget how to make a dish. Those who rely on dependable meals might fall into a rut but will be able to put a good dinner on the table without a problem. If you need to stick to a recipe you might find you make a lot of similar dishes but they will always turn out great. Which kind of cook are you?
I sometimes get asked where I get my ideas. Recipes are everywhere! I subscribe to three cooking magazines: Vegetarian Times, Eating Well and Everyday with Rachael Ray. I also signed up for emails that send a recipe every week from Whole Foods, Vegetarian Times and the Humane Society. I have a ton of cook books that are chock full of great ides. And of course there is the internet. As I read a recipe I am constantly changing it in my mind. The first change for us is subbing in a protein for any meat that is listed. Then I think about the vegetables I have on hand and figure out how to make them work if I don't have what the recipe calls for. Lastly, if an ingredient is something I just don't like, I think about what I can sub or if the recipe would be okay without an ingredient. Last week I wanted to make a stir fry and simply googled the ingredients I had with the words "stir fry recipe" and I got thousands of hits. One was for beef and cabbage in an orange peanut sauce. The sauce was perfect but I used tofu in place of the beef. I also added shredded carrots and garlic scapes to the ingredients. I served it over brown rice and topped it with some toasted coconut and fresh cilantro (an idea from another recipe). I knew it was good when we both went back for seconds!
Funny story: the hygienist told me when she goes grocery shopping she checks out other people's carts to get ideas! I always thought people were being nosy when they eyed my cart!
I hope that the recipes I include in this blog encourage you to try new dishes. When I write each one out I am always thinking of ways you can change it to suit your preferences. This week's recipe is a perfect example of how I read what I thought was a pretty straight forward recipe for quiche and then saw a step I had never tried before. It called for mustard that was brushed directly onto the crust of the quiche. I took that idea and created my own recipe using the vegetables I had on hand. It was delicious! I actually might be making this again!
Zucchini and Portobello Quiche
Ingredients:
1 medium zucchini, sliced into thin rounds
2 tablespoons olive oil, divided
3 small to medium sized portobello mushroom, washed, gills removed and sliced thin
1/4 cup chopped garlic scapes (or two cloves garlic, chopped)
1/3 cup chopped, fresh parsley
3 eggs, lightly beaten
2 green onions, sliced
Salt and pepper to taste
1/2 cup + 1/4 cup shredded mozzarella, divided
2 teaspoons whole grain mustard (I used Trader Joe's)
1 prepared whole wheat pie crust
1/4 cup grated parmesan cheese
Directions:
Preheat oven to 400 degrees
Place the zucchini slices in a large colander and sprinkle generously with salt. Place in sink or over large bowl and let sit while preparing the mushrooms.
Warm 1 tablespoon of olive oil in large skillet over medium heat. Saute mushrooms until all their juices are released and evaporated, 5-10 minutes. Add chopped garlic and saute until you smell the garlic and the mushrooms are starting to brown, about 3-5 minutes. Remove from heat and place in a bowl. Return pan to heat.
Warm the remaining tablespoon of oil. Pat the zucchini dry and add to pan. Saute until juices evaporate and zucchini starts to brown, 5-10 minutes. Remove from heat.
Meanwhile, whisk together the eggs, parsley, green onions, 1/2 cup mozzarella and salt and pepper in a medium bowl. Brush the mustard over the bottom of the whole wheat crust.
Arrange the mushrooms over the bottom of the crust. Arrange the zucchini over the mushrooms, reserving 10-15 slices for the top. Pour the egg mixture over the mushrooms and zucchini. Sprinkle remaining 1/4 cup mozzarella over the top and arrange the reserved zucchini slices over the cheese. Sprinkle parmesan over the top.
Place quiche in oven (you may want to put it on an old cookie sheet to prevent any messes in the bottom of the oven). Bake for 50 minutes, until eggs are set and cooked through. Keep an eye on it, as you may need to cover it with foil for the last ten minutes to prevent the top and crust from burning.
Remove from oven and let sit 10 minutes to allow the quiche to set.
Enjoy!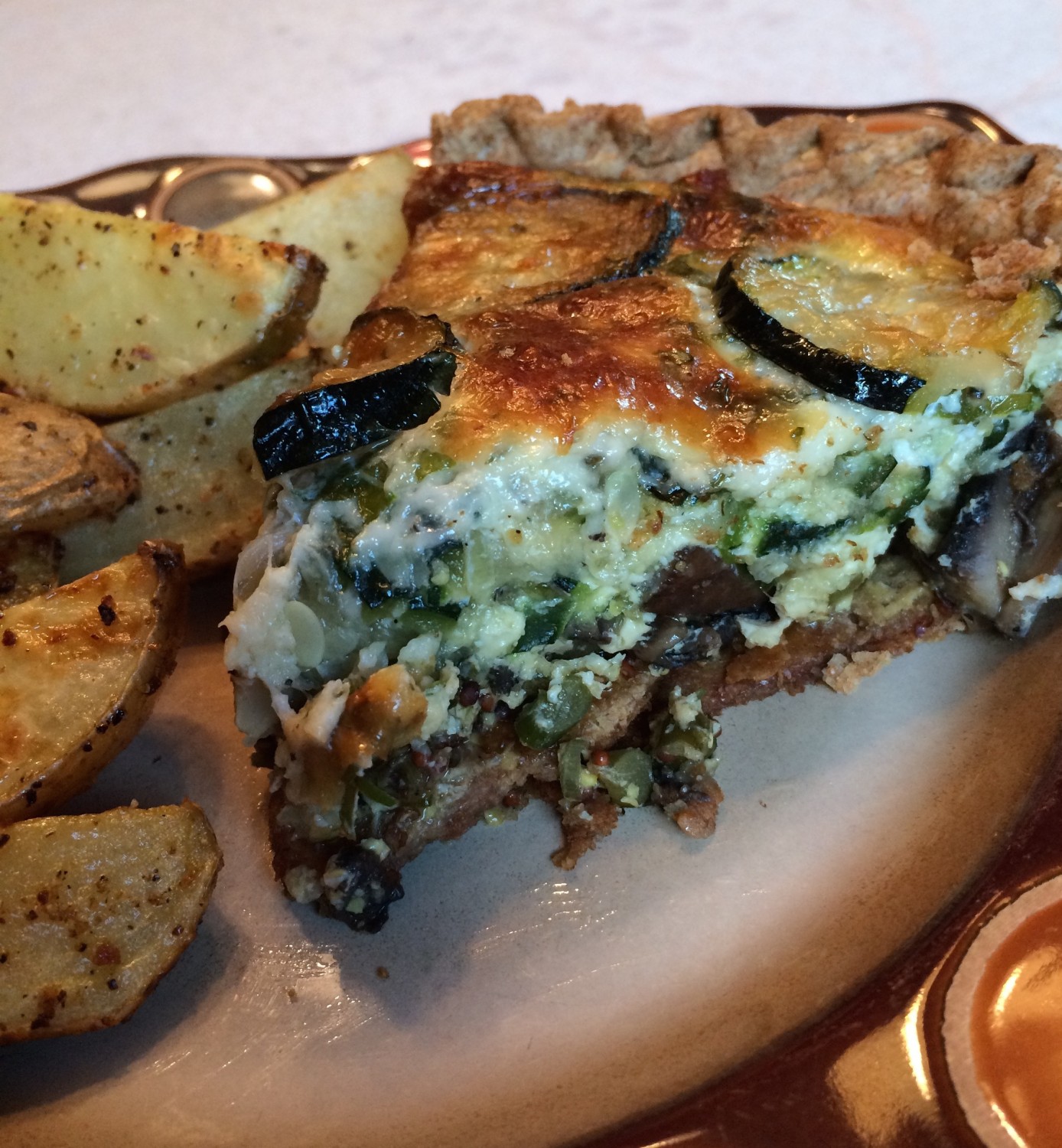 Served with lemon pepper roasted potatoes
Bonus Recipe: My new favorite obsession: Cucumber Infused Water! Peel half a cucumber, slice, add to a large pitcher and fill with water. Place in fridge for a couple hours to chill. Delicious! I can literally drink the whole pitcher in one afternoon.