We all know people who are difficult to be around. Many years ago I read The Celestine Prophecy. I still remember the part that talks about sharing energy with others. The author calls people who leave you feeling exhausted, hoovers, as in the vacuum. They suck your energy like a vacuum sucks up dirt. If we could see the flow of energy in this situation, it would all flow towards that person. Ideally, we want energy to be intermingled, a sharing of ideas, thoughts and feelings. I know this sounds a bit esoteric, but I am sure you know people who are hard to be around because they take so much effort on your part.
There are times we do not have a lot of choice about who we have to spend time with, such as in a working environment, classroom, public event, etc. However, if you try your best to surround yourself with people who are positive, encouraging and supportive, you might find it easier to face tough challenges. When you have a friend you can call or meet with to give you the boost you need to face whatever task lies ahead or who will provide an ear and a shoulder to listen and cry on or give you a thumbs up when you need encouragement, you know that is someone you need in your life. Some people make these connections easily and have many friends to provide this support. I am someone who has a small handful of very close friends, and that is enough for me. Of course it works both ways. You should not be a hoover, sucking all the energy from your friends when you need it and not providing any in return.
After last week's post about getting busy living, a friend sent me this text: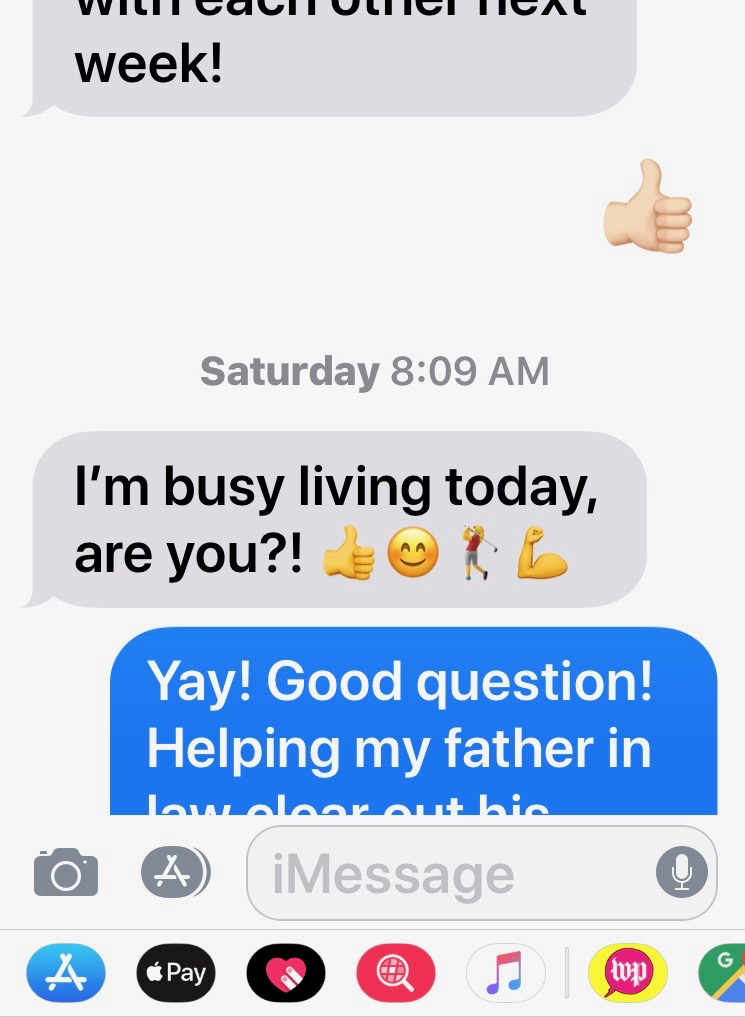 It was a wonderful reminder from out of the blue and it put a smile on my face! This is the kind of person I want in my life! This is also the kind of person I would like to be. We are all works in progress, and I hope I will continue to learn how to be a good friend.
This week's recipe is great for hot weather. It is chock full of vegetables. Of course you can pick all your favorites! The original recipe does not specify any time for marinading, but I used the sauce as a marinade and let the tofu sit in the fridge for a few hours.
Tofu Poke Salad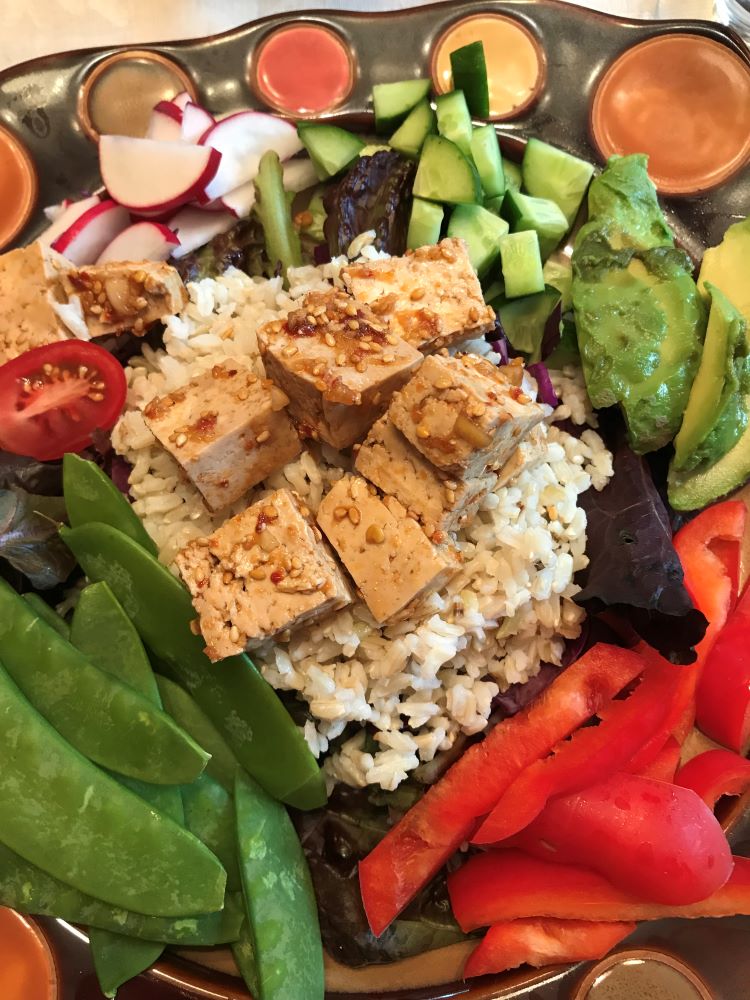 based on a recipe from Eating Well
Poke ingredients:
1 pound extra firm tofu
1/2 cup minced shallots or thinly sliced scallion greens
1/4 cup amino acids (or low sodium soy sauce or tamari)
1 1/2 tablespoons mirin
1/2 tablespoons toasted sesame oil
1 tablespoon peanut oil (if you prefer more toasted sesame flavor, use more of that and less peanut oil)
1 tablespoon toasted sesame seeds
1 teaspoon sriracha sauce (or more to taste)
Salad ingredients:
Anything you have and like! Use lettuce or rice or noodles as a base, or a combination. Arrange cut veggies around base. Top with nuts or toasted onion if desired.
Directions:
Place tofu in a press or wrap in a clean dish towel, place on a cookie sheet, top with another cookie sheet and balance heavy cans on top (I have used cans of tomatoes, boxes of soup and cans of beans).

Whisk the rest of the ingredients together.

Once tofu is well drained, cut into bite size cubes.

Add tofu to a zip-loc bag and add enough sauce to coat the tofu. You will be using the sauce as dressing, so save enough for the salad, at least 2 tablespoons. Allow to marinate in fridge for 2-8 hours.

Assemble salads topping with tofu. Drizzle extra sauce over each dish.

Enjoy!