It is hard not to notice that every business seems to have jumped on the pumpkin band wagon. It used to be reserved for Thanksgiving but now you can get pumpkin spice flavored coffee, tea, candy, cookies, breakfast bars, snacks, gum, nuts…heck, if you type in pumpkin spice on Amazon you get 103 pages of options! I love it for a weird reason: I hate pumpkin spiced anything!
When dessert comes out on Thanksgiving it is easy for me to decline because I truly dislike pumpkin pie. I have tried it on occasion to see if my taste has changed but it hasn't. The texture, the crust, the spices, the flavor..there really isn't anything I like about pumpkin pie. I have tried breaking it down and using the components in other ways. Pumpkin is very good for you so I have made pumpkin soup and I have mixed it into macaroni and cheese. The results were fine but I did not care for the food. The combination of the spices leaves me less than thrilled as well. I love cinnamon, nutmeg, allspice, ginger and cloves, separately. I have tried recipes that call for the combination, such as cookies and stuffed squash, but, again, I did not enjoy the result.
So why am I so happy that everywhere I go I am surrounded by pumpkin flavored everything? Because it is easy to resist! I can pass up the seasonal cookies, cakes, cappuccinos, donuts, biscotti, etc. without feeling a twinge of envy. I know the best way for me to avoid chowing down on food that is bad for me is to avoid having it in the house. Going grocery shopping or meeting a friend for coffee or walking by a bakery can be a serious test of will power, but not if the main offerings are something I don't like. Combine this with my continued boycott of chocolate (you don't want to hear that story again!) and this time of year isn't so bad for me and desserts. Unless there are snickerdoodles around! Or sugar cookies! Or cobbler! Or Key Lime Pie! Darn! I guess I better not stop practicing self control!
What about you? Never met a dessert you didn't like? Do you have any strategies to avoid over indulging? If you are out and dessert is too tempting, try sharing with your dinner companions. Or ask the server to box up half before it gets brought out (you can conveniently forget the box). Or have a few bites and then cover the rest with salt or pepper or ketchup. Or order some coffee and ask for a little cinnamon or nutmeg to sprinkle in so it tastes indulgent. Or order a flavored tea, such as vanilla or berry. If you have other ideas, please share!
Take a look at the below picture and see if you can guess what I made with the ingredients shown: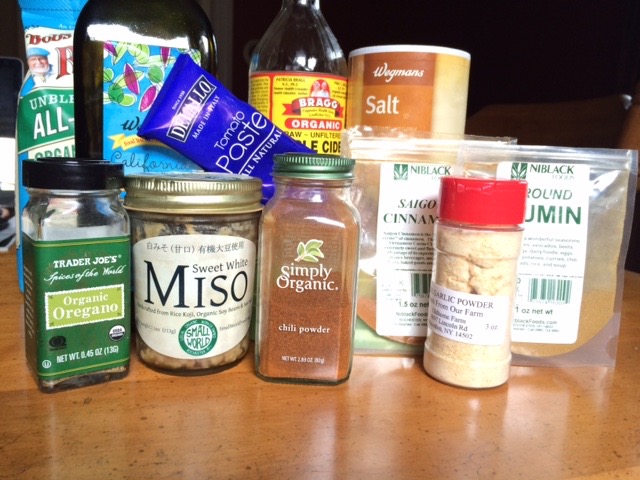 Did you guess enchilada sauce? I don't think I would have! I love Mexican food and enchiladas are a nice alternative to tacos or over stuffed burritos. I hate buying the canned sauce though, because it is full of ingredients I don't know such as hydrolyzed soy and coloring. This particular recipe calls for a lot of ingredients, but you probably already have them all and it is easy to make. I used it in an enchilada casserole (think lasagna but made with tortillas). You can use your favorite fillings and roll them in corn tortillas and place in an oven proof dish and cover them with this sauce and bake. Or stir it into macaroni and cheese or a soup to give a Mexican flair.
Homemade Red Enchilada Sauce
Recipe from cookie+kate
3 tablespoons olive oil
3 tablespoons whole wheat or all-purpose flour
2 teaspoons ground chili powder
1 teaspoon cumin
½ teaspoon garlic powder
¼ teaspoon dried oregano
¼ teaspoon salt
⅛ teaspoon ground cinnamon
2 tablespoons tomato paste
2 cups vegetable broth (I make mine with miso)
1 teaspoon apple cider vinegar or distilled white vinegar
Freshly ground black pepper, to taste
Before you make the sauce, measure the flour and spices into a small bowl and place your tomato paste near the stove.
In a medium-sized pot over medium heat, warm the oil until shimmering (it should be warm enough that the spices sizzle on contact). Pour in the flour and spice mixture. While stirring constantly with a whisk, cook until fragrant and slightly deepened in color, about 1 minute. Whisk the tomato paste into the mixture, then slowly pour in the broth while whisking constantly to remove any lumps.
Bring the mixture to a simmer, then reduce heat as necessary to maintain a gentle simmer, whisking often, for about five minutes, until the sauce has thickened a bit (The sauce will further thicken as it cools.) Remove from heat, then whisk in the vinegar and season to taste with a generous amount of freshly ground black pepper.
Enjoy!