The last couple of weeks my Mondays have not gone according to plan. I woke thinking about what I needed to do for the day, and it usually included writing a blog post. As each day went along, though, those plans changed. As I mentioned a couple of weeks ago, my husband suggested we watch a movie and I readily agreed. Granted, it only took a few hours of the day to watch, but it was the time I had set aside to write, so I postponed to the next day. Then, last week a spur of the moment decision to play hooky with my sister came up, and I went with that instead of writing. It was a wonderful day! We started by having lunch together, then we decided we needed to go shopping which was then followed up by enjoying a beer together and catching up with an old friend of ours. I would not trade that time with her for anything.
Too often we can get caught up in all the stuff we think we need to do and miss the opportunities to connect with family and friends. I started my business to try and help people cross off those tasks they feel are taking time away from taking advantage of those impromptu occasions that make life enjoyable. As the holiday season gets into full swing, I encourage everyone to be on the look out for the chance to play hooky. Do so without guilt, because chores will always be there. Time and experiences with people you love may not.
As I mentioned, I started my business as a way to help people do the tasks they feel need to be done but take time away from other priorities, such as family or relaxation or pastimes. Please consider giving me a call if you find the holidays are stressing you out and you need someone to help. I can go shopping, wrap, help with sending cards, research the perfect gifts, offer advice on small get togethers, and in general, tame your tasks!
This week's recipe is perfect for this time of year and can serve as a side or main dish. I served it with a flatbread pizza topped with a sprinkle of parmesan and roasted tomatoes. I have also made it substituting sweet potatoes for the squash. It would be great served over pasta or a grain of your choice.
Cannellini Beans and Squash over Spinach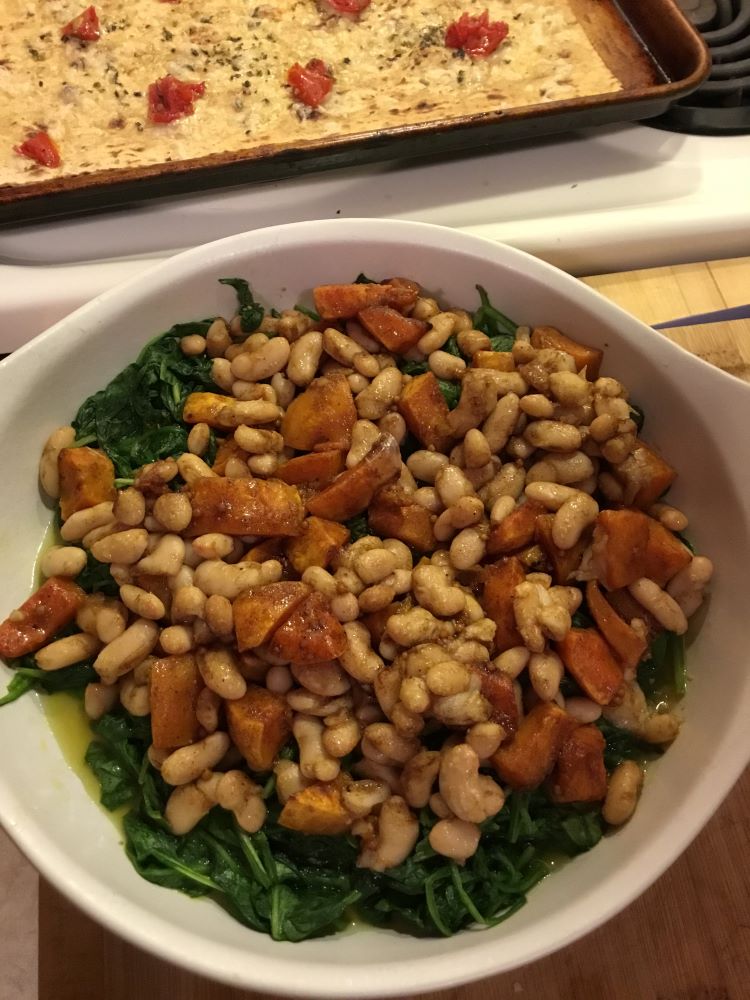 Ingredients:
1 medium butternut or 2 small honeynut squash, peeled, deseeded and cubed (or pre-cubed squash from supermarket)
1 bulb garlic
3 tablespoons + 1 teaspoon olive oil
2 tablespoons balsamic vinegar
1 teaspoon favorite mustard
1 lb. fresh spinach
2 cans cannellini beans, drained and rinsed
1 teaspoon Italian spice blend (or your favorite spice or blend)
Salt and pepper to taste
Directions:
Heat oven to 425 and line a baking sheet with parchment paper. Toss squash with 1 tablespoon olive oil and spread on parchment (do not crowd to avoid steaming squash rather than roasting. If necessary, use two baking sheets). Slice top 1/8 of garlic bulb (want just the top of cloves showing), place on piece of foil, drizzle a little olive oil over and wrap in foil. Place on baking sheet with squash. Roast 30-40 minutes, stirring once or twice, until squash is browned and garlic is soft. Remove from oven and allow to cool. Turn oven down to 350.

Whisk 2 tablespoons olive oil, balsamic and mustard in a small dish. Add salt and pepper to taste.

Heat remaining teaspoon of olive oil in a large skillet or dutch oven. Add spinach and stir with tongs until wilted. You may want to drain excess water if serving as a side, or leave as is if serving over pasta.

In a large bowl, squeeze roasted garlic cloves out of skin and mash. Add beans, squash and dressing. Stir well.

Place spinach in bottom of oven proof dish. Top with bean and squash mixture. Place back in oven for 15 minutes or until heated through. If desired, serve topped with grated parmesan, toasted bread crumbs, french fried onions, roasted nuts, etc.

Enjoy!