Every Saturday morning I get up and go to the Rochester Public Market. Even in the winter. When I tell people this they always ask me what I buy this time of year. Many people think our public market is only a place to buy fresh vegetables and fruit. Most don't realize you can also get baked goods (including bread), coffee beans, cheeses, eggs, herbs, spices, fish and meats, pasta, pierogies, dried beans, grains, oils, vinegars, honey, miso, kimchi, and teas. Of course there are fruits and veggies as well. Any local produce that is available is what can be placed in cold storage or grown in hot houses. Think apples, potatoes, squash, cabbage, garlic, pears, carrots, lettuce, fresh herbs, etc. Other products, such as mushrooms, grapes, oranges, limes, lemons, bananas, celery, etc., are brought in from warmer climates and sold much cheaper than at the supermarket. All this abundance makes it worth my while to go every Saturday.
This time of year is especially interesting because vendors are often selling items they don't carry during the warmer months. Recently one of the men I buy from asked if I had tried his tea. I looked down and saw what looked like twigs, not tea leaves:
I trusted him, though, and tried some delicious tea! I ended up buying those twigs and have been enjoying the tea at home, sweetened with some honey I bought from another vendor. Yet another seller grows beans and dries them and has a gorgeous display of green split peas, black beans, red beans, cranberry beans, white chick peas and many more. The best part about this is how fresh they are. While I still soak them, they cook in a lot less time and I can get 2 pounds of beans for less than $3. I also get a chance to talk to vendors at length. I discovered Job's Tears a few weeks ago and used it in this week's recipe. I asked the vendor about it and based on his information, I decided to buy it, something I otherwise might have passed over because I was unfamiliar with the grain.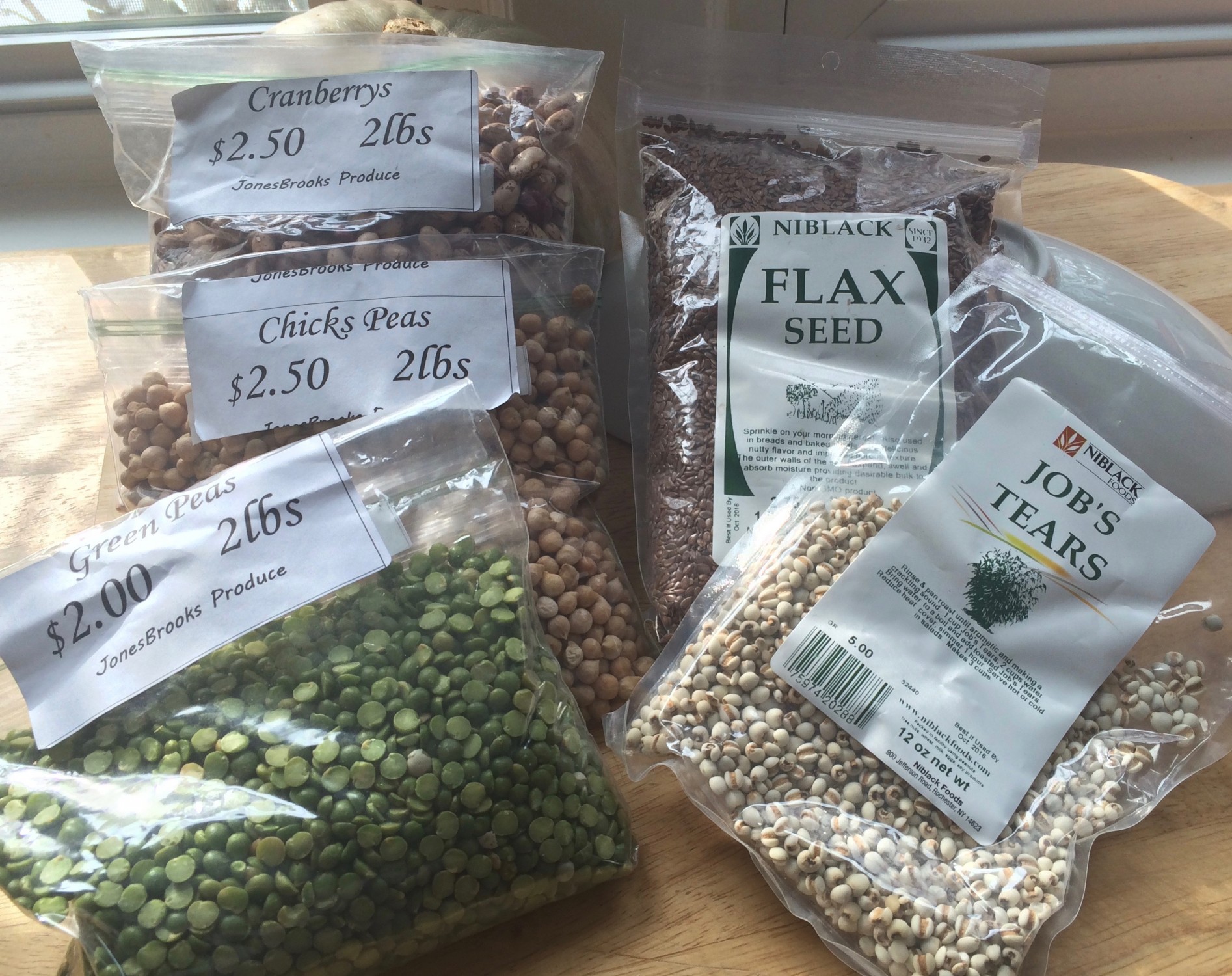 I notice other vendors get a chance to provide different products. One baker usually only has sweets and pastries during the summer, but now I can get flatbreads and loaves of bread. I love it when they tell me there are no preservatives so I need to eat it quickly, refrigerate it or freeze it. Having flatbreads in the freezer means I can get a quick dinner on the table by making pizzas.
My message this week is if there is a market near you, bundle up and go visit the vendors. You might discover something new to try, or, at the very least, you will be helping the local economy.
Here is one more incentive to go: this month's issue of Rachael Ray's magazine had an article titled "Stock a Healthy Pantry" and it included this checklist: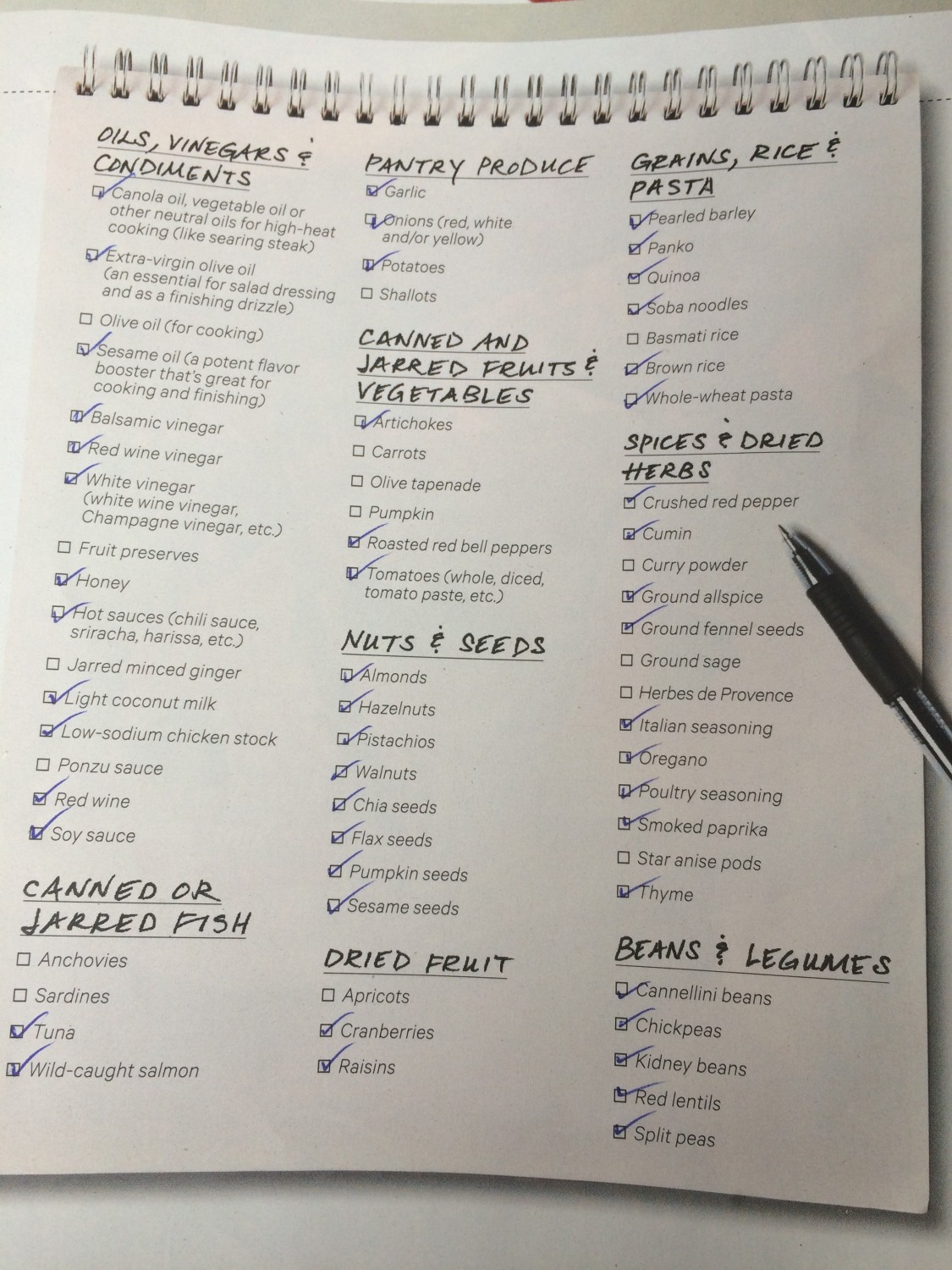 I checked off everything I have in my pantry already and almost everything I checked I can get at the Public Market.
Squash is a vegetable that always makes me think of the winter. Many people think of butternut squash but there are so many different kinds! Acorn squash is perfect for stuffing with lots of good ingredients and this week I share my version. The great thing about stuffing squash is you can use whatever you like in the middle. Here is another recipe I posted for stuffed honeynut squash, if you would like another idea.
Stuffed Acorn Squash
I put a star next to the ingredients I bought at the Public Market.
Ingredients:
1 medium to large acorn squash*
1 medium sweet potato, peeled and diced*
3 Tablespoons olive oil, divided
1/2 cup Job's Tears* (or your favorite grain such as barley, quinoa, couscous, etc., cooked as directed on package. You want about a cup of cooked grain)
1 cup boiling water
1 small onion*, diced
1 clove garlic*, minced
1/4 cup chopped parsley*
1/2 cup toasted, unsalted walnuts
1/2 cup dried cranberries, rehydrated in boiling water, then drained
Salt and pepper to taste
Directions:
Preheat oven to 425 degrees. Prepare two roasting sheets with parchment paper. Carefully cut squash in half, length-wise and scoop out seeds. Rub 1 tablespoon of olive oil on exposed flesh and place on roasting sheet, cut side down. Toss sweet potato with a tablespoon of oil and pour onto second roasting sheet. Place both pans in oven. Roast the potatoes until soft, tossing once or twice, about 20 minutes. Remove from oven and place in a large bowl. Roast the squash until a knife inserted in skin goes through the flesh easily, 30-40 minutes. Remove from oven and reduce temperature to 350.
Meanwhile, warm a sauce pan over medium heat on the stove. Place Job's Tears in pan and roast until you hear them start to crackle. Pour boiling water over and simmer, covered for 45 minutes to one hour, until grain is softened.
While the squash, potatoes and grain are cooking, warm remaining tablespoon of oil in sauté pan over medium heat. Cook onions until translucent, 8-10 minutes. Add chopped garlic and cook, stirring frequently, for an additional 2-3 minutes.
Add Job's Tears, onions and garlic, cranberries, walnuts and parsley to bowl with sweet potato. Season with salt and pepper. Divide stuffing between two halves of squash. You will have plenty of stuffing to overfill each half.
Return to oven and bake an additional 20 minutes, until hot throughout. (I usually listen for a sizzling sound to indicate it is hot.) Depending on the size of the halves, you may want to divide them in half again to serve. Or you may gobble up the entire half!
Enjoy!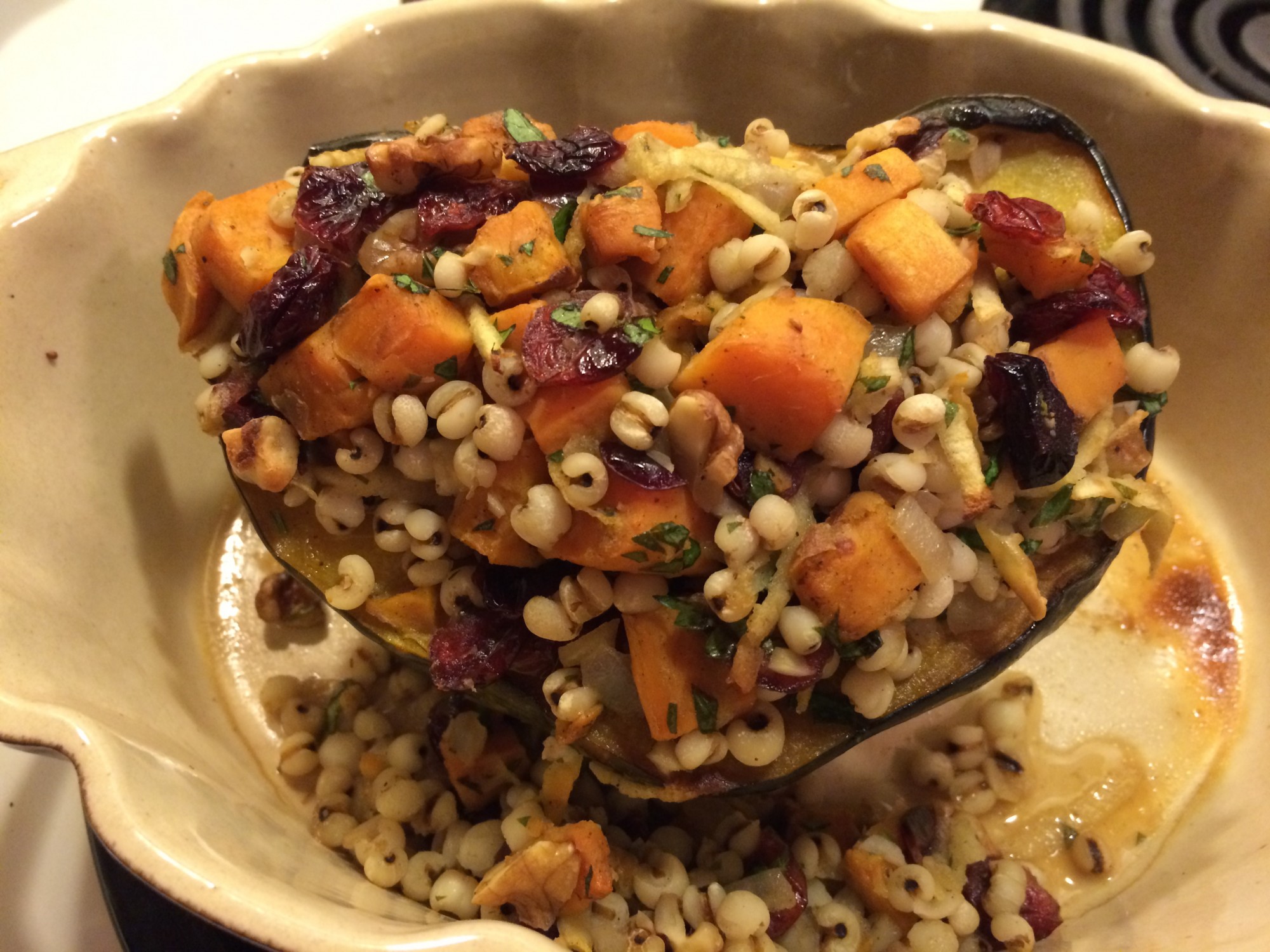 After seeing the picture I realized I should have served this for Valentine's Day!