Did your parents ever say, "What will the neighbors think?" when someone in your family did something they thought was embarrassing? When I was in grad school and living at home if I spent the night at my boyfriend's I would get that comment because I would be pulling into the driveway at 5 or 6 in the morning. They did not appreciate it if I replied that I did not care. Now I have a similar attitude but with a different take because I have neighbors and I am a neighbor and I realize we are all living our lives the best we can and if they are judging me about anything, it is their issue, not mine.
Obviously we need to maintain social niceties. No one wants to live next to the person who never mows their yard or who has a lot of trash all over or lets their dog bark all day, etc. But when it comes to worrying about what we think of each other because we might be embarrassed, I still say, so what? I strive to be a good person who is empathetic and considerate. If someone is going to be critical about me because I do not weed often enough or I leave my porch light on all night or any other standard they have that I do not, so be it. I feel that is their issue, not mine.
I was recently at a picnic and we got to talking about how we tend to entertain differently as we age. I used to think I had to decorate perfectly, present all the food perfectly and have the perfect music playing. Then something happened around my 50th birthday. I am not perfect and if someone is not going to enjoy coming to visit me because my entertaining skills are not perfect, well, it is their issue, not mine. I love to tell people that if they want to see me, drop in anytime. If they want to see my house, call ahead.
Aging is not always easy. Yes, the aches and pains that seem to pop up more frequently are annoying. However, the best part is how much more comfortable I am in my skin. Of course I want to look and feel my best. But if I do not live up to someone else's expectations of how I should look or feel, that is their issue, not mine. I no longer want to waste my time worrying about what the neighbors or bystanders think, I want to think for myself and enjoy life!
This attitude goes along with my eating. It does not matter to me how others choose to eat no more than it should matter to others what I choose to eat. I truly appreciate anyone who fixes food for me and takes into account my choice to not eat meat because I know my choice is not always convenient for hosts. But that is my issue, not theirs! This week's recipe is perfect for company because it will appeal to everyone and you can add your own favorite ingredients, including meat. And it does not have to look perfect to taste great!
Baked Fettuccine Pie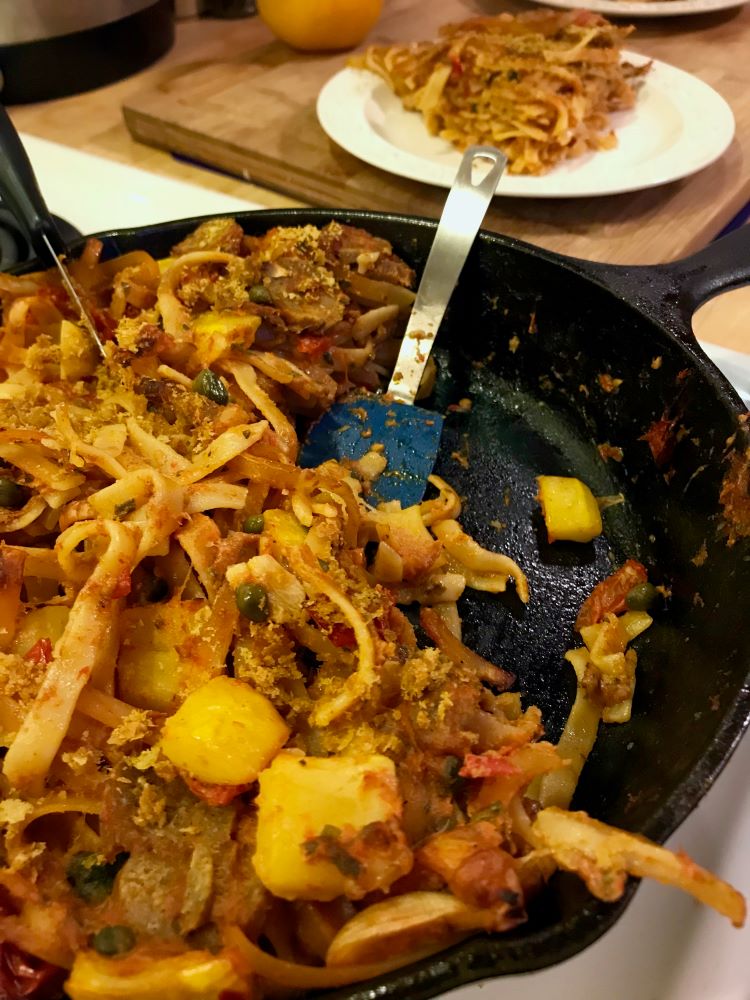 Ingredients
1 summer squash, seeded and cut into bite size chunks (or zucchini or eggplant)
2 pints, cherry tomatoes
1 head garlic, cloves separated, peeled and smashed
1/4 oil
1/2-1 teaspoon crushed red pepper (depends how hot you like it)
1/4 tomato paste
Equivalent of 2 eggs (I use neat eggs or a flax eggs. Of course you can use 2 actual eggs)
1/2 cup nutritional yeast (or parmesan cheese)
1 lb. fettuccine, cooked al dente and drained and return to pot (any long pasta will work)
1/4 cup drained small capers (or chopped olives)
1/2 cup chopped fresh herbs combined, such as basil, oregano thyme, rosemary, etc.
1 vegan Italian sausage, sliced (or soy crumbles or meat, if desired)
Directions
Heat oven to 425. In a large cast-iron skillet toss squash, tomatoes and garlic with oil and crushed pepper (skillet will be very full). Season with salt, if desired. Roast in oven 30-40 minutes, shaking occasionally, until tomatoes break down and squash and garlic are very soft. It should be quite soupy as this will be the sauce for the dish. Remove from oven and reduce temperature to 400.

Whisk eggs and tomato paste together until smooth. Add to pot with fettuccine and toss with tongs until pasta is coated. Add nutritional yeast, roasted vegetables, sausage, capers and herbs. Toss well.

Add a little oil back into the cast-iron skillet and brush to coat. Dump pasta mixture into skillet, patting down with a spatula until even. Sprinkle with extra nutritional yeast, if desired.

Bake for 30 minutes. Cool 10-15 minutes before slicing for easier serving.

Enjoy!