Last week I was driving to the gym a little earlier than usual and happened to see an amazing sunrise. It was so incredible I pulled over to take a picture: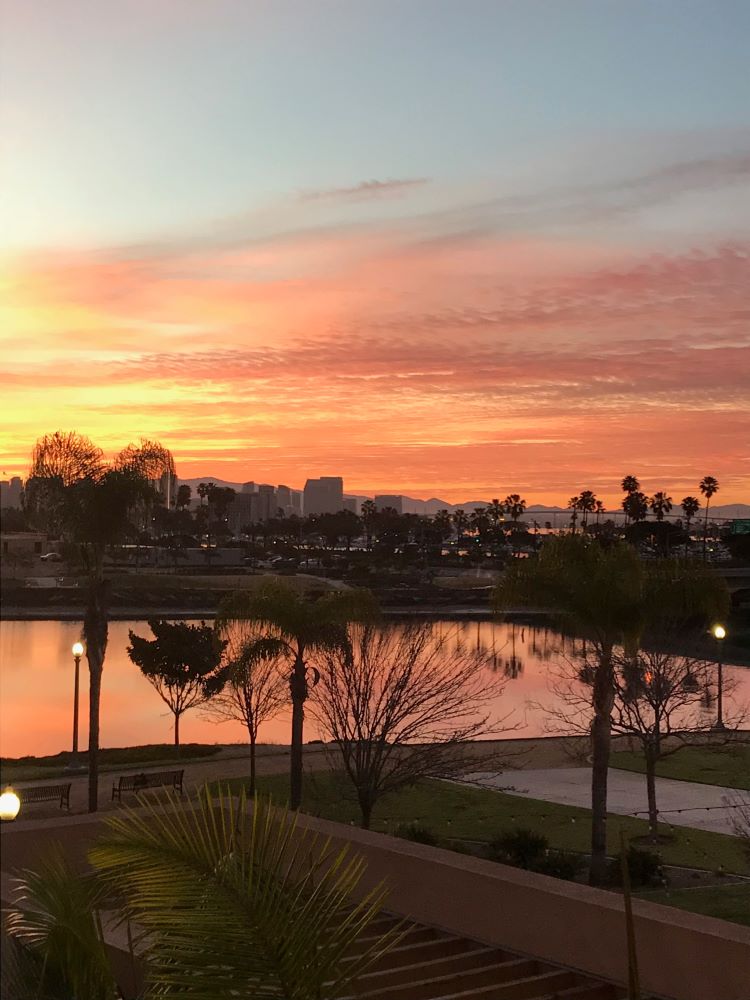 That beauty energized me. I got to the gym and had an awesome workout because I was filled with positive thoughts. It made me realize, once again, how important our mindset is in our outlook on life. That sunrise was the beginning of a brand new day.
It is easy to get bogged down in our everyday life and forget to look at the joy that is all around us. We get so caught up in would have, could have and should have that we ignore what we actually have. Many of you are on vacation this week and relishing new scenery, warm weather or simply some free time at home. It is the perfect time to reflect a little on all the positives in your life. I hope you are loved and in love with someone. I hope you have a home and food to eat. I hope you are healthy and living a life you enjoy.
Too often we have an internal dialogue that focuses on guilt or disappointment. We get angry at ourselves for not eating right or for being a lump on the sofa. Or for not taking time to call our parents or friends. Or for not cleaning the house or getting the laundry done. The list can go on, but you know what I am talking about. Dwelling on the negative leads to a pessimistic outlook. If I had been weighed down with thoughts of my failures or caught up in everything I felt I had to do, I might have missed that sunrise. Instead I pulled over and reveled in it! I sat in my car for a few minutes to soak up the beauty. I pulled into the gym with a smile on my face. It didn't matter what I did or did not do the day before, I knew that I had a whole new day ahead of me and I would make the most of it.
I encourage you to look around and see the positives all around you. It might be your family, nature, your job, good friends or vacation. Whenever you are facing something difficult, think about all the joy in your life and it might make the tough time easier to get through. You also might find yourself making better choices because optimism is a great motivator! Then tomorrow's sunrise will be even more joyous because you won't have any guilty thoughts carried over from yesterday!
Speaking of good choices, this week's recipe is all about choosing what you like. When I first read the recipe I almost threw it away because it called for swiss chard, which I do not like. However, it uses a technique that I love when it comes to making soup. After cooking most of the ingredients, you take a few ladles out and put it in a food processor, then add it back in. This creates a thicker, creamier texture. It makes it seem more like a meal than a starter. So I decided to use the basic recipe and make it my own by using vegetables I do like and had on hand. I encourage you to do the same. This is a great way to clear out the fridge and make a healthy soup you can enjoy for a few days, since it makes a lot!
Spicy Sun-Dried Tomato Vegetable Soup
modified from Chef Abigail Henson
Ingredients:
2 tbsp olive oil
3 cloves garlic, minced or grated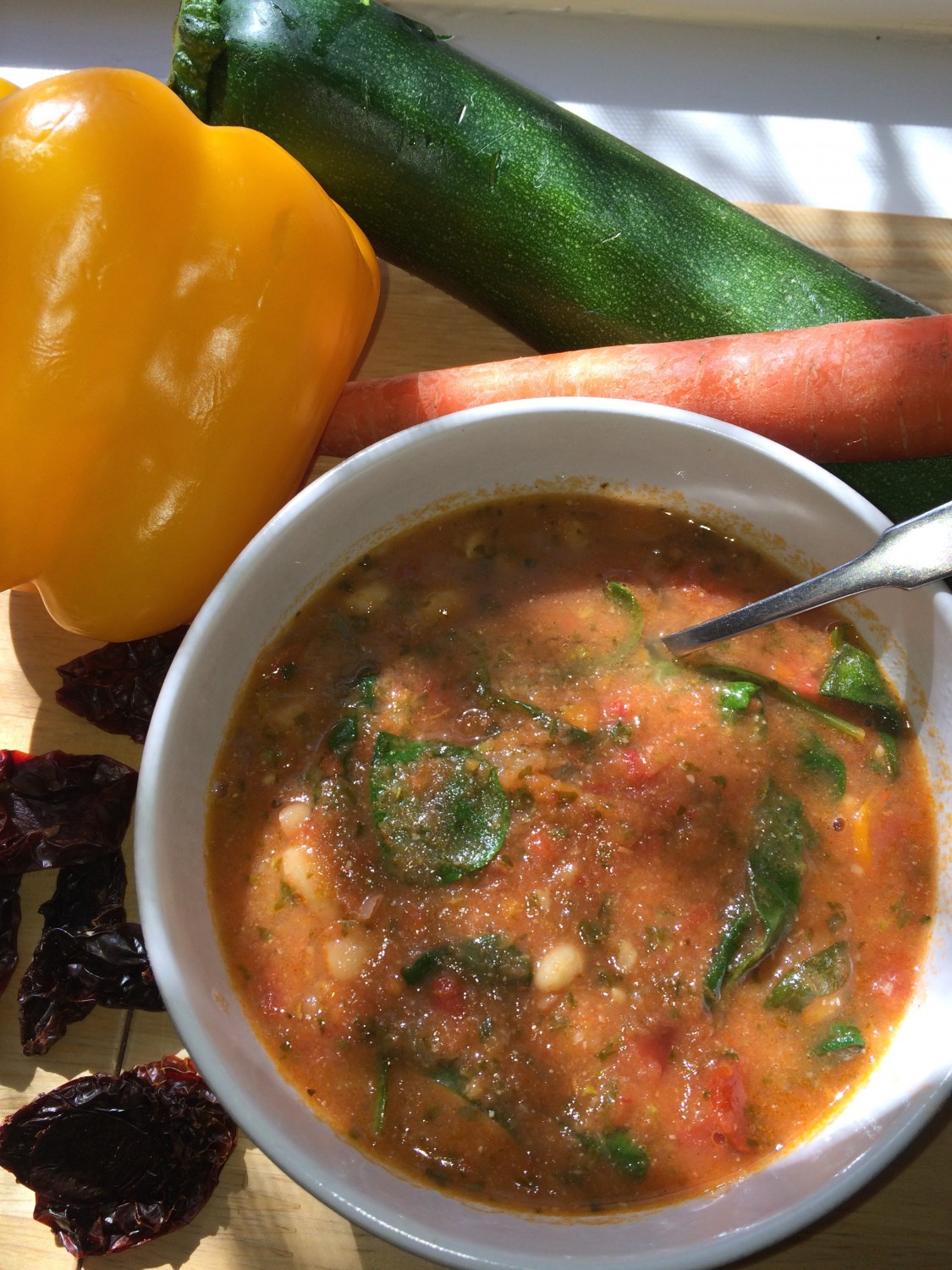 1/2 tsp red pepper flakes (more if you like spice, less if you don't)
1 medium onion, chopped
1 medium carrot, peeled and sliced thin
1 medium celery, chopped
1 medium bell pepper, chopped
1 small zucchini, sliced
1/2 tsp chopped fresh rosemary (or your favorite herb)
4 cups vegetable broth
1 15-oz can diced tomatoes (see note)
1 15-oz can white beans, drained and rinsed
1/2 cup oil packed sun-dried tomatoes, drained and chopped
2 tbsp oil from sun-dried tomatoes
1 1/2 cups cherry tomatoes
1 bunch fresh, baby spinach (or frozen, thawed and squeezed dry)
1/4 cup favorite pesto, optional (or some fresh basil leaves chopped)
Salt and pepper to taste
Directions:
Heat oil in dutch oven. Add garlic and pepper flakes and cook 1 minute, until garlic is fragrant. Stir in next six ingredients (through rosemary) and cook 10-15 minutes, until vegetables are soft.
Add broth, canned tomatoes, and beans. Scoop 1 to 1 1/2 cups of mixture into food processor. Add sun-dried tomatoes, oil from tomatoes and fresh tomatoes. Puree until smooth and add back into soup. Simmer 10- 15 minutes.
Add in spinach. Simmer 5-10 minutes until spinach is wilted. Stir in pesto, if using. Stir until warmed through. Add salt and pepper if desired (be sure to taste first).
Enjoy!
Notes:
Substitute whatever vegetables you like or have on hand. No zucchini? Double up the peppers. Don't like celery in soup? Double the carrots or add some bite sized pieces of broccoli. No pepper? Try mushrooms. You could use swiss chard instead of spinach! Or kale or escarole.
If you do not have fresh tomatoes, you can use another 15-oz can of diced tomatoes in place of them. Or any other fresh tomatoes will work. If the are large, core them first.