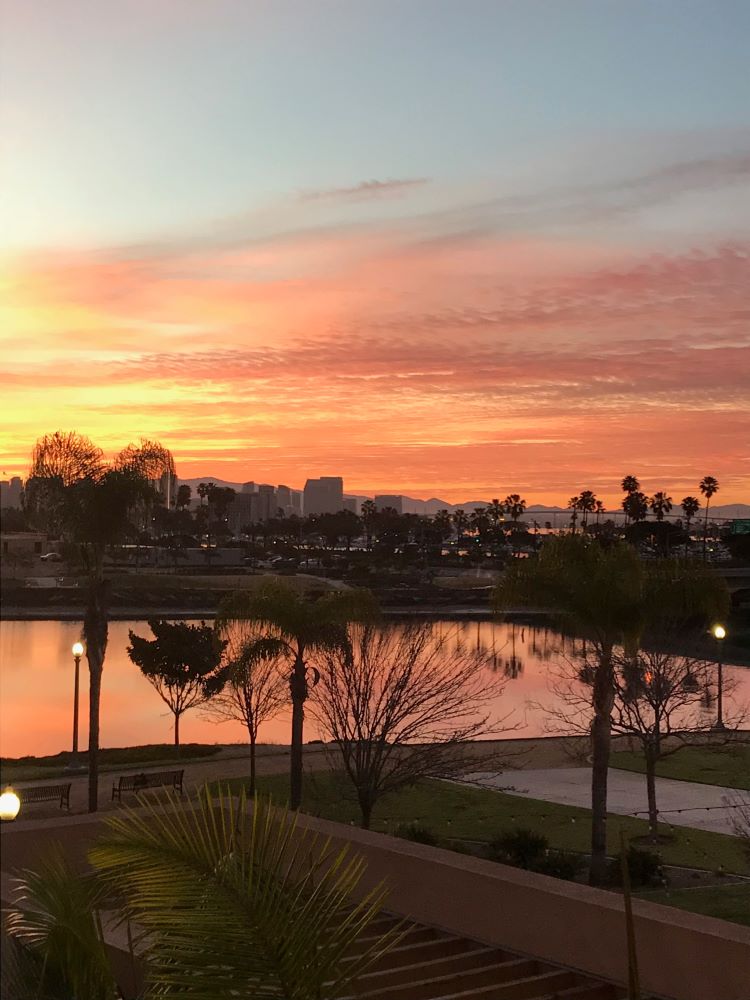 Sunrise over downtown San Diego
We had a wonderful time on vacation, and once again the weather on the East coast extended our trip because our flights kept getting cancelled (exact same thing happened last year). Aside from scrambling to find a place to stay it was nice to get a few extra days in Southern California.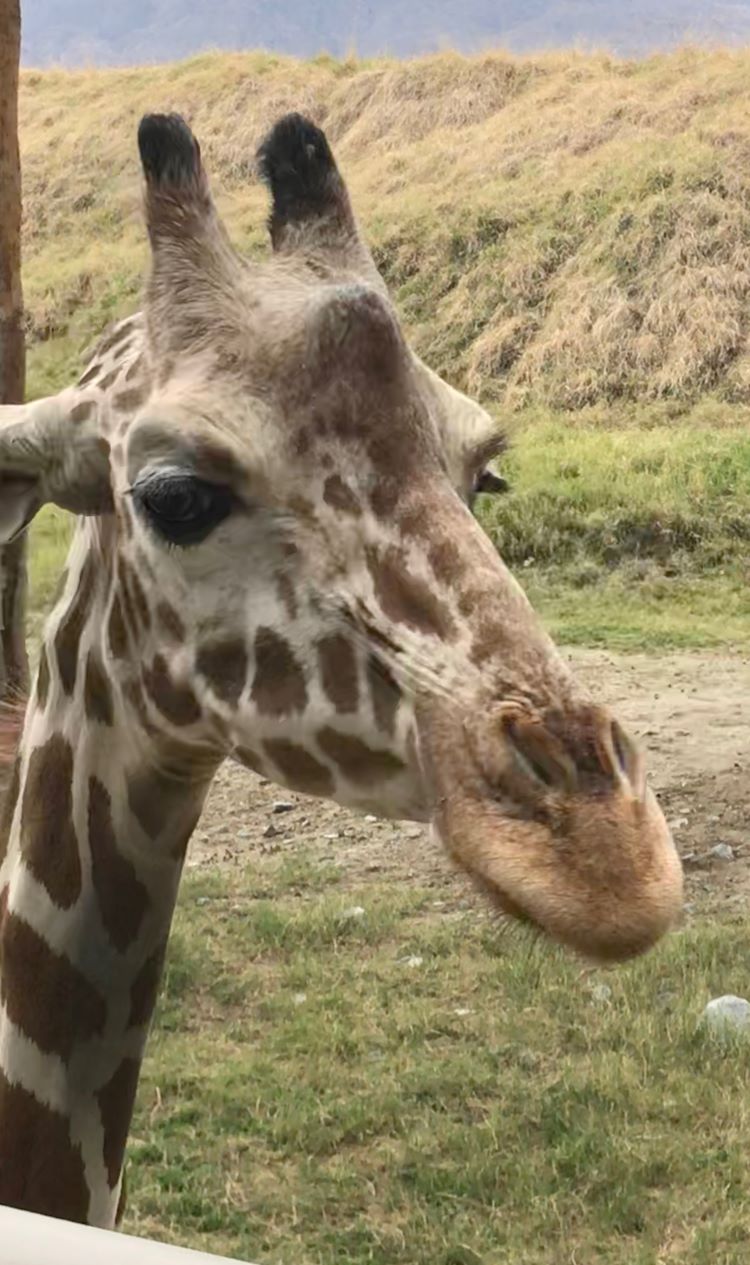 Up close to a giraffe at The Living Desert
My husband and I love the variety of options available for vegetarians and vegans in California. We have been know to research restaurants first and then activities nearby to where we want to eat because eating is top priority! We explored the Living Desert, Moorten Botanical Gardens, Old Town La Quinta, Old Town San Diego, Ocean Beach, Pacific Beach, La Jolla and Liberty Station. We did a lot of walking, sight seeing and relaxing. Yep, vacation!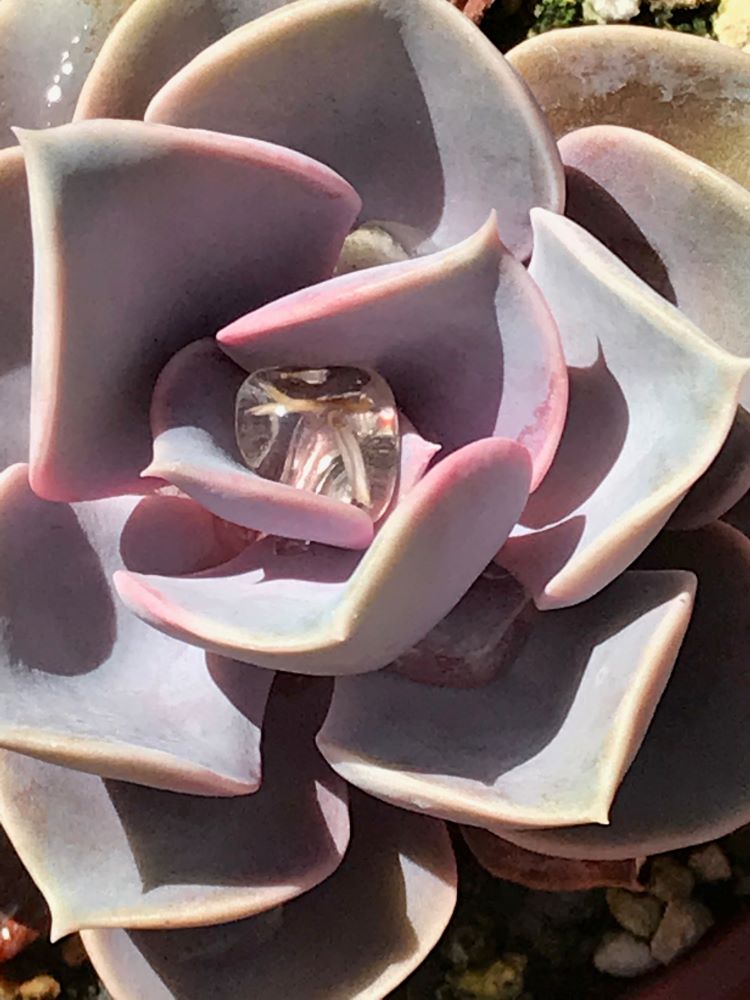 Drop of water in a cactus at Moorten Botanical Gardens
One funny story happened in Plant Power, a vegan fast food restaurant in San Diego. We were sitting next to three women who were video taping their whole meal. They were so funny and I finally spoke up and mentioned how they were making us laugh. Turns out one of them had written a vegan cookbook and was on a book tour. We chatted for a bit and went on our way. When I got home I looked her up and it turns out she has quite the following! She posts videos, writes a blog and has some amazing looking recipes! I will definitely be making some of her food! Her name is Lauren Toyota and she writes Hot For Food. Check it out!
One of the places we like to eat is called Native Foods (another vegan fast food place). I got their Thai Red Curry soup and it was topped with these addictive, crispy shiitake mushrooms. As a former restaurant worker I know crispy is usually code for fried, but they were soooo good! When I got home I was looking for some recipes to try and came across one for vegan carbonara, a pasta dish that is usually topped with bacon. This recipe called for crispy, baked shiitakes to top the pasta. Hello! I decided to make mac and cheese and use them on top of that. YUM!
Vegan Mac and Cheese topped with Smoky, Crispy Shiitakes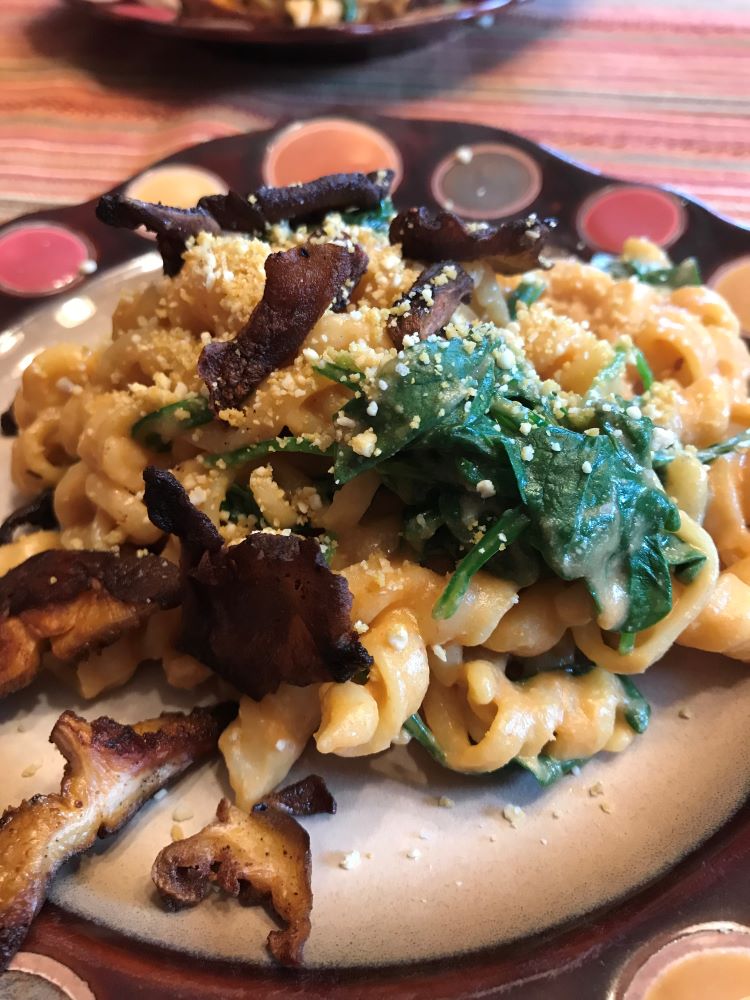 adapted from recipes from Chloe's Vegan Italian Kitchen
Ingredients:
Mushrooms:
2 4-oz packages sliced shiitakes
3 tablespoons olive oil
1/2 teaspoon salt
1/2 teaspoon smoked paprika
Pasta:
1 lb pasta
1 package baby spinach
3 tablespoons olive oil
1/3 cup whole wheat flour (I used white, whole wheat)
3 cups plant based milk
1 teaspoon garlic powder
1/2 cup nutritional yeast
2 tablespoons tomato paste
salt and pepper to taste
Juice from 1/2 lemon
Directions:
Make mushrooms:
Preheat oven to 375. Line a cookie sheet with parchment. Toss mushrooms, oil, salt and smoked paprika. Spread out on sheet and baked for 30 minutes, stirring every ten minutes.
Mac and Cheese:
Cook pasta according to directions. Line colander with spinach and drain pasta directly over the spinach. Alternatively, add spinach to pasta for last minute of cooking and drain together.

While pasta and mushrooms are cooking, heat a large sauce pan over medium and add oil and flour. Whisk constantly for 3 minutes, until you see flour turn a deep golden and it does not smell like raw flour.

Whisk in milk, garlic powder, nutritional yeast, tomato paste and salt and pepper. Bring to a boil, whisking constantly. Turn down heat and allow to simmer, whisking frequently, until thickened. Remove from heat and add lemon juice.

Add drained pasta and spinach with sauce and stir well. Serve topped with shiitakes.

Enjoy!
Optional topping: In a mini food processor, add 1/2 raw cashews, 1 1/2 tablespoons nutritional yeast, dash of salt and garlic powder. Pulse until a fine meal is formed, similar to parmesan cheese.