I wear the same pant size I did my freshman year in college. Impressive right? It is until I tell you I know I am about 15 pounds heavier now and by all rights I should be least one or two sizes larger. So what's the story? Over the last 25 years clothing manufacturers have been changing their sizing so that women can think they are wearing smaller sizes. It is known as vanity sizing and it makes me sad. Mainly because it means we are tying our identity in with the number on a tag. Back when J. Jill opened in the mall I went in and tried some clothes on and couldn't believe how large the clothes ran. When I asked a sale person about it her response was, "isn't it great?" She seemed to be saying that because I could wear an extra small in their clothes I would feel better about myself. Um, no. A number or letter on a tag inside a sweater could not change my body.
Last week my husband showed me an article from one of his golf magazines. It was a column written by David Owen. It made me laugh out loud because he wrote about vanity sizing in men's golf clothes. When I first met my husband he was wearing XL shirts because he is so tall. I saw how big they were on him and convinced him he needed large. What we noticed was that the difference between the two sizes had nothing to do with the shirt or sleeve length and everything to do with the amount of material around the middle. My husband is quite slim and an XL shirt had enough room to fit both of us inside! Now he is actually looking at medium sized shirts because the larges have gotten larger just in the last ten years. David Owen actually took a measuring tape to his clothes and proved what we have noticed. Luckily for my husband there are many professional golfers who don't need the extra room and so many brands have what they call slim fit.
This information is mind boggling to me because it says people would rather have clothing manufacturers change their labeling than actually putting in the work needed to fit into a smaller size. It also says that not only women fall prey to the mindset of measuring our self worth based on a tag in a dress. They have gone so far as to make up sizes like XXS or 00 in order to accommodate people who should actually be wearing the size I am wearing. I should not be able to buy a pair of pants with the same size on them that I bought 30 years ago. The number I see on my scale tells me that I should be wearing a larger size. Please know I am fine with my weight! It just makes shopping a challenge. Do I look for the curvy, slightly curvy or straight fit? Do I need Fit 1, 2 or 3? The slightly fitted, fitted or loose? Am I a Signature, Modern or City fit? Yikes! Time to hit the shoe store! I know what size to look for there!
When I saw the recipe I am going to share with you this week I knew it wasn't for everyone. It is one of those recipes meat eaters like to tease vegetarians about. I gave it a try, though, and it even surprised me how good it was! It is super easy but requires a long time to marinate. I started it in the morning and it was ready to go by dinner time. Don't knock this one unless you try it. As mom always said, just try a bite! It won't cost much more than a bag of carrots!
Carrot Dogs
adapted from VeganSandra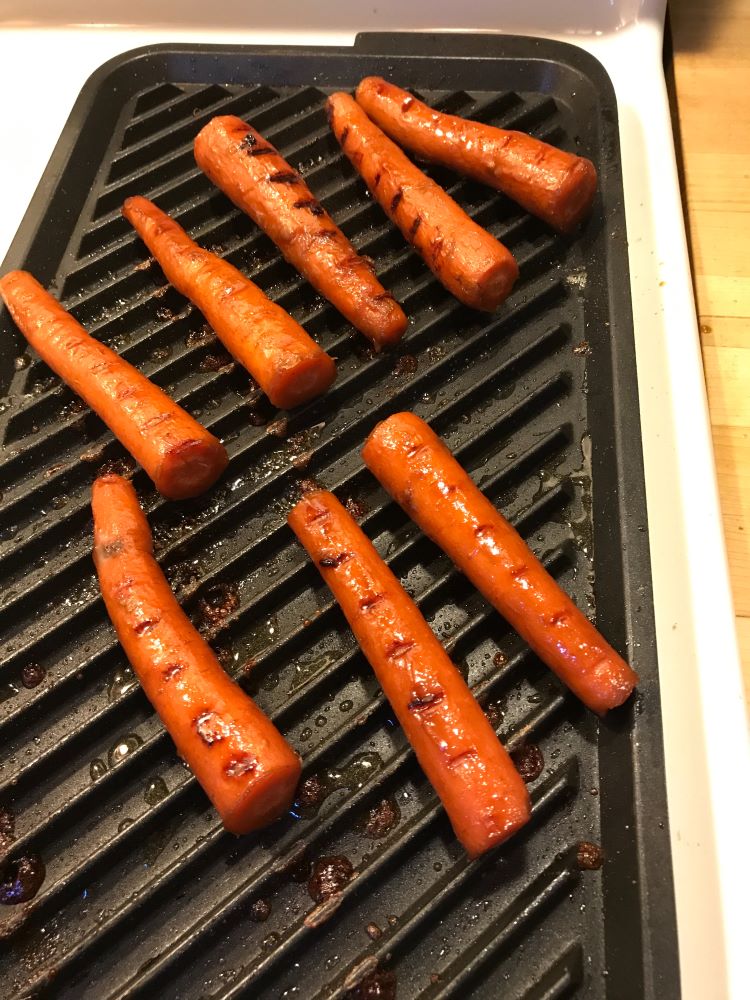 Ingredients:
4 large carrots
1/2 Tbsp oil
1/2 teaspoon salt
1/2 teaspoon dried oregano
1/2 teaspoon dried parsley
3/4 teaspoon paprika
1/4 teaspoon smoked paprika
2 teaspoons liquid aminos (or low sodium soy sauce or tamari)
1/4 cup water
4 hot dog buns
Toppings of choice (I used a version of the chick pea relish from the original recipe)
Directions:
Wash, but don't peel, the carrots. Boil them until soft, but not mushy, about 10 minutes. Drain and allow to cool. At this point you should be able to peel them fairly easily by rubbing with a clean dish towel or carefully using a vegetable peeler. Place in a plastic bag.
Make the marinade by whisking the rest of the ingredients together. Pout into bag with carrots and place in fridge for a few hours or overnight.
Heat a grill or grill pan. Place carrots on grill and cook, turning to get all sides. Brush on any extra marinade as they cook. The carrots are done when you can insert the tip of a knife into the carrot but there is still some resistance. Mine took about 10-15 minutes.
Serve on buns with toppings of choice.
Enjoy!