When I get in the mood to watch some funny videos I will search for Ellen Degeneres. Her clips can usually get me laughing so hard I start crying! From texting fails to surprising her audience with their own silly Facebook posts to watching her dance, she can always bring a smile. A few years ago she started telephoning a woman named Gladys Hardy from Austin, Texas. That first phone call made me laugh so hard my stomach hurt! Gladys is an older lady who has no problem speaking her mind, and usually what comes out is hilarious, unscripted and honest. Check out that first phone call here. Ellen calls her on occasion and one time the topic came up about Ellen's sexuality. Gladys's quote about that is what has inspired my blog today. She said "Honey, if we all sang the same note in the choir there would be no harmony." Now if I was into stereotypes I would have assumed an old lady from Texas would be intolerant towards different life styles and choices. I know better, though. Making judgements about people without knowing anything about them is always risky. I have yet to meet someone who falls into a pigeon hole. If I were to describe myself I feel I have many characteristics that can't be lumped into one stereotype. I like classical, alternative and pop music. I like to watch crime dramas, comedies and Antiques Roadshow. I am a middle aged woman who is conservative about some topics and liberal about others. In other words, I am an individual with independent thought just like everyone else! Gladys has it right, if we were all the same it would be a pretty boring world. I wish I could meet her, but it so happens one of my favorite people in the world lives in Texas and reminds me an awful lot of Gladys. She is a neat lady who doesn't fall into any conventional category and accepts everyone. I hope everyone has a Gladys in their lives!
So speaking of unconventional, how about a vegetarian (meat)loaf? As I have mentioned before, I read recipes and immediately start thinking about how to make it my own. I came across a recipe for vegetable meatloaf by Bobby Flay that used ground turkey and decided to try to make it completely vegetarian. What caught my eye, besides the good helping of vegetables in it, was the balsamic glaze he put on top. It gives it a sweetness that goes perfectly with the rest of the ingredients. To be honest, whenever I make this my husband and I both decide it is better the next day in a sandwich than as dinner! I think from now on I will make it just for that purpose! Be aware this needs almost an hour to bake and then time to rest.
2017 update: When I went to make this I realized I had no vital wheat gluten. Instead I added an extra egg, 1/2 cup oat flour (I made it by grinding roalled oats) and 1/4 ground walnuts. I also skipped one of the peppers and added a 1/2 cup chopped, loosely packed spinach. If you want to make it vegan, substitute a flax egg or two (1 tablespoon ground flax, mixed with 3 tablespoons water and allowed to sit until gel-like makes the equivalent on one egg) and substitute nutritional yeast for the parmesan cheese.
Vegetarian Loaf with Balsamic Glaze
Ingredients:

1 1/2 cups TVP (available at Wegmans)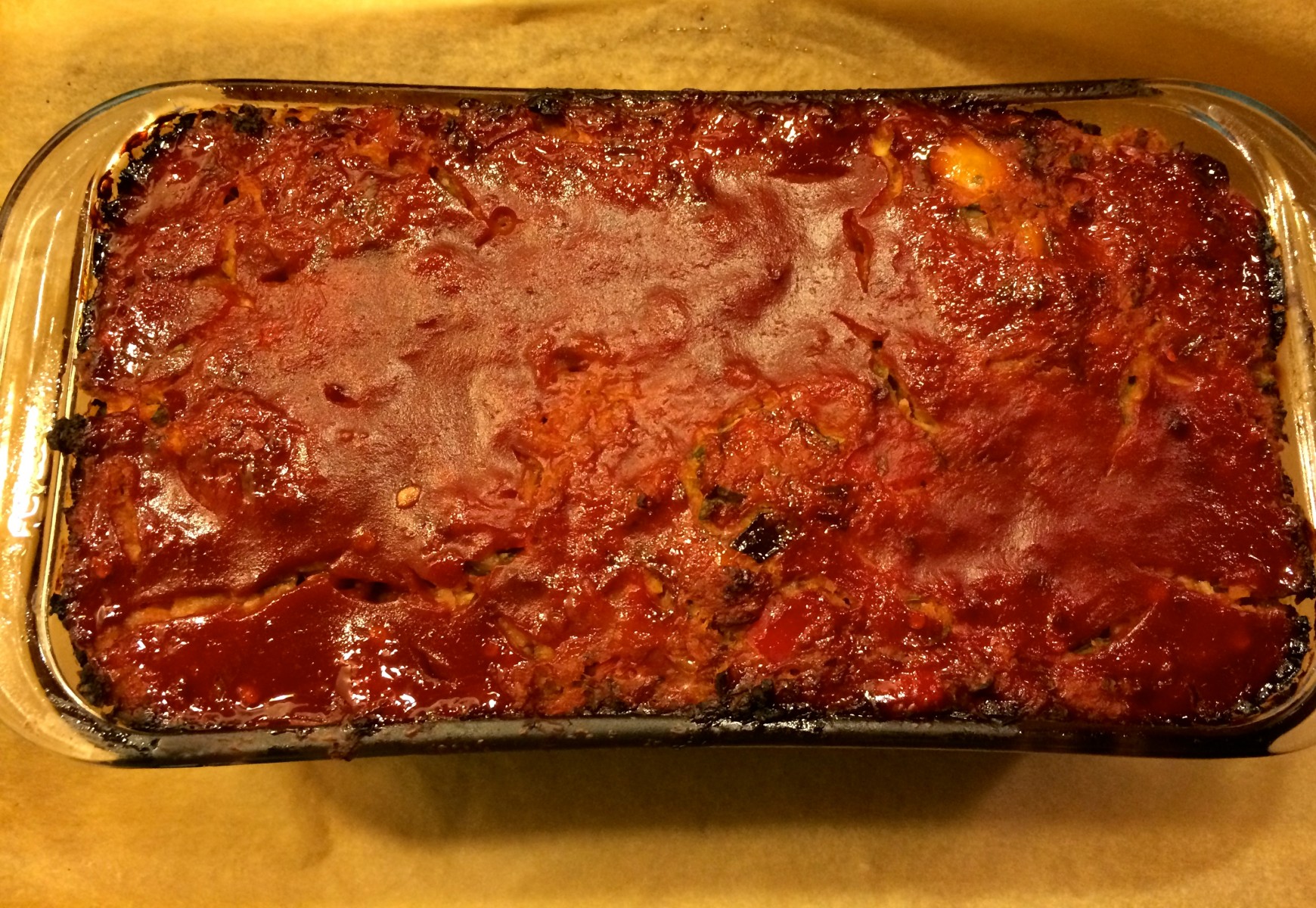 2 tablespoons olive oil
1 small zucchini, finely diced
1 red pepper, finely diced
1 yellow pepper, finely diced
5 cloves garlic, grated
1/2 teaspoon red pepper flakes, divided (more if you prefer more spice)
Salt and pepper to taste
1 large egg, lightly beaten
1 tablespoon finely chopped fresh thyme
1/4 cup chopped fresh parsley
3/4 cup vital wheat gluten flour (available at Wegmans)
1 cup panko bread crumbs
1/2 cup freshly grated parmesan cheese
3/4 cup ketchup, divided
1/4 cup + 2 tablespoons balsamic vinegar
Directions:
Preheat oven to 425 degrees. Spray 9x5 loaf pan with nonstick spray.
Bring a scant 1 1/2 cups water to a boil, add TVP, stir, remove from heat and let sit to rehydrate and cool.

Heat oil in sauce pan over medium high heat. Add zucchini, peppers, garlic and 1/4 teaspoon red pepper flakes. Season with salt and pepper and cook until vegetables are almost soft, about 5-8 minutes. Set aside to cool.

Whisk the egg and fresh herbs in a bowl. Add the cooled TVP, vital wheat gluten, panko, cheese, 1/2 cup ketchup, 2 tablespoons balsamic and cooled vegetables. Mix until just combined, making sure gluten is well incorporated.

Gently press into prepared pan. Whisk remaining ketchup with 1/4 cup balsamic and remaining 1/4 teaspoon red pepper flakes in a small bowl. Brush over top of entire loaf. Place on a baking sheet, if desired, before placing in oven. Bake 50-60 minutes, until top is dark in color and loaf is bubbly. Let sit 10-15 minutes before slicing.

Enjoy (especially as a cold sandwich)!