Does anybody else make deals with themselves? It seems all day long I am getting things done by bargaining with myself. Yesterday I needed to scrub the grout in the shower. I was also almost to the end of a great book. So I said to myself, take a half hour and get done what I can on the shower and then I can relax and finish my book. Deal! When I go out to for a jog I say, just run for one song and then walk. When the song ends, I say to myself, just one more. Then one more. Then one more. Before I know it the jog is done. Good deal! When I get on the computer to catch up with emails (or write my blog), I find myself distracted by Facebook, or funny cat videos or a game. So I say to myself, write three emails and then do something silly for 15 minutes. Deal! When I don't feel like being at the gym, I tell myself to pick one cardio machine and go all out for 10 minutes, then if I want to leave I will. I have yet to leave! Another good deal!
A couple weeks ago I wrote about how this time of year I like to clean out my cabinets and closets. Then we got hit with a string of gorgeous days! I found myself putting off my organizing. Now it is time to get back to it. The deals I make with myself to get this accomplished revolve around time or location. If it is time-related, I will give myself an hour to get done whatever I can. Then I will have a reward, such as reading or doing a crossword. Location refers to picking out a certain cabinet or dresser and just do that spot. Then I will give myself a similar reward. Often when I go to a client's to do some type of organization with her, I focus on keeping her focused. I have her pick the area and amount of time she wants to dedicate to cleaning and I make sure we stick to that plan.
Food is another area where making deals with yourself can lead to great results. Feel like snacking on something bad? Make this deal: drink a full glass of water and wait 10 minutes. If you still want that snack, have 5 bites and set it aside. Going out to dinner? Make a deal with yourself to eat half of whatever you order, including dessert. This works because you get to enjoy the meal again the next day! Great deal!
What type of deals do you make? Let us know in the comment section below!
Now here is a deal of a recipe! Spanakopita Rice Pie. This is great for company because you can make it ahead and put it in the oven while socializing with your guests.
Spanakopita Rice Pie
serves 4-6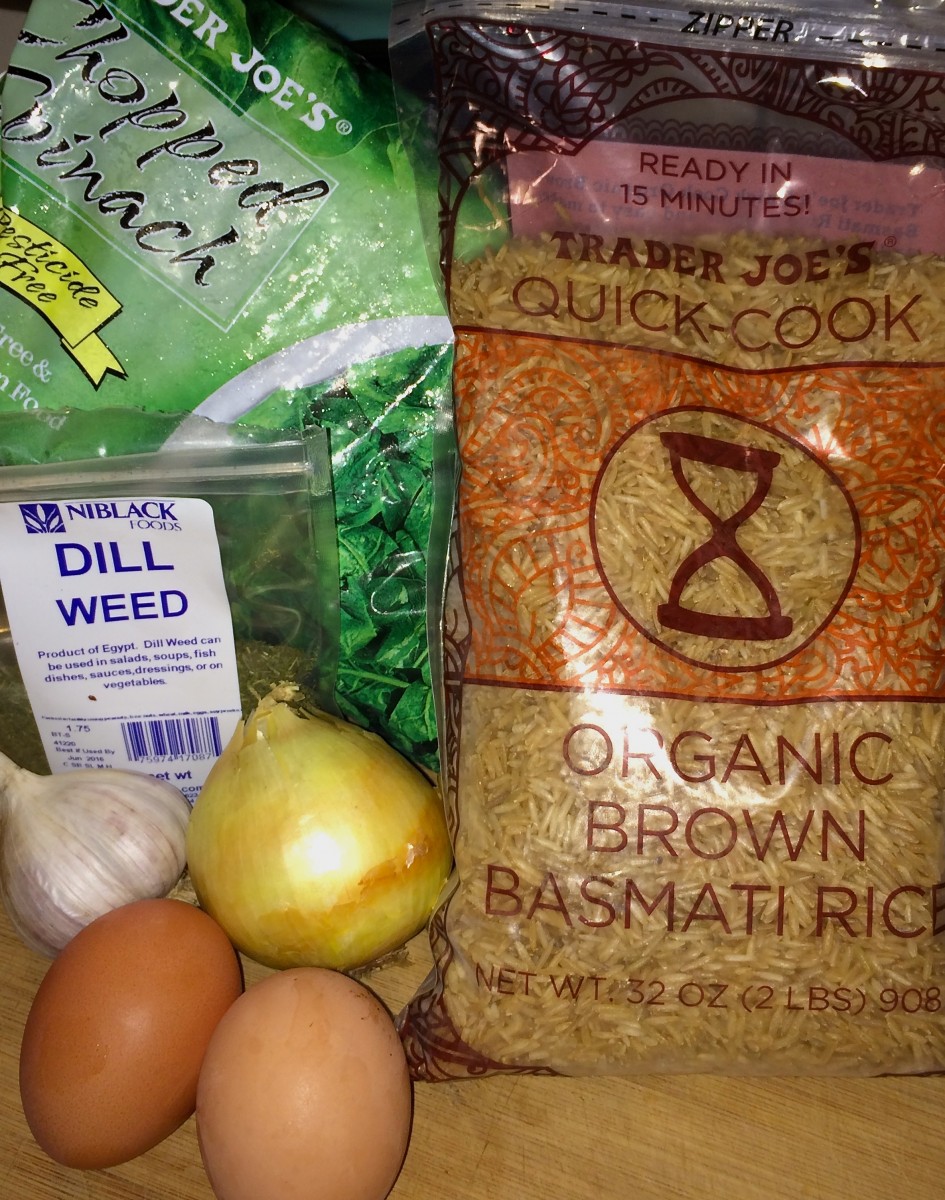 Ingredients:
1 cup cooked brown rice (Cook according to package directions or use leftover rice)
10 oz bag frozen spinach, thawed and squeezed OR 1 large bunch fresh spinach, washed, not dried
1 Tbsp extra-virgin olive oil
1 medium onion, chopped
2 cloves garlic, chopped
1 Tbsp fresh dill, chopped OR 1 tsp dried dill
2 tsp dried oregano
Salt and pepper to taste
8 oz feta cheese, drained and crumbled
4 large eggs, lightly beaten
1 Tbsp pine nuts
Directions:
Preheat oven to 375 degrees
Lightly spray a pie pan with cooking spray. Press rice into bottom and slightly up the sides. Set aside.

If using fresh spinach: heat a large pan over medium heat, add damp spinach and cover. Let steam until leaves are wilted. Remove from pan to cool and then chop well.

Return pan to burner and heat olive oil. Sauté onion until clear, about 5-10 minutes. Add garlic, cook for another minute and add spinach Cook until the greens are dry. Remove from heat and stir in dill, oregano, salt and pepper. Let cool for a few minutes and then blend in feta and eggs.

Scrape filling into rice crust, smooth the top and sprinkle with pine nuts. Bake for 35-to 40 minutes, until eggs are set.

Enjoy!