Today I spent 5 hours at the 7th Annual Early Stage Conference presented by the Alzheimer's Association in our area. The event consisted of many vendors offering information about resources, products and services designed to help people that have been diagnosed and their caregivers. The bulk of the conference was made up of two guest speakers as well as a discussion panel of experts in various fields related to the aging brain and a patient and a caregiver. The auditorium was full. A lot of information was given regarding diagnosis, treatment and coping with dementia. The following statistic made me sit up and listen: 53% of people can slow the onset and progression of Alzheimer's with behavioral modifications. You know what that means? Yep, all the workouts, all your efforts at eating well, all the socializing you are doing with friends and family and all the activities you do to keep busy are helping you maintain a healthy brain. The doctor who presented at the conference went so far as to claim that aerobic exercise, staying connected and active as well as eating right can have effects similar to the medications available that treat dementia symptoms. Wow! I am someone who is witnessing this cruel disease firsthand and I cannot stress enough that you owe it to yourself to do whatever you can to prevent and/or delay this from happening to you. As I keep saying, if you aren't planning to take care of yourself, what are you planning?
Now an awkward segue into my next train of thought: yesterday I witnessed a fun-filled event: the Finger Lakes Triathlon. Hundreds of people participated in all age groups. We saw people of all shapes and sizes diving into Canandaigua Lake, then hopping on bikes and finishing up with a run. I have to give a lot of credit to the participants. These are people who know how important physical activity is and are taking it to a competitive level. I think many were competing with themselves for personal bests, to cross something off a bucket list or to simply enjoy the challenge. There were many groups of people cheering each other on and volunteers who gave encouragement and bravos. After learning what I did today I think all the people I saw yesterday are well on their way to a long life with a healthy brain.
One little plug here. This Saturday, September 13th, I am walking in one of the Walk to End Alzheimer's events. If you are interested in joining our team or in donating to the team you can follow this link. The name of my team is The Purple Express. Thank you!
I know I have shared many recipes for bean salads, so why not add another! It is a great choice for a quick, healthy dinner. We had a slight heat wave here last week and I made this salad one night for dinner to avoid turning on the oven. If you like lemon, this is the salad for you! I have adapted it from a recipe I read in a recent newsletter. The original recipe called for crab meat rather than white beans. If you prefer that choice simply switch out the beans for 1 pound lump crab meat, shell pieces removed.
White Bean, Corn and Tomato Salad with Lemon Basil Vinaigrette
original recipe courtesy of Chef Michael Macri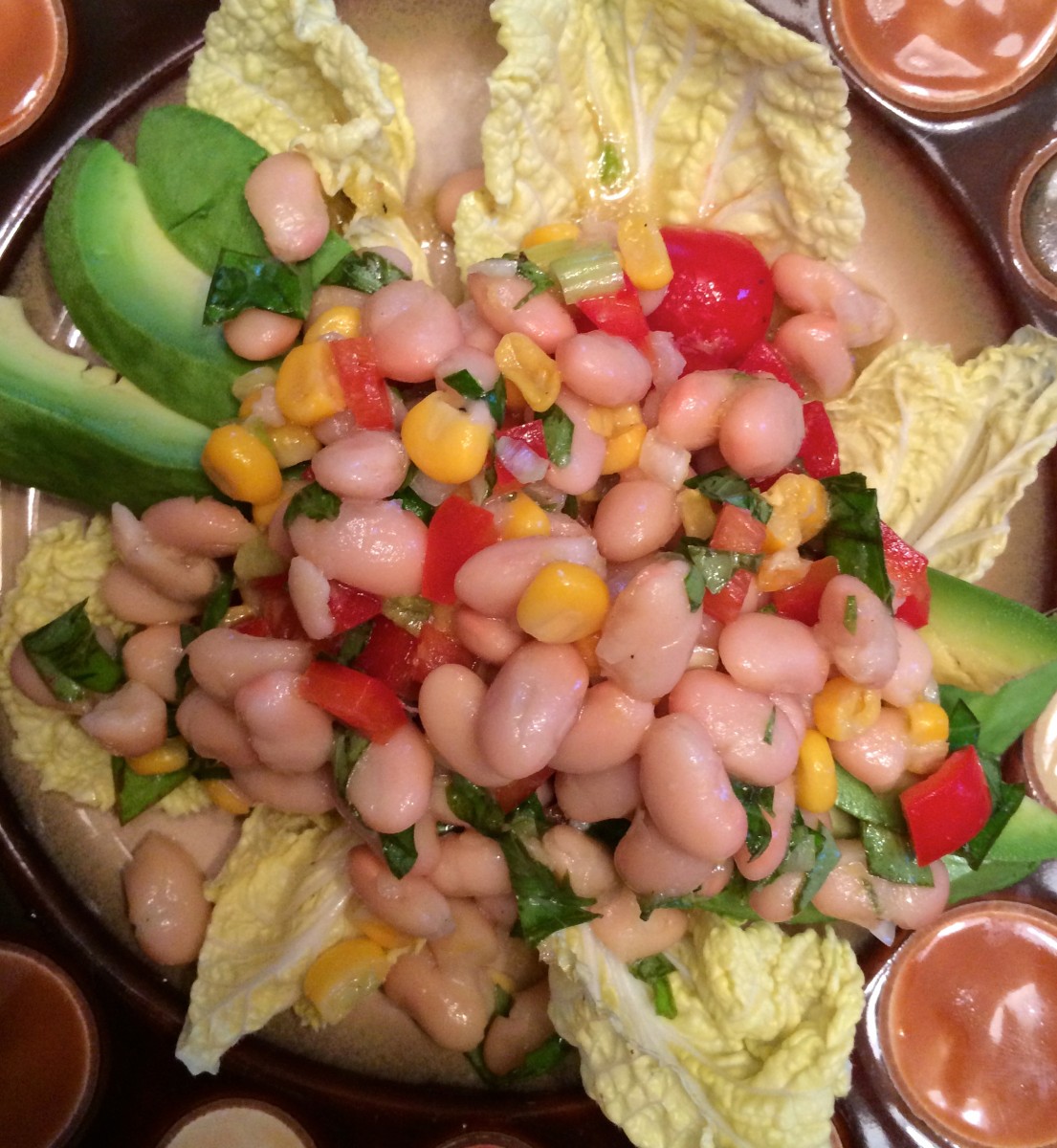 Ingredients:
1/2 tablespoon grated lemon rind
5 tablespoons fresh lemon juice, divided (from 2-3 lemons)
1 tablespoon extra virgin olive oil
1 teaspoon honey
1/2 teaspoon Dijon mustard
Salt and pepper to taste
1 cup corn kernels (about 2 ears or from frozen and defrosted)
1/4 cup thinly sliced fresh basil leaves
1/2 cup chopped red bell pepper
2 tablespoons chopped green onions (about 2 small onions)
1 15-oz can white beans (cannellini or great northern) drained and rinsed
1 small head romaine lettuce (or other favorite green), rinsed and dried
1 avocado, sliced
1/2 pint cherry tomatoes, halved (or more if you like)
Directions:
Combine rind, 3 tablespoons juice, oil, honey, mustard and salt and pepper in a large bowl and whisk. Remove 1 1/2 tablespoons of mixture and set aside. Add in corn, basil, pepper, onions and beans and gently mix.

Arrange romaine leaves on 4 plates. Top each with 1/4 of avocado. Divide cherry tomatoes between plates. Drizzle reserved lemon mixture over each plate. Lastly, scoop 1 cup bean mixture on top.

Enjoy!