Every morning I go on a treasure hunt. We still subscribe to the local paper and we live in a neighborhood without street side mailboxes. This means our delivery person throws the paper in our yard. Sometimes from the street. Sometimes from our driveway. Sometimes from the neighbor's driveway. I am never sure where it will be so I go searching. Luckily we do not have large bushes out front, but I have had to fish the paper out of basement window wells or flower pots on more than one occasion. I always give a little cheer if I open the front door and see it on our porch.
This could drive some people crazy and lead them to call and complain. Not me. Instead, I give a silent thank you each morning to the person who gets up super early, drives around in all kinds of weather and manages to get the paper on our property somewhere. I choose this approach since starting my day in a bad mood because I have to walk around looking for a paper seems silly.
I know I am a glass half full kind of person. I have written before about how I used to keep a thankful journal. When I find myself in a situation that might seem annoying I often tell myself (and anyone who will listen) that if it is the worst that happens that day, it will be a good day. Think about when you are standing in the slowest line ever at the supermarket. Or stuck in traffic. Or when that red sock gets in with the whites. Or searching for the newspaper. Rather than complain, look for the humor or for something beautiful or think of a good memory. You can find your own personal treasure in any situation. Living each day and being thankful for what we have and for what others are doing for us is a treasure you should never take for granted.
I will admit this spring has stretched my patience. The weather is awful and I am sick of rain, cold, ice and snow. But yesterday I watched a cardinal outside my window sitting on an ice-covered branch. That splotch of red was enough to make me smile. I am going to add a few pictures to this post that I hope will help you think about the beauty around us and be grateful, even if only for a few minutes. Making an effort to see the treasures around you and inside you will have a positive affect on how you view the world.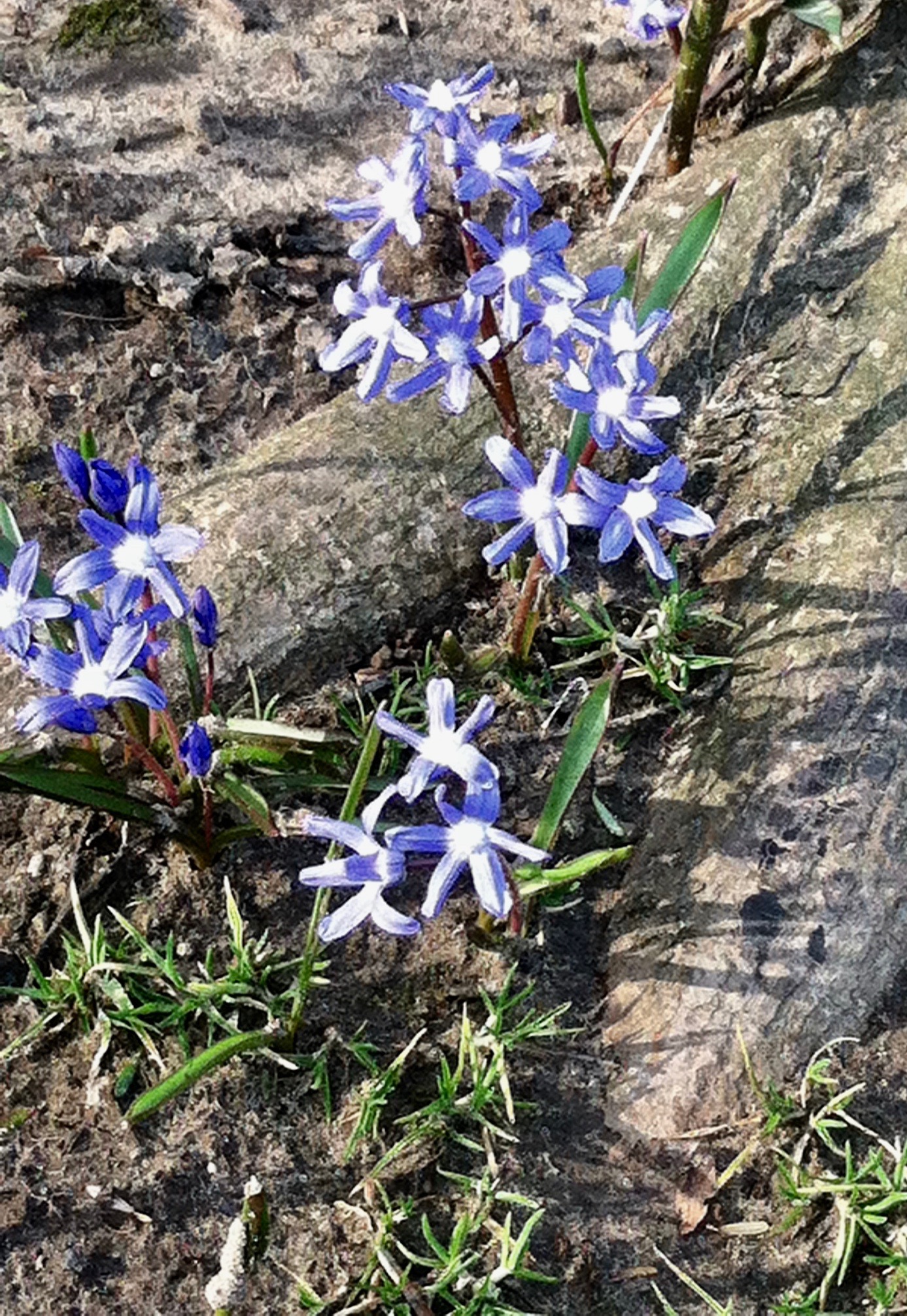 Spring Flowers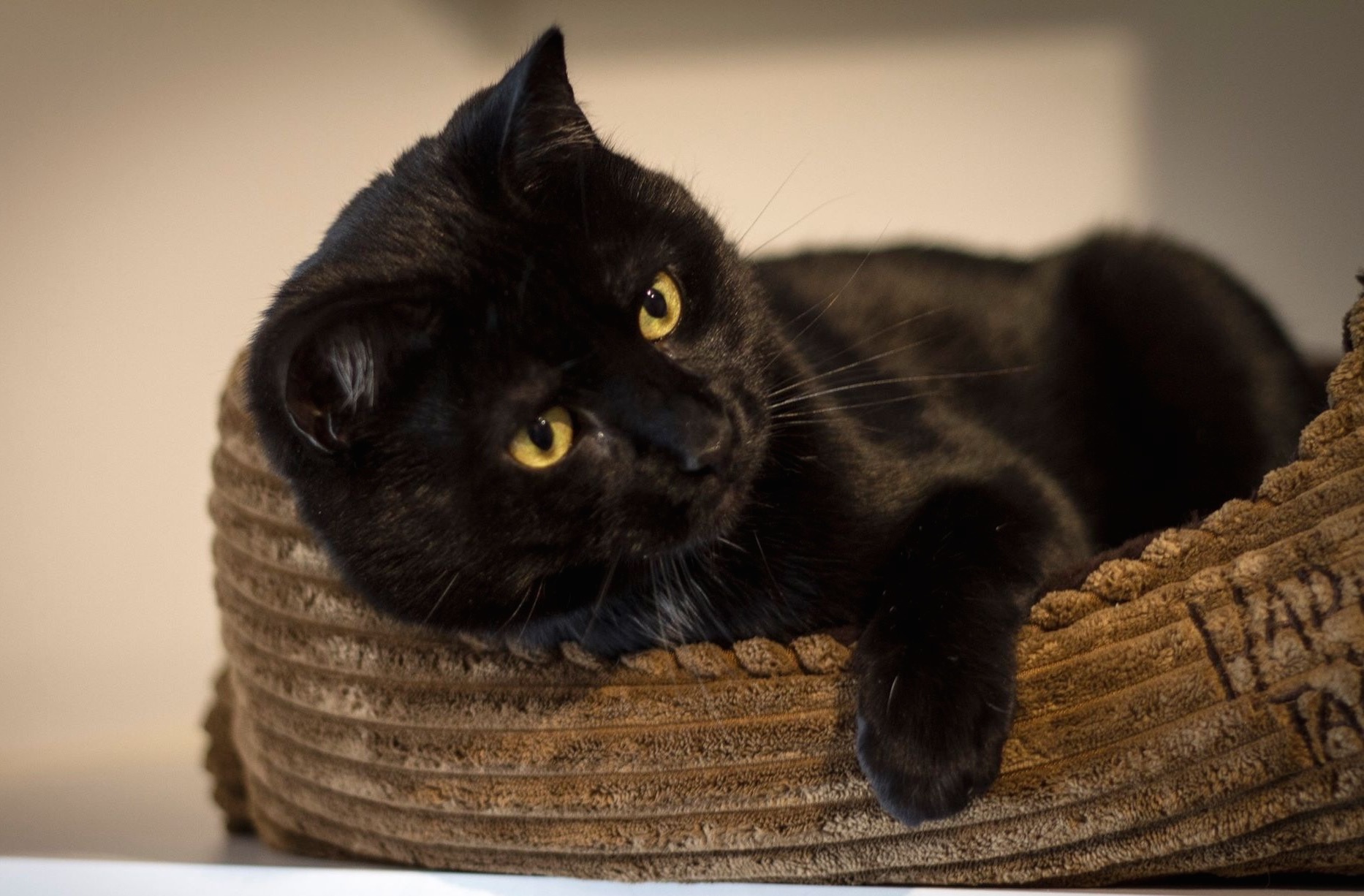 Our treasue, Burt!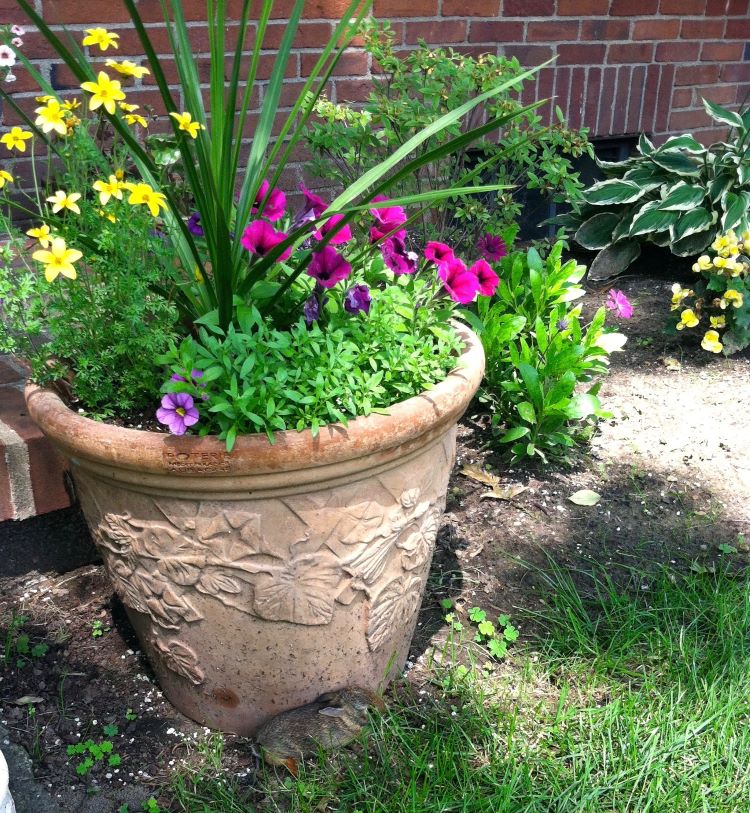 Treasure hunt: can you find the baby bunny?
On a side note, a few weeks ago I mentioned we met a vegan cook book author in San Diego. She recently posted a video about what she ate while there and you can see me for a split second at the 12 minute mark!
This week's recipe was inspired by the nasty weather. It is a total comfort meal for me, a much needed feeling as the rain was freezing outside our windows!
Mushroom, Bean and Barley Soup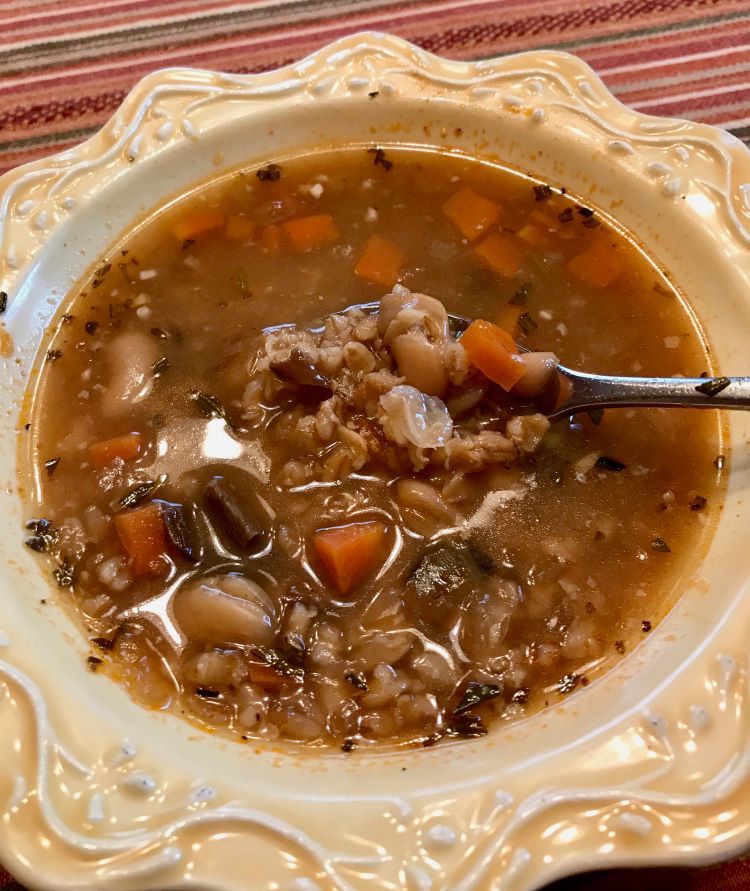 Ingredients:
1 oz dried porcini mushrooms
2 tablespoons olive oil
1 large onion, diced
2 garlic cloves, minced
1 teaspoon chopped, fresh rosemary OR 1/2 teaspoon dried
1 tablespoon tomato paste
8 ounces shiitake mushrooms, sliced (or button or cremini or a blend)
1/2 cup diced celery
3/4 cup diced carrot
3/4 cup pearl barley, rinsed (I use Bob's Red Mill)
6 cups water
Salt and pepper to taste
1 can Great Northern or Cannellini Beans, rinsed and drained
Optional toppings: smoky, crispy shiitakes, nutritional yeast, grated parmesan, fried onion crisps
Directions:
Place dried mushrooms in a mesh strainer and shake to remove any dirt. Put in a bowl and cover with hot water to rehydrate.

In a large soup pot heat olive oil over medium high and add onions. Sauté until golden and translucent, then reduce heat to medium and continue to sauté until caramelized, stirring occasionally (this will take about 15-20 minutes).

Add garlic, tomato paste and rosemary to pot and sauté for a couple more minutes, stirring frequently, until garlic is translucent. Add mushrooms, celery and carrots and sauté a couple more minutes, until vegetables start to soften.

Drain porcinis, reserving soaking liquid. Chop rehydrated mushrooms and add to pot. Add soaking liquid, 6 cups of water and rinsed barley. Add salt and pepper to taste.

Bring to a boil, reduce heat to simmer and cover. Cook, stirring occasionally, until vegetables and barley are tender (45-60 minutes). Add beans and cook 5-10 minutes, until beans are warmed through.

Serve with toppings of choice.

Enjoy!