A couple of weeks ago I went to the dentist. When I checked in I was asked if anything had changed in my medical history. My answer was no and I sat down to wait. The woman who came in after me snickered at the question and said, "Oh, yes! I had another cardiac arrest." I was amazed at how she mentioned this in a very offhand way and then sat down. Now I have no idea how many of these she has experienced and why she did not have any issue with total strangers hearing about her medical problems, but it made me think about my post from two weeks ago regarding preventive medicine. I know absolutely nothing about this woman and her journey in life, but I was struck by the fact she was very overweight. I could easily jump to a number of assumptions and judgments about her seeming lack of ability to "take care of herself" but that is not my point nor is it how I try to live my life. So why did it sneak into my thinking? I found myself trying to notice positives about her such as she was taking the time to go to the dentist and she was wearing purple (gotta like a person who likes purple). It is a struggle, however, to avoid forming negative opinions especially when I know how devastating it can be to recover from medical difficulties that may be preventable with positive lifestyle choices. Once again it was a reminder to me that I can never walk in another's shoes and I should not be judging someone based on a 30 second observation.
However, it was also a reminder that I want to do whatever I can to prevent getting to the point that I cavalierly state I had a cardiac arrest. Now I am human and as such am not perfect in my diet. I laughed recently when someone was telling me about a restaurant she went to and how good the bread was, but then she remarked that she did not think I ate bread because she thinks I only eat "good for you" food. Ha! One reason I go to the Public Market every week is to buy the toasted sesame bread from Flour City Bread! And I will admit a recent trip to Leo's Bakery for hamburger rolls also resulted in a purchase of vanilla whoopie pies (they taste like twinkies!). I counter these indulgences with a lot of clean food and exercise. Also, when I make a sandwich I often make it open faced so that I eat only one slice of bread, and I split the whoopie pies with my husband to avoid eating a whole one. It is how I find balance and happiness. This works for me. So often I hear people say these kind of choices are depriving themselves of pleasure. That is a negative way of thinking! I prefer to say I am enjoying my life now and laying the groundwork to enjoy it in the future.
Also, did you know regular flossing helps prevent inflammation which can help prevent heart disease?
This week's recipe is for vegan tempeh salad sandwiches, a variation on chicken salad. I have not eaten chicken in a 25+ years so I cannot say if this tastes like chicken, but I can say it was really good! If you have a great chicken salad recipe, you could easily substitute tempeh for the chicken by following the first step in this recipe. Remember, tempeh needs to be cooked before eating, unlike tofu. I served it open faced on half a toasted flatbread with lettuce.
Tempeh Salad Sandwiches
Ingredients:
1 package (8-12 oz) tempeh, cut into 1" cubes*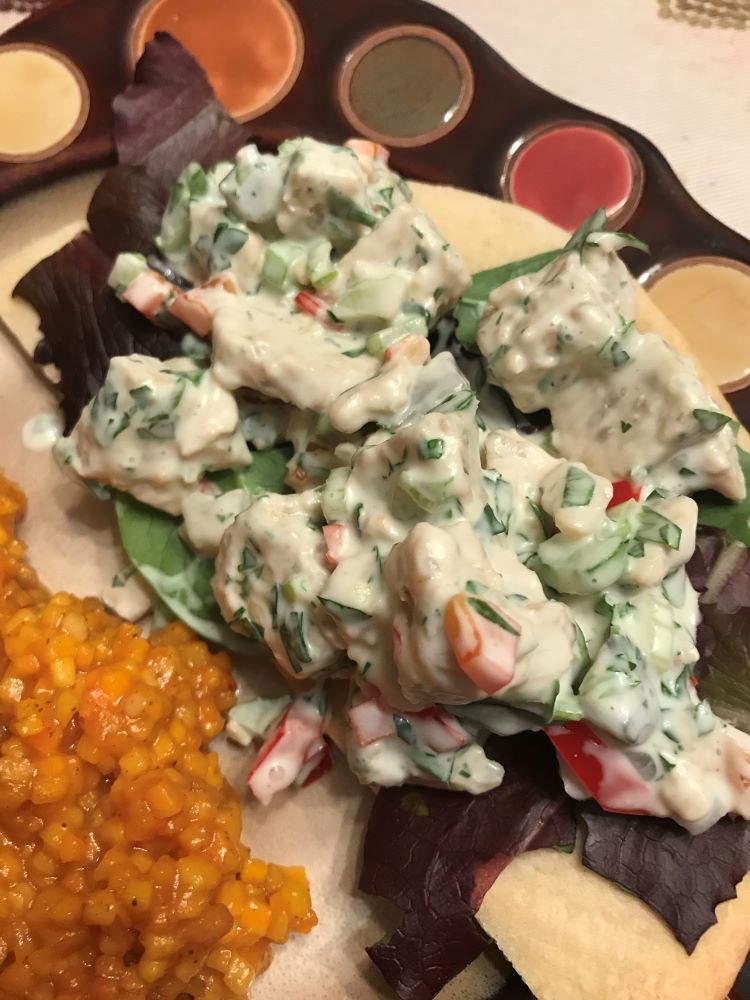 Celery leaves from a bunch or one stalk of celery, minced
1/2 sweet pepper (red, yellow or orange) minced
1/4 cup chopped pickles (your preference, sweet or dill)**
1 tablespoon fresh parsley, minced
1/3-1/2 cup vegenaise (or regular mayo)
1 tablespoon mustard (your choice yellow, hot, whole grain, etc)
Juice from 1/2 lemon
1 teaspoon onion powder
Bread and toppings of choice
Directions:
Bring a saucepan of water to a boil and add cubed tempeh. Reduce heat to simmer and allow to cook for 10-12 minutes. Drain and place in small bowl to cool (I put mine in the freezer to cool it quickly).

In a large bowl, mix the rest of the ingredients.

Once tempeh is cool enough to handle, roughly chop and add to bowl with rest of ingredients. Fold in and place in fridge for 30 minutes.

Serve on bread of choice with desired toppings and enjoy!
*If you don't like tempeh or don't have any, try this recipe with chickpeas, lightly mashed.
**You could substitute chopped grapes, dried cranberries or any other ingredient you like.