Our newspaper had a special Sunday section devoted to health. The main article was about doctors who are treating patients with a holistic approach called Lifestyle medicine. The following quote was shocking to me:
By current estimates, 40 percent of Americans are affected by chronic diseases and 70 percent of all American adults are overweight or obese, which increases their risk of diabetes, heart attack and stroke. Over 100 million Americans are predicted to have diabetes by 2050. Nine out of 10 Americans ages 75 and older have at least one chronic illness, and more than 20 percent suffer from five or more.
I have seen firsthand how traditional medical treatment for issues related to obesity and lack of exercise is not adequate. To be clear, we are living longer and there is no way to avoid having our parts wear out. However, research has shown time and time again that changing our lifestyle can help us live longer and healthier. People are resistant to change and when a medical problem arises, they want to find an easy cure. There are doctors willing to write a prescription rather than confront their patient about changing their lifestyle. Dr. Jules Zysman is spotlighted in the article:
Now, Dr. Zysman tells his patients: 'I can treat your hypertension — you can cure your hypertension. I can treat your diabetes — you can cure your diabetes.'"
Once again I go back to my favorite saying, "If you are not planning to age and be healthy, what are you planning?" We can all take steps to prepare for years of active living. This is not about judging. We are bombarded by advertisements and images that promote poor choices and encourage us to live for the moment. Have you ever had a semi truck pass you with a gigantic photo of McDonald's french fries plastered on the side? Or watched a favorite show where characters brag about being couch potatoes? Or seen the food porn photos on social media? It is so easy to justify why Americans are overweight and inactive. It is harder to acknowledge we have the power to take control of our own health. Doctors want to help and are willing to prescribe accordingly to make patients feel better instead of explaining the long term benefits of changing their lifestyle. We cannot change, nor can we make anyone else change, if we are not ready to, but my question is what are we waiting for? Prevention is much more fun and enjoyable than recovery.
This week's recipe is just in time for Taco Tuesday! I call my version Enchilada Tacos because I use red enchilada sauce to provide tons of flavor instead of slathering on sour cream and cheese. I use jackfruit to keep it vegan, but you can sub in shredded chicken, pork or steak. I served them with a side of rice and beans. We had leftovers of everything, so the next day we put the rice and beans in the tacos.
Enchilada Tacos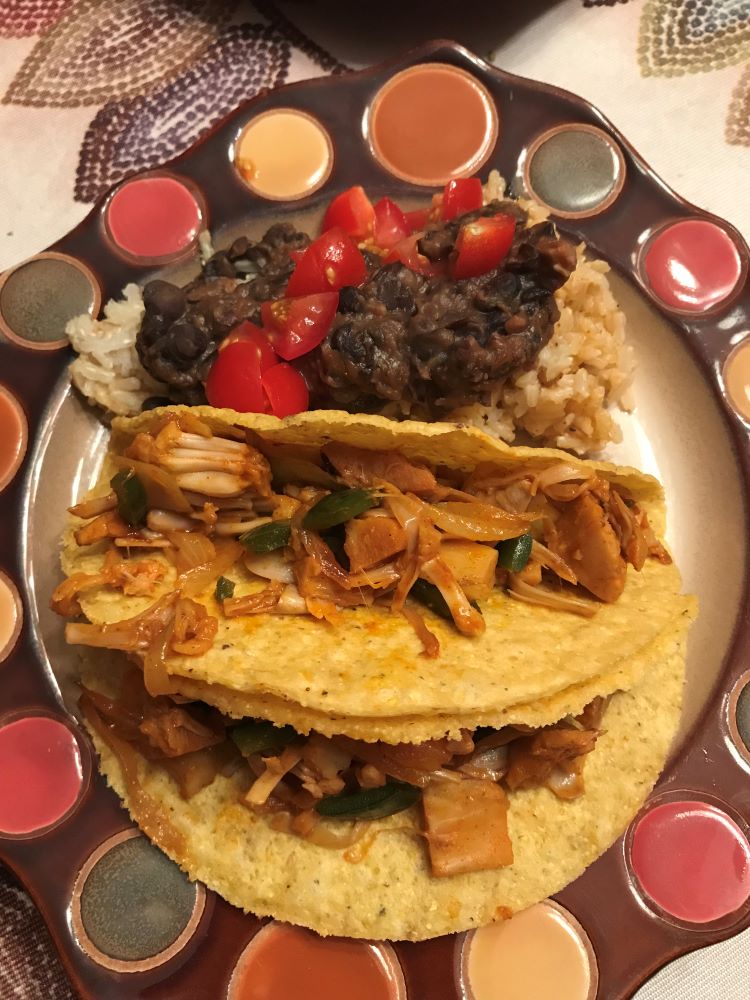 Ingredients:
1 tablespoon olive oil
1 medium onion, sliced
1 poblano pepper, seeded, deveined and sliced
1 can jackfruit, rinsed, drained and shredded

1/2 cup prepared red enchilada sauce (more if you like it saucy)
1 cup cubed pineapple (fresh or frozen and thawed)
Warm corn tortillas, crispy or soft
Toppings of choice: avocado, lettuce, cabbage, tomatoes, etc.
Directions:
Warm the olive oil over medium heat in a large pan. Add the onions and sauté until soft and translucent. Add the peppers and cook until soft. Add shredded jackfruit and cook 2 or 3 minutes, until warm and starting to brown. Add enchilada sauce and pineapple and cook until bubbly.

Meanwhile, warm tortillas in oven.

Divide filling among warm tortillas and top with favorite toppings.

Enjoy!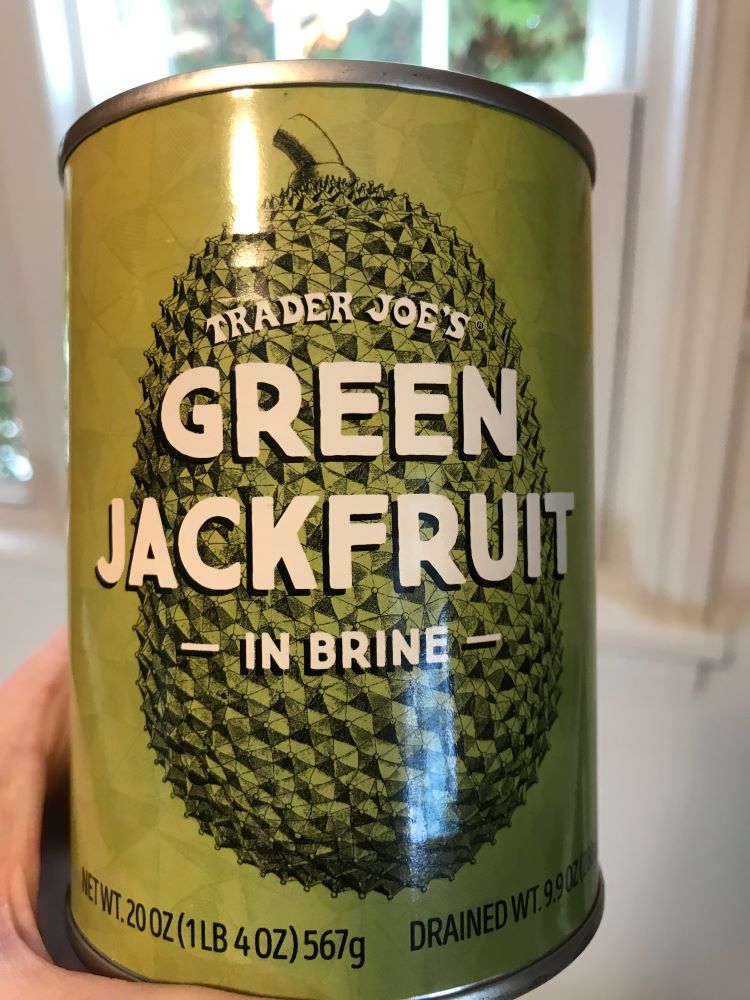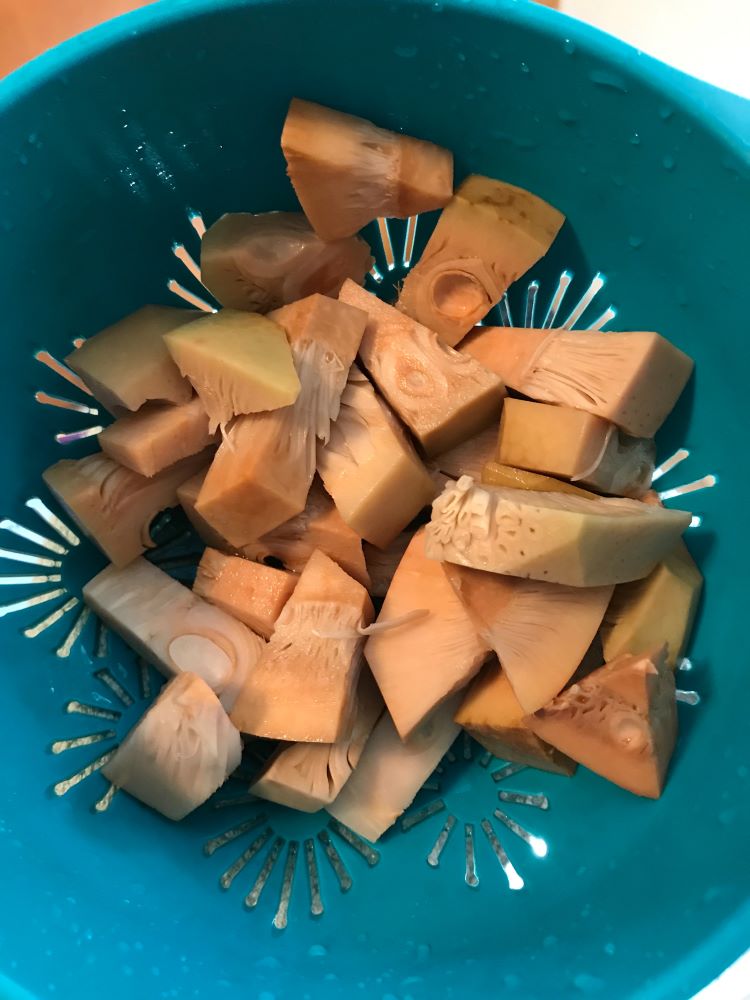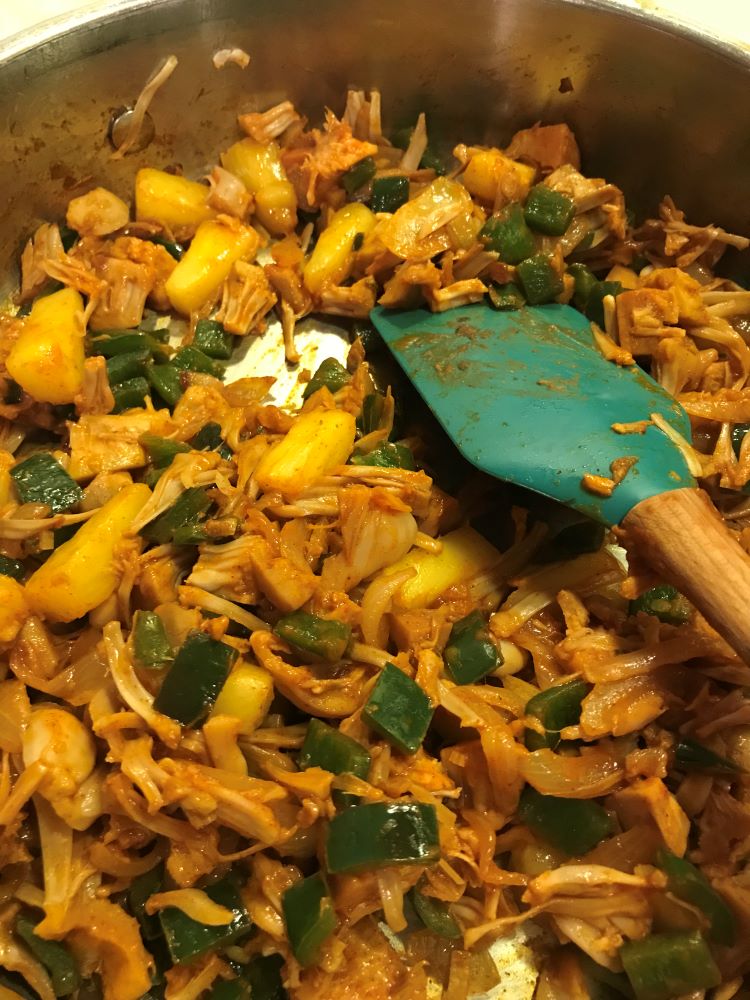 Cooked filling