Last week I wrote about my dislike for calling food fake just because it is different from traditional definitions. Describing vegetarian or vegan food can be hard without referencing a more familiar food that is similar to the veg alternative. Often the item is described by using the term vegan or vegetarian as an adjective, such as vegetarian burger or vegan cheese. A funny thing happens when you do this; people automatically assume the food has magically become healthy because it is vegan!
When I was in San Francisco in October I shared a vegan donut with a friend at the Ferry Building. It was delicious! I still think about that salted, caramel frosted donut and drool a little. If I had believed that it was healthy because it was vegan, I would not have shared! Baked goods are easy to make vegan. There are so many substitutes for the traditional dairy items in cupcakes, cookies, brownies, bread, etc. That does not mean they are healthy. Same goes for vegetarian entrees. A lasagna loaded with cheese and no meat is not a healthy choice. Macaroni and cheese made with cheese alternatives is still full of carbs and fat. A salad topped with nuts, cheeses and a creamy dressing can be worse than a steak! Tofu that is breaded and deep fried is as bad as french fries or other fried foods. I always get a chuckle when I tell someone I am vegetarian and they make a comment about how healthy I must eat! Being vegetarian or vegan comes with many pitfalls. Just as a meat eater is confronted with chicken wings or bacon wrapped anything and has to use common sense about what to eat to stay healthy, so do I. Don't fall into the trap of thinking a food is good for you because it has a healthy sounding adjective in front of it's name. This holds true for anything labeled vegan, fat-free, gluten-free, low-sodium, natural, sugar-free, etc. or any combination of similar descriptors. This time of year is full of temptations of all kinds. If you want to avoid extra calories don't rely on labels alone. Rely on your common sense. Choose your foods carefully and knowledgeably and eat any treat, entree, side dish, appetizer, etc. in moderation. Sharing is one good way to avoid overeating. No matter how much I wanted the whole tray of vegan donuts, sharing was the best choice. Besides, that leaves room to try other things as well!
Since it is almost Christmas I want to share one of my all time favorite cookie recipes for Snickerdoodles! The recipe is vegan, but they are still cookies and must be viewed as an indulgence. I make them small so I can eat one and feel like I had a treat but did not blow my whole calorie allotment. One cookie has about 60 calories, if you get 32-36 out of the batch. You could use colored sugar for rolling to make them festive.
Vegan Snickerdoodles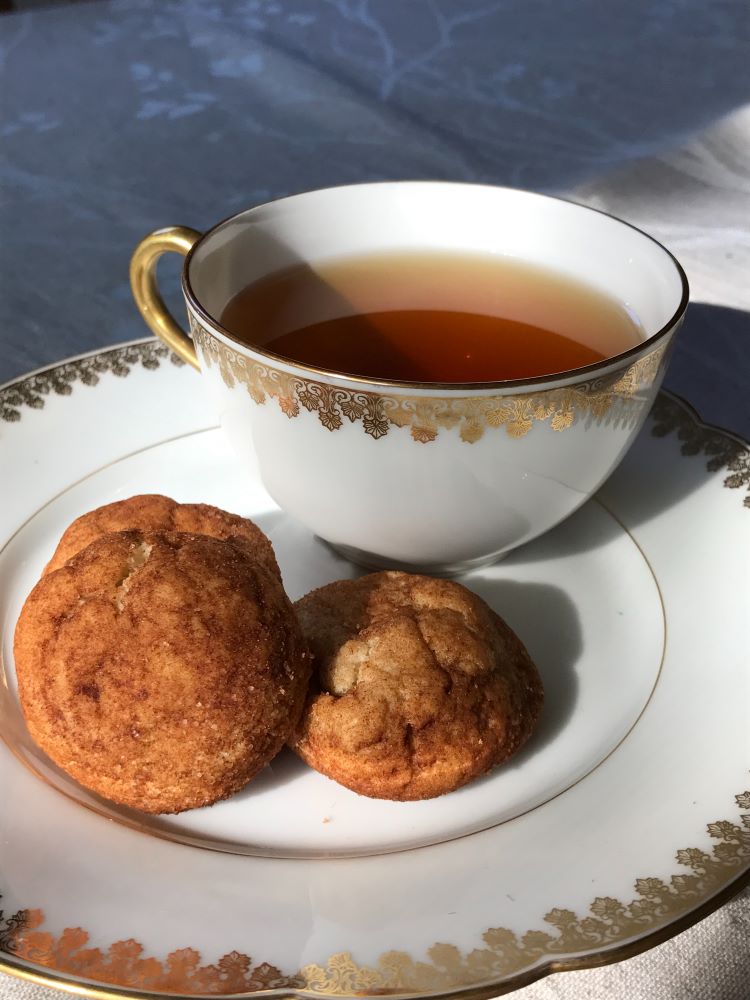 Ingredients:
Dough:
1 3/4 cups flour (I substitute 1/2 the flour with whole wheat flour)
1/4 cup corn starch
1 tsp baking powder
1 stick (4 oz) vegan margarine (make sure it is non-GMO, or use real butter if you prefer)
3/4 cup sugar
1/4 cup unsweetened, vanilla soy milk (or regular soy milk and add an extra 1/4 tsp vanilla extract)
1 tsp vanilla extract
1/4 tsp almond extract (optional)
Cinnamon Sugar Topping:
1/4 cup sugar
2 Tbsp cinnamon
Directions:
Preheat oven to 350 degrees. Line two cookie sheets with parchment paper
Whisk flour, corn starch and baking powder in a medium bowl.
Beat margarine in a separate bowl with electric mixer until soft. Add sugar and beat until fluffy, about 1-2 minutes. Add in milk and extract(s). Beat until smooth, about 30 seconds.
Add flour mixture and beat until smooth dough forms.
Make cinnamon topping by mixing sugar and cinnamon together in small, wide mouthed bowl.
Shape dough into small, one inch balls. (I use a 1 tablespoon scoop, scantly filled). Roll balls in cinnamon sugar mixture and place 1-2 inches apart on prepared sheets.
Bake 10-12 minutes until tops look dry and bottoms are lightly browned. Cool on wire racks.
Enjoy!