Ever have a couple weeks go by and realize a couple weeks went by in a blink of an eye? Christmas seems to come so fast and then it's over so quick! I have to admit I am one of those crazy last minute shoppers, but only because I love to bargain hunt. This year I bought a beautiful, faux leather moto jacket in a deep pink color that retailed for $160. I found it on a clearance rack marked down to $50 and I had a 30% off coupon, so final cost $35. My best deal came online. LL Bean leather boots, original cost $169, marked down to $19.99 in their 2-a-day special sale with an extra 10% off. Final cost $18! That deal was so awesome I bought them in two colors! Of course this means I need to do some purging of my closets. That is always a good way to start a new year. Remember, I can bargain hunt for you or help clean out closets! I am the Task Tamer, after all!
I hope you had a wonderful Christmas. We got to spend time with my family. My nieces are so grown up that it is no longer about the presents. Instead we get to have great conversations with each other and enjoy the company. It is really heartwarming to see how everyone can pitch in and help contribute to making the meal together.
Unfortunately, this past weekend was not so great. I came down with a stomach bug that knocked me for a loop (if you are eating right now, skip this paragraph). In my whole adult life I have thrown up only three times. Yep, it happens so infrequently, I can keep track. After Saturday night, I am up to four. I spent all day in bed on Sunday feeling very sorry for myself. Thank heavens for my husband! He kept me company, brought me a few bites of food when I could stomach it, and talked me through the worst waves of sickness. One of the hardest things is forcing myself to not workout. I thought I would go back to the gym today, but realize my calorie intake for the last couple of days has been so minimal that my energy level is very low. Today I feel so much better, I will get some normal meals in me and get back to it tomorrow. My only positive take away is that I think I will no longer crave chocolate since it was the last thing I ate before getting sick.
I hope you enjoy the last couple of days of 2014! We are looking forward to New Year's Eve. My college roommate is getting married and I am thrilled to be going! I know it will be a fabulous party because she was always the best planner for anything!
I look forward to 2015 and continuing to share my take on a variety of topics. I love to hear any feedback or your own take on topics. You can write in the box below, comment on Facebook, or respond by email. Have a safe and wonderful New Year's Eve!
This time of year calls for a special recipe. My mother used to make the best Beef Stroganoff from a recipe she got from my grandmother. It used to be a favorite and I have tried recreating it many times with mushrooms instead of beef. I could never seem to get it right. I came across this version on Whole Foods website and gave it a try. Eureka! It was phenomenal! Serve it over barley, rice or traditional noodles.
Vegan Mushroom Stroganoff
Ingredients:
2/3 cup raw cashews
2 teaspoons red wine vinegar
Pinch salt
1 1/2 pounds assorted mushrooms (I used cremini and white)
3 shallots, thinly sliced (I used one small cooking onion since I had no shallots)
2 1/2 cups mushroom broth or low-sodium vegetable broth (I used veggie broth)
1 tablespoon Dijon mustard
1 tablespoon paprika (I used 1/2 tablespoon regular and 1/2 tablespoon smoked paprika)
1/2 teaspoon ground black pepper
Directions:
Place cashews in a small bowl and cover by about 1 inch with boiling water. Let soak 30 minutes. Drain, discarding soaking liquid. In a blender, combine cashews, 1/4 cup water, vinegar and salt, and blend until smooth; add more water a tablespoon at a time as needed to make a cashew cream.

While the cashews are soaking, halve or quarter smaller mushrooms and thickly slice larger ones. Place mushrooms and shallots in a heavy pot and set over medium heat. Cook, stirring frequently, until the mushrooms begin to brown; add broth a few tablespoons at a time to keep mushrooms from sticking to the bottom of the pan. Cook, adding more broth as needed, until mushrooms are browned and softened, 10 to 12 minutes.

Stir in remaining broth, mustard, paprika and pepper. Bring to a boil, lower heat, and simmer until mushrooms are very tender and sauce is thickened, about 25 minutes. Stir in 1/2 cup of cashew cream. Serve with remaining cashew cream on the side.
Enjoy!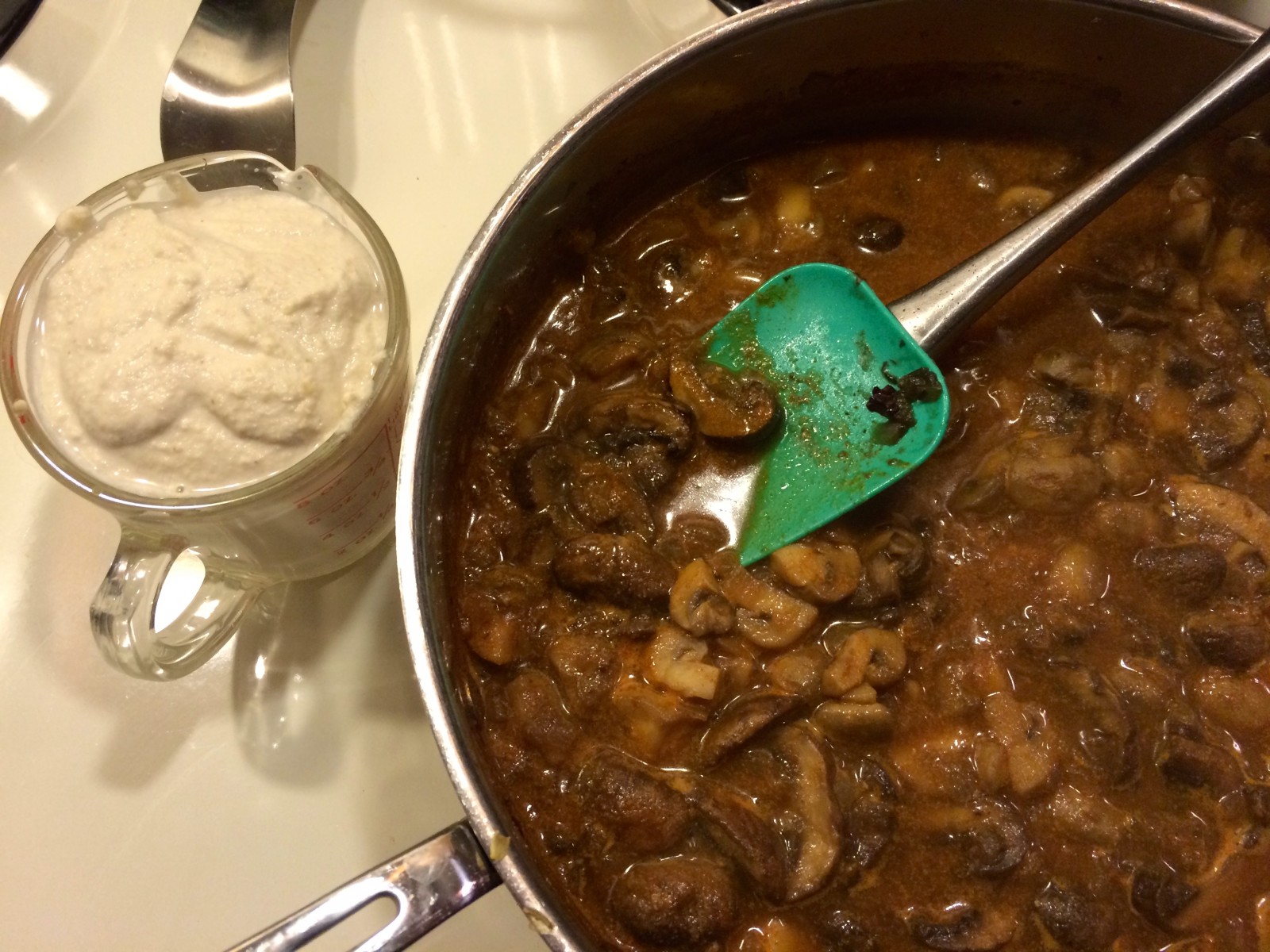 Stroganoff before adding the cashew cream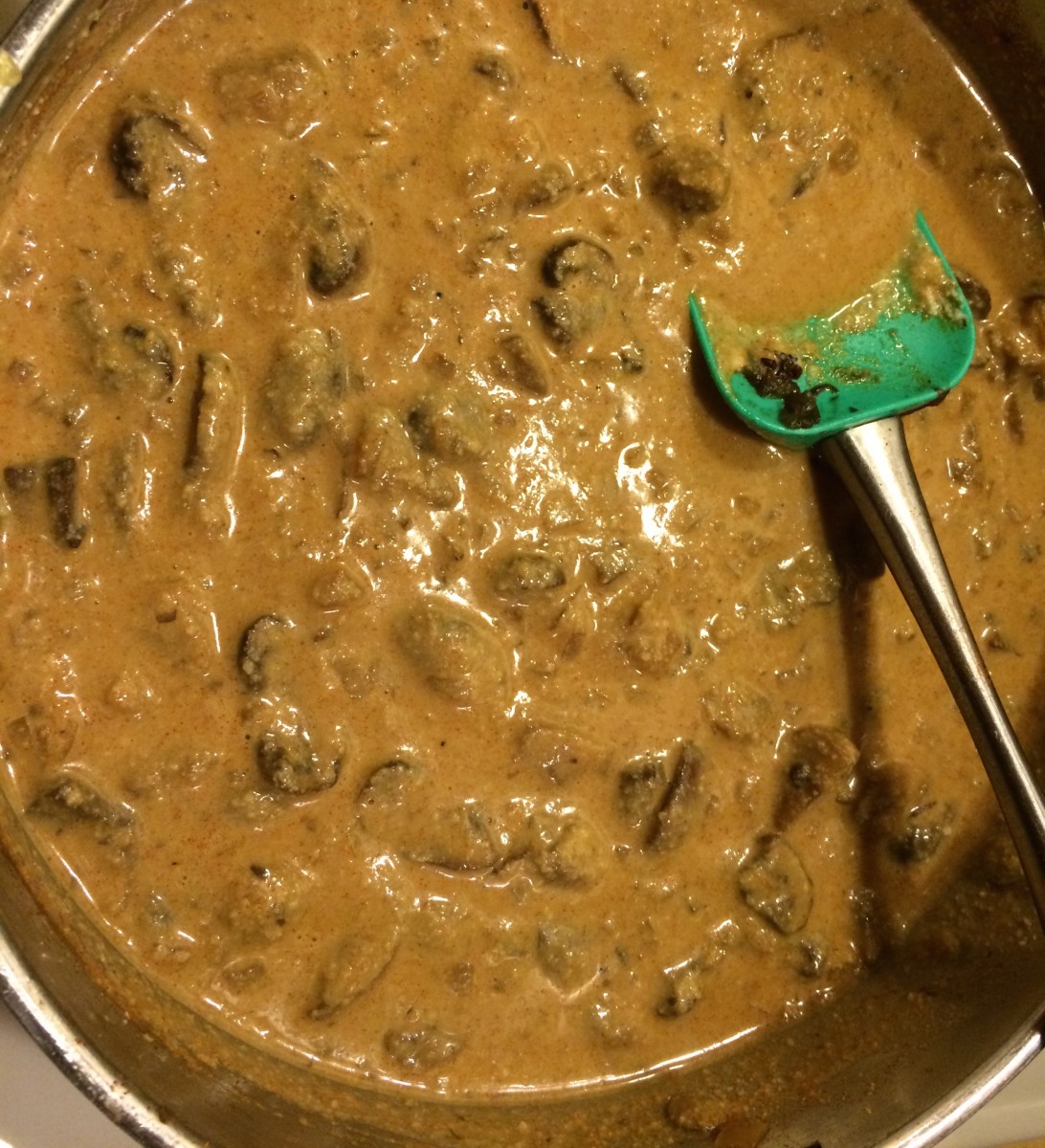 Stroganoff after adding cashew cream