Happy New Year! I hope everyone had an enjoyable holiday season. I have to say this New Year's Eve was one of the best, if not the best, I have ever had! Celebrating a wedding and then dancing in the new year was an amazing experience! My husband and I can't stop talking about how much fun we had!
It seems everyone looks forward to this week because we can get back to "normal" routines. It is the time to reflect on the last year and to make new plans and goals for the year to come. How often did you find yourself saying "after the holidays I will…"? Well, it is officially after the holidays! Here are a few of my goals for this year:
Plan at least four meals each week and be flexible the rest of the week.
Try new recipes
Keep track of the meals I make and take more photos to share with you!
Spend less time on the computer doing useless things (I love cat videos, but I have better things to do!)
Use the computer to educate myself and to find interesting things to write about.
Read more books.
Continue to exercise regularly
Write at least one positive thing each night in my journal.
Write to family and friends more often.
Be kind to myself and others.
Phew!
Have you been to the gym yet this year? It gets pretty busy there this week. I love seeing new faces and some faces I haven't seen in a while. It is like there is a new, positive energy that fills the gym! People have great expectations and are so motivated! I know the statistics show most people will not stick with a work out plan, but I have faith! We owe it to ourselves to take care of ourselves. We only get one body, why not enjoy what it can do instead of letting it break down? I know I sound like a broken record, but if you aren't planning to be healthy, what are you planning?
This week's recipe is more of a guideline. My husband laughs at me because I always have to put some kind of vegetable on our dinner plates. Even if I make a vegetable filled casserole I serve it with a side of vegetables! This is super easy because I always have something in the fridge from the market and all I do is toss it with some olive oil, salt and/or seasoning, throw it on a roasting pan and pop in a hot oven. How long you cook it depends on how well done you like your veggies. I find that hardy vegetables, such as brussel sprouts, broccoli, cauliflower and carrots require 15-20 minutes for the sugars to caramelize nicely. More delicate veggies, such as asparagus, mushrooms or green beans only need 8-10 minutes. Potatoes require the longest time, probably 20-25 minutes. The vegetables should come out crisp and tasty.
Roasted Vegetables
1 cup vegetables, per serving
1/2 teaspoon olive oil, per serving
1 pinch of salt, per serving (optional)
1/4 teaspoon favorite seasoning, per serving (optional)
Preheat oven to 425. Prepare a roasting pan by lining it with parchment or spray with cooking spray.
Toss ingredients together in bowl. Spread out on roasting sheet, trying not to overcrowd (use two if necessary).
Place pan(s) in oven for desired roasting time (see suggestions in above paragraph), stirring once, halfway through cooking time.
Enjoy!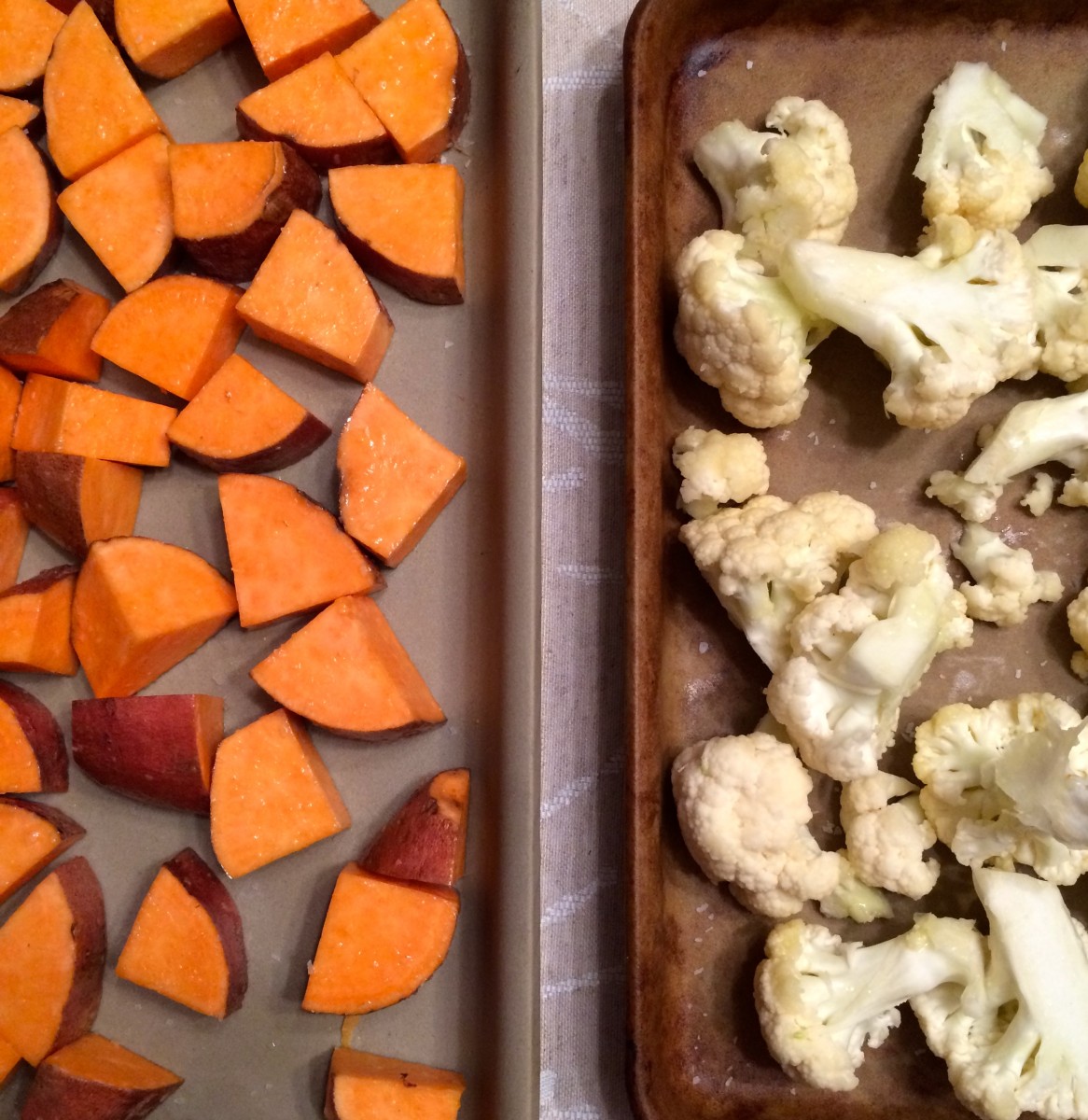 Sweet Potatoes and cauliflower ready to go in the oven