This time of year it seems you cannot turn on the television or open a magazine without seeing a story about losing weight or improving your metabolism or cleaning up your diet or…well, you get the idea. A recent article in Real Simple magazine is called The Energizer Body (I can't give a link because I can't find the article on their website) and it is about metabolism. It breaks down the different types of metabolism and gives advice for how to give yours a boost. It was interesting reading because my trainer gave me an article written in 1989 about the same subject and it is striking how little has changed.
Metabolism is how your body burns calories to make energy. If you eat more calories than you burn your body will store them as fat. We can blame this on ancient humans who couldn't depend on reliable sources of food. Their bodies reserved calories so they could continue to survive until the next meal. Since that is no longer a concern for most of us, you should not be eating more calories than you can burn in one day. I love the idea of telling myself I can decline a second helping because I know I will be able to eat tomorrow. I don't have to eat all the cookies today because they will still be there tomorrow!
Both articles I read talk about resting metabolism. This is how many calories your body will burn while at rest. In other words, while you are binge watching House of Cards your body is still burning calories just to keep you alive. The article from 2015 gives a convoluted formula to figure out your base metabolism. I went through it (it requires a calculator) and laughed at the number because the article from 1989 tells you to multiply your weight by 10 to find your resting metabolism and the two numbers were almost identical. So do the easy math. If you take your weight and multiply by 10 that will give you a rough estimate how many calories you need just for your body to function each day. As you add in activity you can add calories. Want to lose weight? Consume less calories than you burn.
Now let's talk calories and exercise. I do not count my actual calorie intake. I try to pay attention to portions and familiarize myself with a rough knowledge of how many calories are in what I am eating. If you are someone who needs the structure of knowing exact numbers try using an app such as myfitnesspal (available for apple or android). This app will also help you figure out how many calories you burn by exercising. Remember, you cannot exercise away excessive over eating. A moderate, one-hour workout will only burn approximately 300 calories.
There are ways to give your metabolism a boost but nothing will over rule genetics. Common sense tells us that staying active throughout the day, eating the right kind of nutrients, cutting down on processed sugars and foods and getting enough sleep are all ways to keep your body working at its best.
If you want to read another blog I wrote about metabolism, check it out here.
Speaking of nutrients, it is important to get enough iron in your diet. There are many vegetarian sources, including pepitas (pumpkin seeds), spinach and white beans. I put these ingredients into a google search and found this recipe. It sounded really different and interesting so I gave it a try. It was delicious! The combo of sweet and savory made each bite super tasty!
Pasta with Pepitas and Beans
Adapted from veganyumyum
Makes 2-3 servings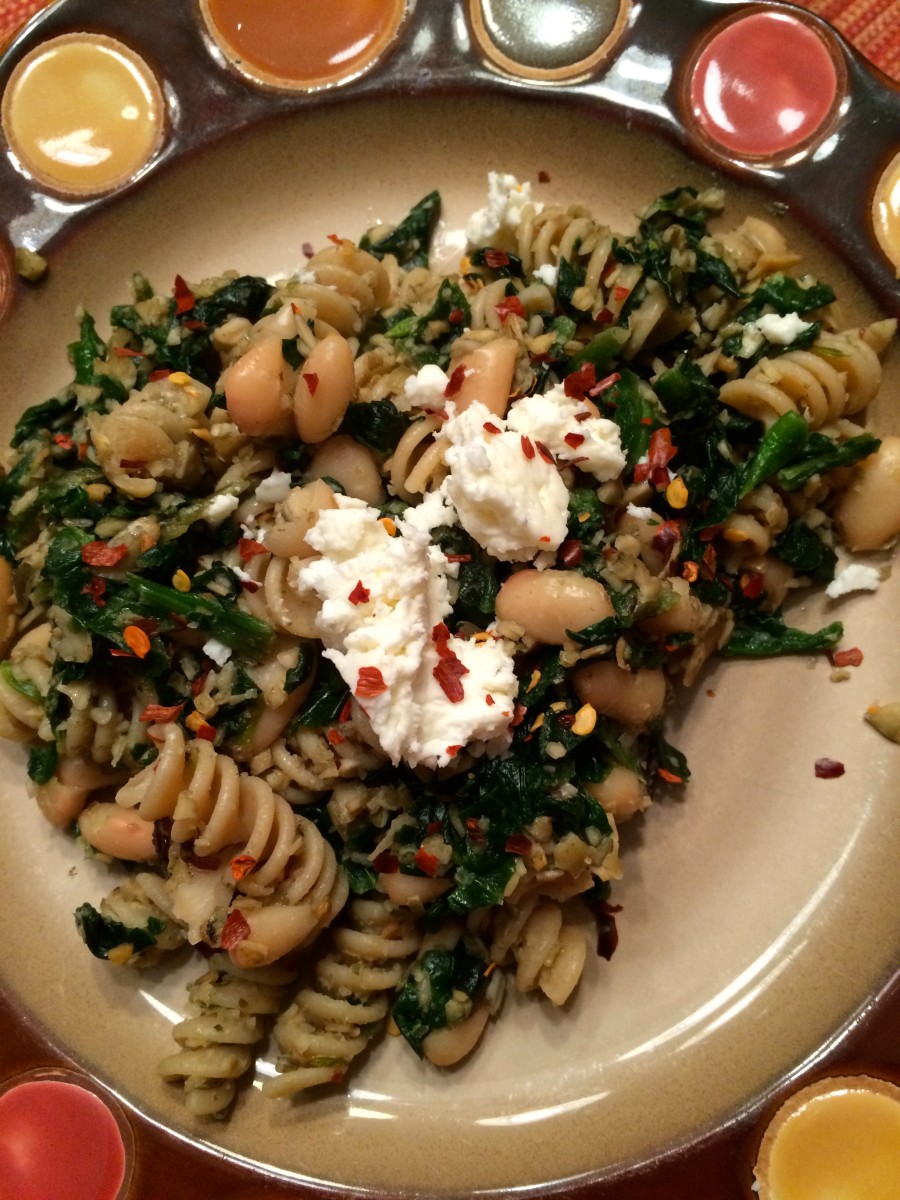 Ingredients:
8 oz dried pasta of choice
2/3 cup raw, unsalted pepitas
1 Tbsp olive oil
1/4 tsp red pepper flakes
12 oz bag frozen spinach, thawed and squeezed dry
2 Tbsp liquid aminos (or low sodium soy or tamari sauce)
2 Tbsp maple syrup
1 tsp fresh thyme, chopped
1 can white beans, drained and rinsed
1/3 cup dried cranberries
2 oz crumbled feta (optional)
Directions:
Prepare pasta according to package directions.
Pulse pepitas in a food processor until finely chopped.
Heat oil in large skillet. Add spinach, red pepper flakes, liquid aminos, maple syrup and thyme. Stir well, breaking up any clumps of spinach. Add white beans stir again. Add in cranberries and stir once more. Once everything is heated through, remove from heat.
Drain pasta and add to spinach mixture. Stir in crushed pepitas. Taste to see if you need to add more aminos or syrup.
Divide the feta (if using) between the servings. (I sprinkled on more crushed red pepper because I like spicy food)
Enjoy!