I feel I write about how wonderful spring is every year. It truly is my favorite part about living here. The weather is starting to warm up, trees are getting buds, crocuses are poking through the dirt, the sun comes up earlier and sets later and neighbors are starting to come out of their houses again. I walk around with a smile because I know this is just the beginning of outdoor fun and relaxation as well as seeing colors, other than brown and white, all around.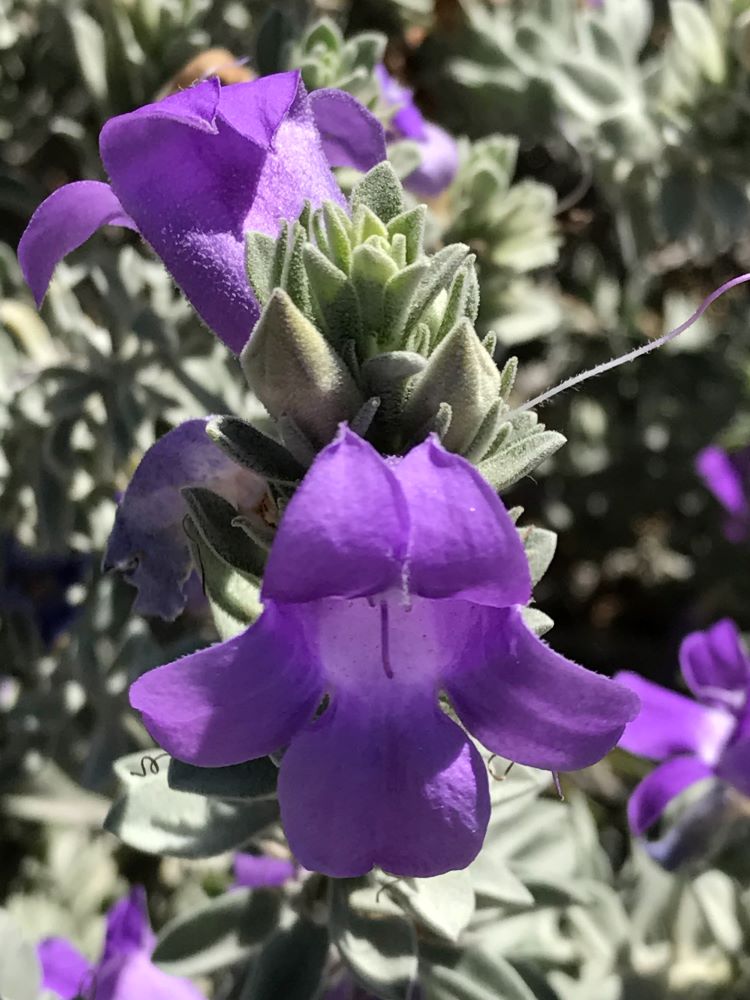 One of many flowers I saw on a jog
We were lucky to have an opportunity to spend half of March in Southern California. One part about vacation that I enjoy is being able to get outside and exercise. I have written before about hearing people talk of vacation as being an excuse to forget about eating well and working out. We actually know someone who spends 50 weeks a year exercising hard just to be able to eat, drink and be idle for two weeks on a beach. This does not work for me. It is easier for me to try to maintain a routine similar to what I do at home and slip in a few indulgences rather than let it all go and then feel like I am starting all over once I get back. When we get to our destination I check out the activities offered, scope out the area for walking or jogging and locate the gym. I find it fun to take classes I normally do not do such as water aerobics, fitness walking or outdoor yoga. The resort we stayed at in Palm Desert offered an adult playground as well as a two mile trail that allowed me to enjoy amazing scenery as I worked out. (I always find it interesting that people choose to use treadmills in a resort fitness center rather than get out and walk, but I have to give them props for getting exercise even if it is not what I would choose.) I particularly liked the playground. It consisted of five stations with instructions for all fitness levels covering three days of workouts. I was surprised that I was the only one using it! A few men stopped by to use the pull up bar but then continued on their way. It honestly did not feel like hard work because I was surrounded by mountains, flowers and sunshine which took my mind off how much I was sweating.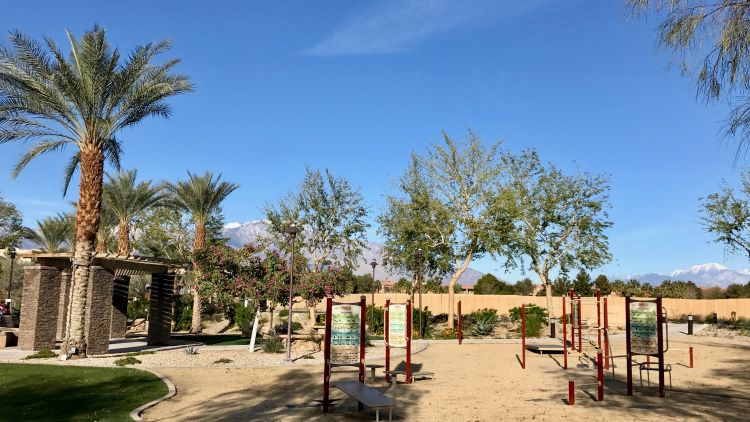 Adult playgorund
I know some people feel a vacation is the time to take a break from all routines. Figuring out how to fit in exercise seems like too much work. Yet vacation should be an awesome time to work out. You do not have to get up extra early to fit it in before work. You can use a walk to explore the area where you are staying. And getting some activity helps offset the extra glass of wine or dessert that you would not normally indulge. I know many people will be going away for the upcoming spring break. It does not take a lot of time to get in a work out, 30-45 minutes, and then you can get back to relaxing. I encourage you to take a few minutes to plan a routine that will keep your muscles moving. If you have a plan in place before you leave you will be more likely to actually carry it out. You will thank yourself when you get home and back to your regular routine!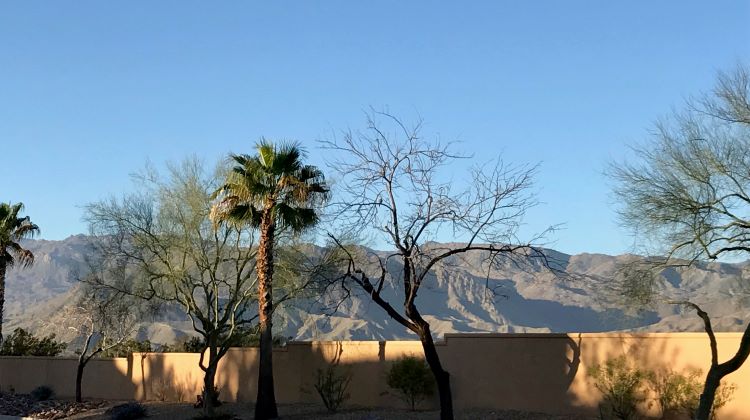 Gorgeous scenery during a jog
Being in California made me crave fresh, local vegetables. I recently saw asparagus at the market. It is usually the first vegetable to show up, even if it is not from here. It tells me it is spring somewhere! This week's recipe uses spiralized sweet potatoes. I do not have a spiralizer, but Wegmans offers packages of many vegetables already done. It is a bit expensive, but I do not use them often and I do not want to buy another piece of kitchen equipment that I will need to find storage for, so the price is worth it to me. This is a side dish, but you could add beans, vegetable protein (tofu, seitan or tempeh) or meat to make it an entree.
Sweet Potato Noodles with Onions and Spinach
serves 4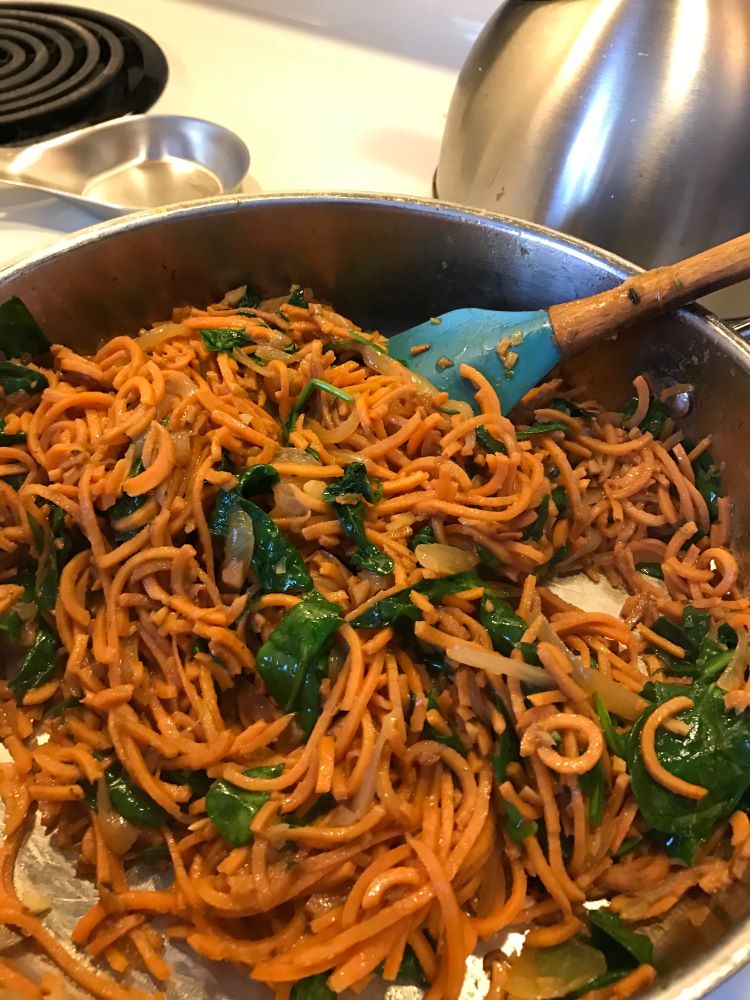 Ingredients:
1 tbsp. olive oil
1 medium onion sliced
2 cloves garlic, minced
1/2 tsp. Italian seasoning (or spice mix of choice)
1/4 tsp. salt
1 lb. spiralized sweet potatoes
1/2 cup water
1 package (5-8 oz) fresh spinach
2 tbsp. fried onion topping (optional)
Directions:
Heat olive oil over medium in a large sauté pan. Add onion slices and cook until translucent and starting to brown, stirring often, about 5-10 minutes.

Add minced garlic, seasoning and salt. Cook for 1-2 minutes, stirring often, until garlic turns golden.

Add sweet potato noodles and stir to mix. Continue cooking, stirring occasionally, for 5 minutes or until noodles start to soften. Add water and cook 2-3 minutes, until noodles soften a bit more. The goal is to keep noodles slightly firm. If you prefer crunchier noodles, do not cook as long.

Add spinach and stir to combine. Cover and cook for 2-3 minutes, until spinach wilts and potatoes are desired doneness.

Divide among plates and top with 1/2 tablespoon of fried onion pieces, if using.

Enjoy!