Ever start reading a book and each page has something on it that you want to share with whomever is nearby? I had that experience with a book called Fit from Within by Victoria Moran. With chapters titled "Accept yourself today", "Give up the notion of blowing it", "Stop comparing", "Keep things simple", etc. she gives 101 tips to help you change your relationship with food and learn to see yourself in a super positive way. I normally don't read diet books or self-help books because, with the thousands to chose from, where do you start? Luckily this one was at the gym and I was able to borrow it to read.
Encouraging words are everywhere. Many of my friends on Facebook post sayings that are good reminders to live by. For example, "Take care of your body. Where else are you going to live?". Or "Stop being afraid of what could go wrong and think of what could go right". And "The only way to succeed is to not worry about what anyone else is doing". If you google "words to live by" you will get over one million results. These will only help you, though, if you believe them. Too often we judge ourselves so harshly that we just smile at the cute sayings and move on. I can tell you to accept yourself and that you are beautiful until I am blue in the face, but if you don't believe it yourself these powerful words have no affect on you.
One thing that my husband and I do for ourselves on a regular basis is get a massage. Our therapist, Bobbi Payne, is FABULOUS! She will make you believe that you are the most important person in the world when you meet her. This comes from her own journey to accepting and loving herself and the desire to pass this on to her clients. Her blog last week talked about her realization that too many people hate their bodies and end up with disordered eating as a result. I agree with her when she says this needs to stop. The author of the book I mentioned in the beginning talks about her struggle with having a healthy self-image. I continue to battle the negative thoughts that creep in when I catch sight of my body in the mirror. Bobbi is taking steps to spread the word that all of us are beautiful by sharing her journey to believing in herself.
I will leave you with one more saying: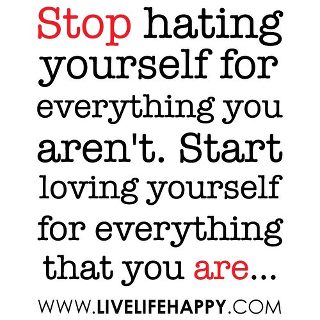 The recipe this week I have made for guests. If you prefer to not use tempeh click on the Health Magazine link and it has directions to use shrimp instead. It looks like a lot of ingredients and really time consuming, but a small food processor can help with the chopping and it comes together quickly. The marinade, couscous and tomatoes can be made in advance and rewarmed as you are cooking the protein. Each serving is about 500 calories.
Harissa-Spiced Israeli Couscous
Modified from Health Magazine
Harissa marinade:
• 2 medium garlic cloves, minced
• 1/2 tablespoon ground cumin
• 1 teaspoon ground coriander
• 1/2 teaspoon cayenne pepper
• 2 1/2 tablespoons lemon juice
• 1/4 cup extra-virgin olive oil
• 3/4 teaspoon salt
• 1/4 cup chopped fresh cilantro
Tempeh:
• 1 1/4 cups water
• 2 packages tempeh, cut into 1-inch squares
Couscous:
•1 tablespoons butter
• 1/2 cup finely chopped onion
• 2 garlic cloves, minced
• 3/4 cup uncooked Israeli couscous
• 2 1/4 cups vegetable broth
Tomatoes:
• 1 pint cherry tomatoes, halved
• 3 Tbsp extra-virgin olive oil
• 2 garlic cloves, minced
• 1/2 teaspoon crushed red pepper flakes
• 1/4 cup chopped fresh herbs (such as a combination of oregano, basil, and parsley)
• Sea salt or kosher salt
• Freshly ground black pepper
• Minced cilantro (optional)
• Grated Parmesan cheese (optional)
Preparation
1. For the marinade, combine all marinade ingredients in a medium bowl, and whisk.
2. For the tempeh, add 1 1/4 cups water to marinade. Arrange the tempeh in one layer in a large non-stick skillet. Pour marinade over tempeh. Bring to a simmer over high heat. Cover; simmer 15 minutes or until most of the liquid is absorbed. Set aside; keep warm.
3. For the couscous, melt butter in a small saucepan over medium heat. Add onion and garlic; sauté 3 minutes or until tender. Add the couscous; sauté 2 minutes, stirring frequently. Add broth; bring to a boil. Reduce heat; simmer, covered, for 12 minutes or until couscous is tender. Remove from heat; let stand 5 minutes. Fluff with a fork.
4. For the tomatoes, combine tomatoes, oil, garlic, and pepper flakes in a large nonstick skillet over high heat; sauté 3 minutes or until tomatoes soften and begin to pop. Stir in herbs; sauté 2 minutes. Season with salt and pepper.
5. Divide the couscous among 4 wide soup bowls. Spoon tomatoes around couscous; top with tempeh. Sprinkle with cilantro and Parmesan, if desired.
Enjoy!