Every once in a while it is important to remember to be grateful for the blessings we have in life. We get caught up in so many day to day things that are important but in the whole scheme of things are not worth stressing about. Have you ever encountered a person who is fuming or upset or loudly complaining about waiting too long in a line or some other thing that is trivial? I often hope that they have never had anything happen to them that would make them realize how short life is because if they had they would be less upset about small things.
Every night I write in my journal and I start it by writing "Today I am thankful for" and then I put something down from my day. It is a great way to make yourself reflect on the day and think about what has made it good. There are times that I am thankful for the things that weren't so great. For example, having an argument with my husband because then I can think about how much I love him. If we did not have disagreements then I would think my feelings are neutral on him and that is never good in a marriage! When we first met I was working at a country club and he was a member. It wasn't exactly proper for members to date employees but when he asked me out and I pointed this out his response was perfect. He said, "I believe life is too short to worry about that." We had both experienced the loss of close family members and knew how true this statement is. I knew I was going to marry him on our first date. (Of course I did not tell him that! It's good to leave some mystery!)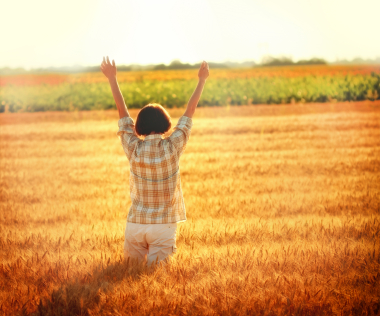 One of the best speeches I have ever listened to was given by Jim Valvano when he was given the Arthur Ashe Award for Courage at the 1993 ESPY Awards. He was a college basketball coach who was well respected and liked by many. In his speech he talks about the three things we should do every day. They are laugh a little, think a little and have your emotions move you to tears, whether of joy or sadness. That is a full day because you have lived it to it's fullest. His speech will fill all three of these by making you laugh, inspiring you and it will make you cry when you realize he died less than two months after giving it. My favorite part is when he laughs at the man telling him to wrap it up in 30 seconds. He points out he has no idea how much longer he has to live and he is going to talk as long as he wants! I encourage you to listen to his speech (just click on his name above for the link). It will be 11 minutes you will enjoy.
So my message today is remember that life is short. Pay attention to the details, but don't forget the big picture. Be kind to yourself and take care of yourself and always remember to tell the people you love how you feel. Smile as much as you can, listen to others and know that if you end up in a long line at the grocery store it is not that bad. I often say that if that is the worst thing to happen to me that day then it is a pretty good day!
So now I am in a dilemma about what recipe to include. I don't like to give out too many dessert recipes but this one is just the thing to treat yourself and still feel virtuous (just limit yourself to one at a time!). Believe it or not cashews can be used to replace cream in many recipes. I have used them to make Mac 'n Cheese, a white wine lemon "cream" pasta sauce and in these delicious Chocolate Covered Key Lime Cheesecake Balls. The trick is to give yourself enough time to soak them, usually several hours and then blend them in a food processor with some liquid.
Key Lime "Cheesecake" Truffles
Yields 12
Adapted from Beard & Bonnet
For the filling
1 1/2 cups raw cashews, soaked for 2-4 hours, then drained
1/4 cup coconut oil
1/4 cup raw local honey (maple syrup is yummy too)
1/4 cup key lime juice (you can use regular limes if you cannot find key limes)
1/4 tsp. salt
Coconut oil baking spray
For the coating
14 oz. bag dark chocolate chips
1/2 Tbsp coconut oil
Instructions
Combine all the ingredients for the filling in a food processor fitted with the S blade. Process until completely smooth, stopping to scrape sides once or twice. This can take anywhere from 2-5 minutes depending on your food processor.
Spray the wells of a cake pop pan or mini cupcake pan with coconut oil and scoop 1 tablespoon of the filling into each well (I use paper baking cups). Place in freezer for at least 4 hours or until frozen solid.
Melt chocolate with the oil in microwave or on stove using a double boiler.
Use a spoon to gently release the frozen filling from the pans then dip and roll each truffle in the chocolate until completely coated. The chocolate will get clumpy quickly so I keep it warm.
Place on a parchment paper lined baking sheet (or back in cups you froze them in) and transfer to fridge until chocolate hardens. Once dipped in chocolate you can store these bite size beauties in the fridge.
Enjoy!