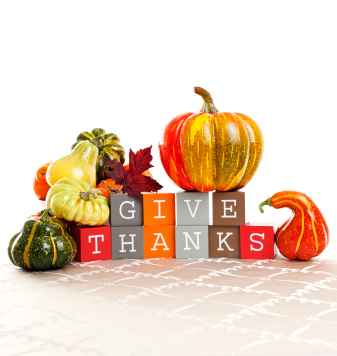 Thursday is Thanksgiving. Those words scare me! Not because of the abundance of food that will be hard to resist but because it got here so fast! Wasn't last Thanksgiving just a few months ago? The overeating that inevitably comes with this holiday isn't worrisome to me because I know one day won't throw me off track unless I let it.
There are many strategies you can use to avoid eating too much on Thursday. The morning news programs, day time talk shows, magazines and various on-line articles have all covered ways to keep calorie intake in check. They include filling up on healthy foods beforehand, going for a walk, making sure your plate is at least half full of vegetables (not of the green bean casserole variety) and eating just a few bites of everything. My plan? Eat what I want and enjoy myself. Yep, no worrying, no guilt and no self flagellation. Seriously, one day will not make a huge difference on the scale. That happens when you decide to use the holidays as an excuse to continue overeating and avoid exercise until January 1st.
Here is what I will be doing to keep the scale in line: continue exercising and when a day comes that I have a bit too much then I will cut back the next day. Or, since I know Thursday will be an indulgence day, I will be be careful leading up to it and will be back on track come Friday.
My best advice is to know yourself and know what will work best for you. Then make a plan and stick to it. Don't use the holiday season as an excuse. Yes, there will be stress and temptation. There will be days you fall off your plan. It's okay! Don't let that lead to a month of bad decisions that lead to more stress to get back on track in the new year. Stay mindful and use common sense. Most of all, be kind to yourself and enjoy the season!
What's your plan?
I will be hosting my family this week and I often get asked if I will make the turkey. No! My sister comes over with her daughters and we have a sleepover. Then she handles the turkey. There will be no tofurkey either! I love to find a vegetarian recipe that is festive and something everyone will like. This recipe is what I will be making. It is a bit unusual because I have not made it before. I will let you know how it is next week!
Puff Pastry Tart
modified from Food Network Magazine
2 Tbsp extra-virgin olive oil
2 fat leeks (white and pale parts only) chopped and thoroughly rinsed
1/2 medium onion, chopped
1 cup shredded Brussels sprouts (could use spinach or other green veggie)
1 cup chopped mushrooms
2 cloves garlic, chopped
Salt and pepper to taste
1 15-ounce container ricotta cheese (I use part-skim)
3 large eggs
1 tsp fresh thyme leaves
1 sheet frozen puff pastry, thawed in the fridge
Flour for rolling
1. In a large sauté pan, heat the oil over medium heat. Add the leeks, onion and sprouts and cook, stirring occasionally, until wilted, 5-10 minutes. Add the garlic and until fragrant, 1 minute. Add the mushrooms and cook until water evaporates, 5-10 minutes. Season with salt and pepper and set aside to cool.
2. In a large bowl, whisk ricotta, 2 eggs, thyme and 1/4 tsp salt. Fold cooled vegetables into ricotta mixture. (It is important to cool veggies because they will scramble the eggs if they are still hot).
3. Preheat oven to 375. On a lightly floured surface roll out the pastry until it's 12" square. Using a 12" pie plate or just eyeballing it, cut dough into a circle. (Knead scraps into a ball and save for another use). Transfer dough to a parchment-lined baking sheet. Spoon the filling into the center, leaving a 2" border. Lift the pastry edges and fold over the filling, creasing the dough as needed and leaving the filling exposed in the middle. In a small bowl, whack the remaining egg with 1 Tbsp water and brush a thin lair of the egg wash o the exposed pastry, taking care not to let the egg run down the sides to the pan.
4. Bake until the pastry is golden brown, about 45 minutes. Remove form oven and let rest 10 minutes before serving.
5. Enjoy!