We are halfway through January already! Are you sticking to the goals you set for the new year? As I mentioned in my first blog of 2017, a resolution requires an intention and commitment in order to succeed. If you have dropped the goal two weeks into the year, chances are you did not set the right goal for yourself. On the other hand, if you are still working on achieving an objective you are well on your way to developing a new habit.
One plan I made for January was to do a yoga challenge. I have mentioned before that I try to maintain a home practice with yoga by following Yoga with Adriene. This is the third time she has done a series of 30 consecutive days of yoga in January. Her philosophy is summed by her catch phrase "Find What Feels Good." Today was sweet 16! In today's video she mentioned a friend who talks about how he will have to live with back pain for the rest of his life. She is encouraging him to change his language about himself because it is not very kind to identify yourself simply as someone who has to deal with back pain. As I continued on with the video I could not stop thinking about what she said. So often I hear people talk about the things they cannot do for whatever reason. Yoga is a perfect example of this. Ever say the words "I cannot do yoga because I am not flexible?" I know I have! Then I started with a gentle yoga class and found out I most certainly can do yoga. What I have learned in the 5 or 6 years I have been doing it is to never compare myself to others. If I am in a class, the person next to me is on a completely different journey and his or her body will be able to do different things than mine. Also, I will never be able get into the same poses as the instructor! And that is okay. I have changed my language from "I cannot" to "what can I do?" One thing Adriene says a lot is there is no cheating in yoga. I think this is a good lesson for life! If you need a block or a strap or any tool that will turn your inner conversation from "I cannot" to "I can," use it! As always, this requires you to be mindful of your body. Obviously, (I hope) if you have bad knees or a bad back, etc., do not push yourself to the point of no return. A marathon or a spinal twist might not be appropriate for you. But instead of telling yourself what you cannot do, say I can go for a stroll or I can enjoy a forward fold. Changing the language from negative to positive might help you achieve the goals you set down two weeks ago.
Just like there is no cheating in yoga, there is no cheating in cooking. As Emeril always said, "it ain't rocket science!" If you are saying you cannot cook or cannot find time to cook, ask yourself instead, what can I do to help get a nutritious meal on the table? If you have to follow a recipe to the letter or buy pre-cut vegetable or set aside a few hours to prep food for the upcoming week, etc., you are not cheating! You are succeeding!
This week's recipe is a new take on risotto. I love risotto because you get a nice creamy dish without actually adding cream. Use a good, flavorful cheese to get a lot of taste without overloading on cheese. Use a pre-made broth that is low in sodium and uses ingredients that you can pronounce. The hardest part about this recipe is chopping the onion and garlic. Onions can be diced quickly by using this technique: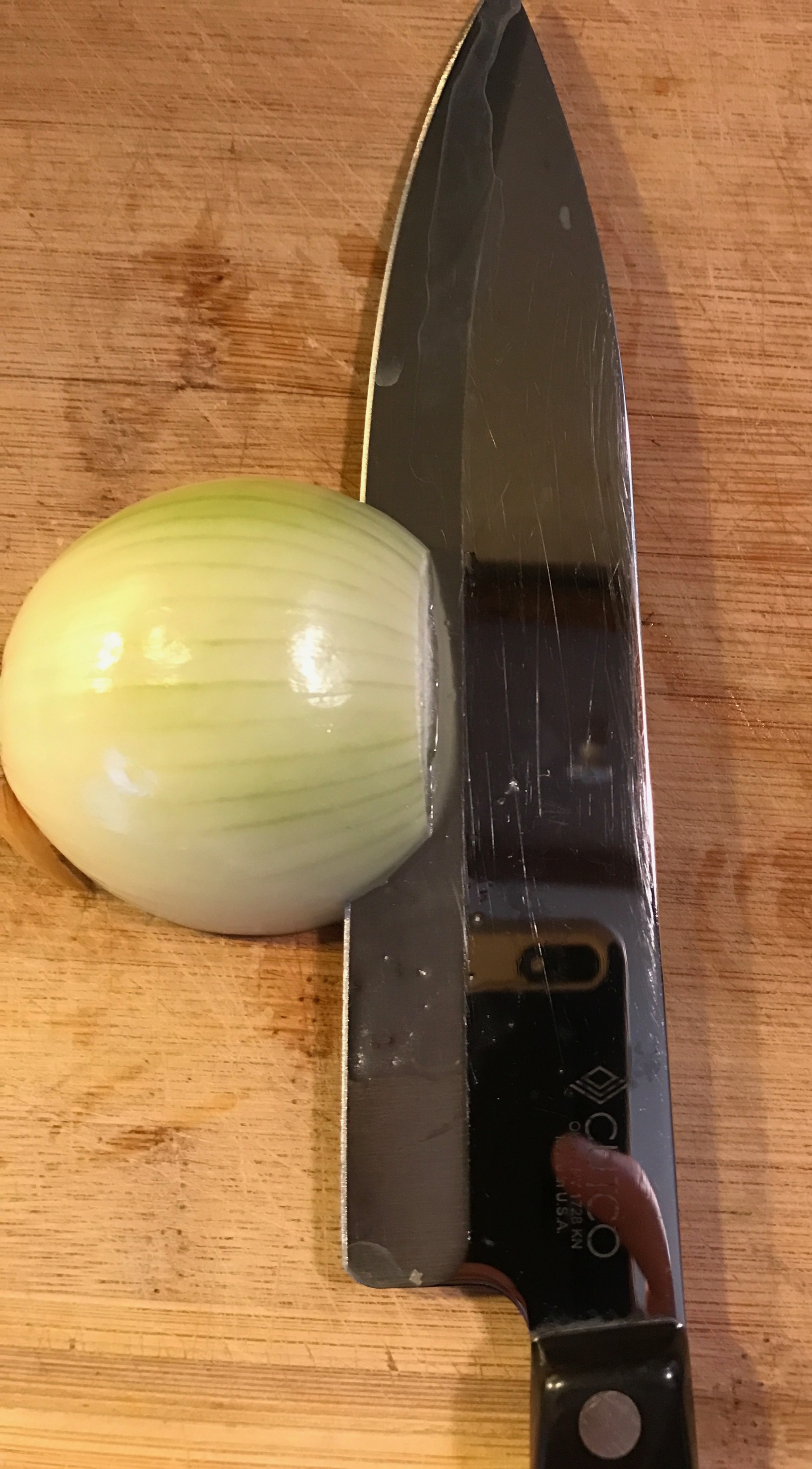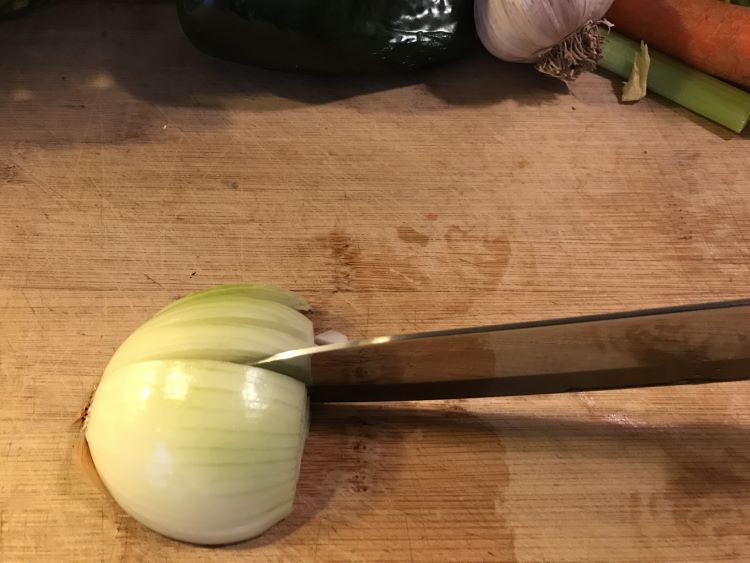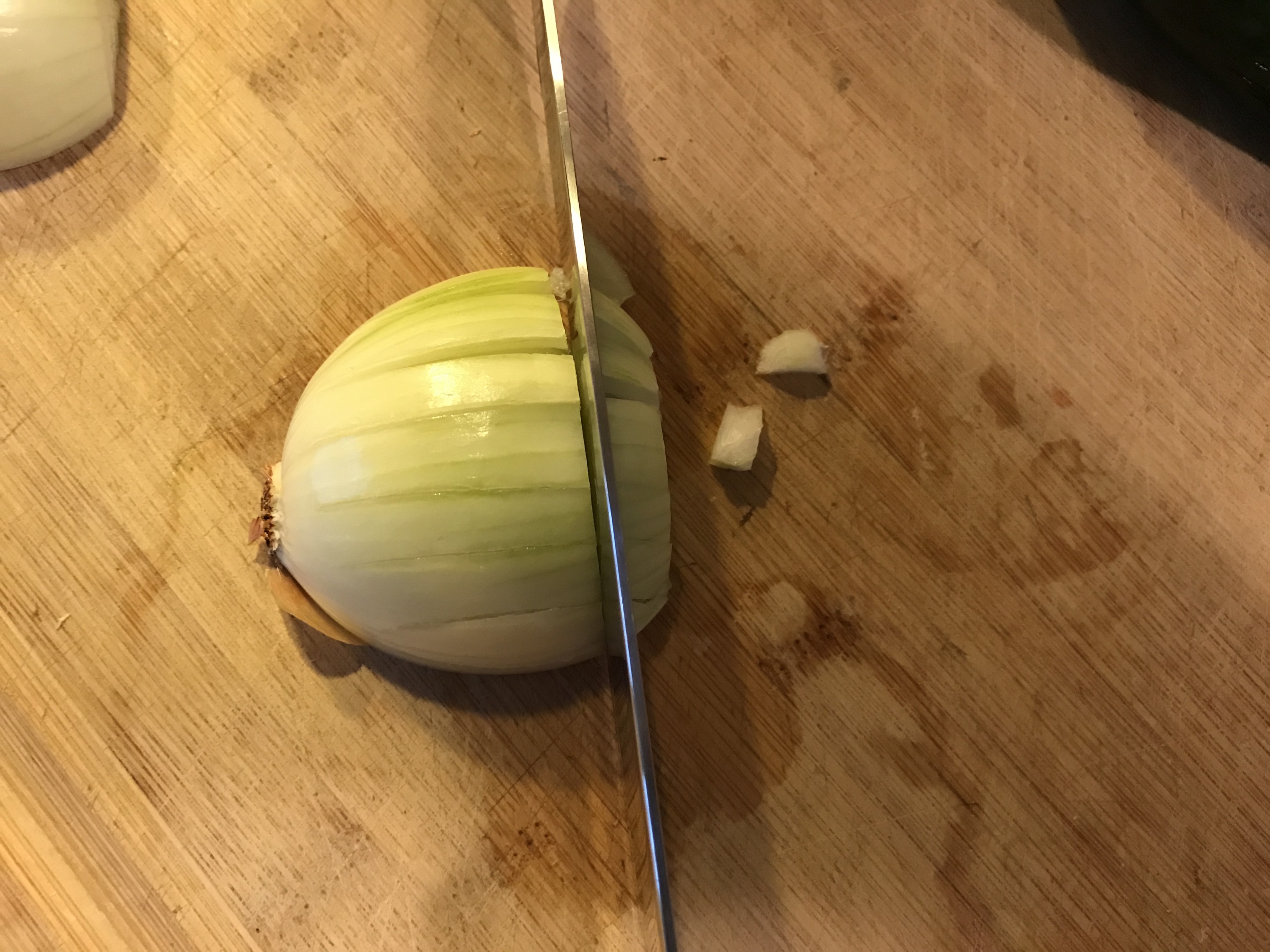 Buying fresh garlic this time of year usually means it will have a root starting inside. If you halve the garlic and see a green shoot, be sure to remove it or your whole dish will be bitter: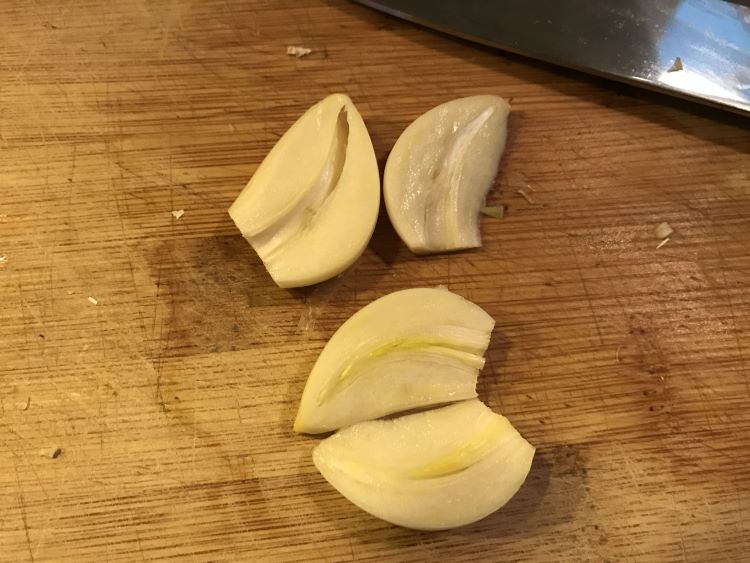 Risotto with Cheddar, Beer and Roasted Vegetables
Ingredients:
1/2 head broccoli cut into florets (or 3-4 cups pre-cut)
3-4 cups sliced mushroom (or 1 package pre-sliced)
3 tablespoons olive oil, divided
4 cups low sodium vegetable broth
1 small onion, diced
2 garlic cloves, minced,
1 1/2 cups risotto rice (arborio) rinsed and drained
10 oz beer (chose your favorite since you will have an extra 2 oz to drink)
3/4 cup good quality, sharp cheddar cheese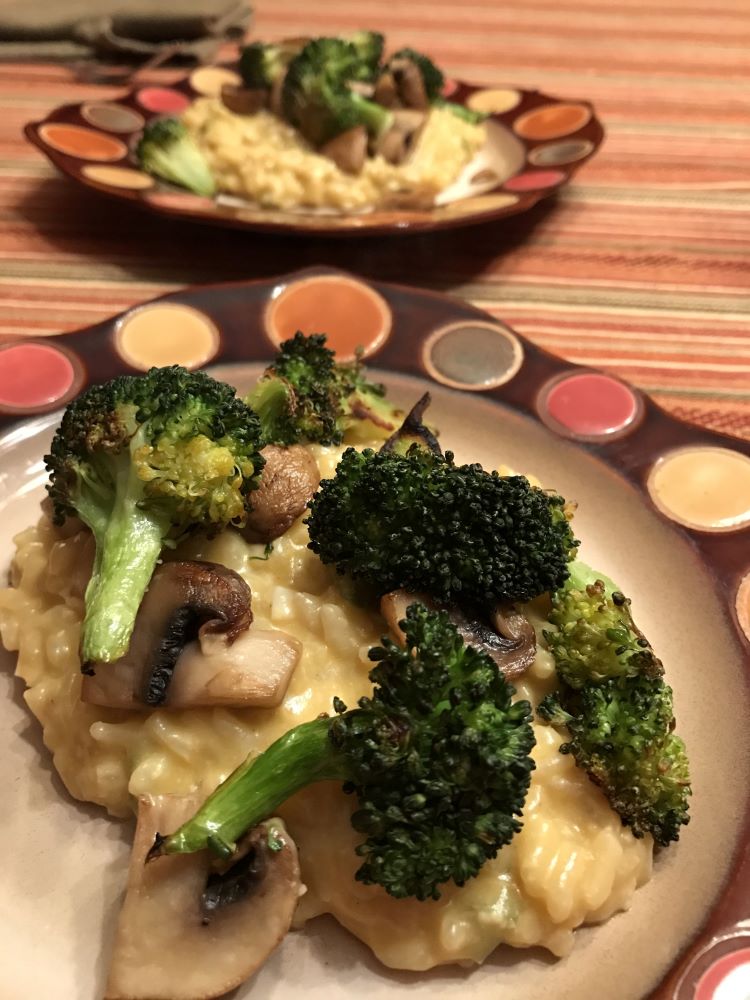 Directions:
Heat oven to 450 degrees and line two baking sheets with parchment paper. Toss the broccoli and the mushrooms with 1 1/2 tablespoons olive oil and place on prepared baking sheets. Bake for 20 minutes, stirring once half way through.

Pour vegetable broth in a sauce pan and bring to a simmer.

Meanwhile, heat remaining 1 1/2 tablespoons olive oil in a large sauce pan or a dutch oven. Cook diced onion until it is translucent and soft, 5-8 minutes. Add minced garlic and cook another minute, stirring frequently. Add rice and cook one more minute, until it looks a little toasted.

Add beer and stir occasionally until liquid is absorbed. If the beer is straight from the fridge, it will foam like crazy and take awhile to absorb. If it is room temperature it will still foam but absorb more quickly.

Add one cup of warm broth. Stir occasionally until liquid is absorbed. Continue this pattern, adding a cup of broth at a time and stirring to absorb, until broth is all incorporated. Remove risotto from heat.

Add cheese and stir to melt into the rice.

Serve topped with roasted vegetables.

Enjoy!