I recently had a conversation with a 21-year-old young lady who was lamenting the fact her body was changing. It was amazing how quickly her words could bring me back to when I was feeling the same way. I have written before about metabolism and negative body image. She was confronting it for the first time and was depressed at what she was seeing in the mirror. I give her a lot of credit because she was talking with three 50-something-year-olds and seemed to be listening to what we had to say. When she commented that she wished she could still have the body she had just a couple years ago, I assured her she is growing more beautiful because she is becoming a woman.
I write this blog because it is a way to satisfy my desire to write, to share my "take" on many subjects and to try and provide some information that may help you. When I am asked what I write about I reply that I have covered everything from being vegetarian to my love/hate relationship with exercise to watching funny videos to my view on heroes, in other words, pretty much what is on my mind at the time of writing. The main thing I stress is that each entry is my opinion and it is from my viewpoint as a woman with experiences unique to me. When I was young one of my favorite shows was the Mary Tyler Moore Show because it featured a woman with a neat job and a cool apartment. I wanted to be her! When I got older I realized how ground-breaking that show was for the time. Even though there were women who were working in traditional male workplaces and living on their own they were not making television programs about them.
Flash forward to today. Women are represented everywhere, but rarely realistically. As with so much in our society, it seems there are two extremes. Either a woman is seen as impossibly perfect or as an exaggeration of reality. I can see why the young lady I was talking to was feeling down. I can only hope that we provided some good role modeling for her. As we head into the next chapter of our country, I encourage anyone who has a young woman in their life, either a friend or family member, to encourage her to be her best self. No comparisons and no judgments. Let her know she has the power to make her own decisions and to be the best she can be and, most importantly, you will be there to support her. If she takes care of herself and stays true to her beliefs, she too will be a woman with her own unique experiences. Remember, it takes a village.
Also, as naive and deferential as Mary Tyler Moore was in her show, I still want to be her! She learned how to stand up for herself and was promoted to management because of her skills. She supported herself and maintained a social life on her terms. I actually kind of did become her! I even had a few cool apartments!
Quick recipe today. I love the convenience of pre-made pizza dough, but hate how much dough there is one ball. I buy a whole-wheat frozen dough ball, defrost it and then either have to make pizza multiple days in a row or figure out a way to use the left-over dough. That is where this recipe came from. I cut the dough in half, used half to make two mini pizzas and then made these rolls that we enjoyed over the next few days. They even cooked at the same time and temperature as the pizzas I made. I used roasted buttercup squash because that is what I was putting on our pizza, but you could use any roasted vegetable you have or just use minced garlic.
Roasted Squash Pizza Rolls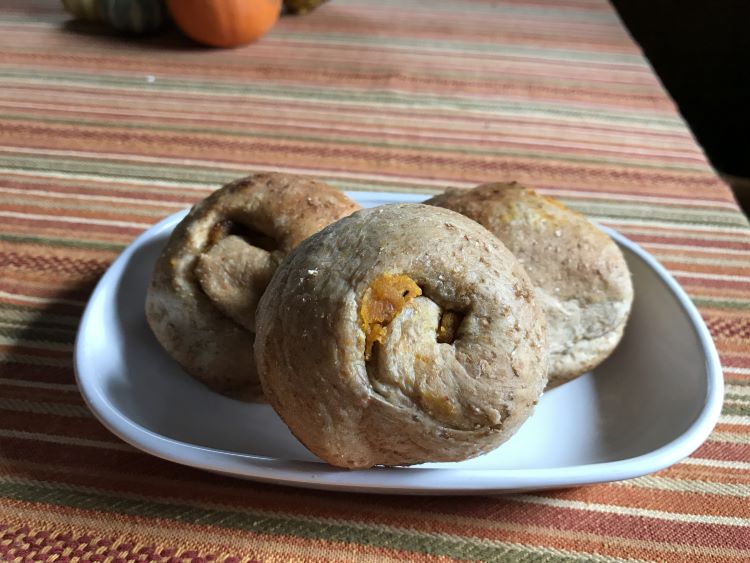 Ingredients:
1/2 pre-made pizza dough ball (should have 14-16 oz of dough)
1-1 1/2 cups roasted squash cubes*
1/2 teaspoon onion powder
1/4 teaspoon salt
Directions:
Heat oven to 400. Spray a six cup muffin tin.

Divide the dough into 6 equal portions. Gently pull them into rectangles, about 6 inches long.

Divide the squash among the dough and sprinkle each with onion powder and salt.

Roll each rectangle up, pressing the end to seal. Place in muffin tin, cut side down.

Bake for 20-25 minutes, until golden brown on top.

Enjoy!
*I used buttercup squash, peeled it, diced it and roasted it at 450 for about 20 minutes.