I am not someone who watches "reality" television. I have never seen an episode of Keeping Up with the Kardashians or Jersey Shore or The Real Housewives of anywhere. I have no interest in watching Honey Boo Boo, Duck Dynasty or 19 Kids and Counting. I don't even watch the so-called competition shows like The Bachelor, Survivor, or Dancing with the Stars. Nor do I follow anyone who is famous for being famous on any social media platform. The reality is these shows do not depict any kind of reality I know. My husband says the only true reality tv is sports because nothing is scripted and any given competitor can win on any given day. So how do I explain my compulsion to watch I Am Cait, the show that depicts Bruce Jenner's transition into being a woman?
I think it started with a fascination at how beautiful she looked on the Vanity Fair cover. I read that article and found myself trying to grasp what it would feel like to know in your head that the body you have is not a reflection on how you view yourself. I just could not understand and so I am watching the series to see if I can figure out what she is going through. If the first episode had turned out to be all about how much she is enjoying doing her hair and dressing up in fancy clothes and catfighting with her friends and family I would have turned it off immediately. While there is a bit of that (seriously, who has a slumber party at age 65 where you try on your friend's clothes and compare boob sizes? I didn't even do that when I was 12!) most of the show revolves around her learning how to deal with both her new freedom to be herself as well as her responsibility as a public figure to educate people about transgender women.
This is where the whole hero thing comes in. So often I see people on social media spouting off about how she is not a hero because true heroes dress in uniforms and fight for our country or run into burning buildings or chase down criminals or use their medical knowledge to save lives. They complain that she should not have been given the ESPY award for courage because there are more deserving athletes who have overcome adversity to become champions. They look at her and don't understand what she is going through and minimize it down to she just wants to put on a dress and have her hair done. The awesome thing about heroes, though, is that they would never deny a person is heroic if that person is a hero in someone else's eyes. We all have our own heroes. They come from all walks of life, some more public than others. I feel that anyone who is an inspiration because of the way they live their life or because of the deeds they perform is worthy of recognition as a hero.
So what about Caitlyn Jenner? I have watched her meet with transgender women who have not had the advantages she has, both monetarily or socially, and listen to the discrimination and degradation they suffer on a daily basis. The majority have had to turn to working in the sex trade in order to survive. Many are called names, ridiculed, denied jobs and made to feel like freaks because they cannot conform to society's norms. They all know someone who has taken their own life because they could not handle the pressure. Then they turn to Cait and tell her she has the platform to make their plight public and to try to win some acceptance. She looks very uncomfortable in this role, and yet she is willing to try because she understands that she is a part of their community and has a responsibility to demonstrate they are as normal as all of us.
Discrimination is ugly. Being judgmental is ugly. Hiding behind religion to justify any of this is ugly. Standing up and saying we are all just humans, getting through life to the best of our ability and accepting each other is beautiful. My heroes will be different from yours and that is okay. If Caitlyn Jenner can prevent one young person from suicide and get more people to see that she is finally living in her true identity, just like everyone else who is transgender, she is a hero. Not any more or any less heroic than a soldier, police officer, doctor, etc. Just heroic in a different way.
One sentence from her show has stuck with me. She said "I never felt feminine, but I always felt female." That is fascinating to me and I am so happy she can stand up and look female now and blaze a trail for others, both transgender and not. Heroic.
This week's recipe is going to test if you are brave enough to see something in a different way and accept it is okay (nice transition, right?). I have talked before about a local restaurant that serves a CLT which is a coconut, lettuce and tomato sandwich. The coconut is seasoned and baked to mimic the flavor of bacon. When I came across this recipe for making my own, I gave it a try. YUM! No it isn't bacon, but it sure makes a tasty sandwich!
Roasted Smoky Coconut
recipe from Half Baked Harvest
Ingredients:
2 1/2 to 3 cups flaked coconut (I use Let's Do Organic, available at Wegmans)
2 tablespoons melted coconut oil (I use organic, unrefined)
2 tablespoons pure maple syrup
2 tablespoons liquid aminos (or low sodium soy sauce or tamari)
1/2 tablespoon apple cider vinegar
1/2 tablespoon liquid smoke
1/2 teaspoon smoked paprika
Directions:
Preheat oven to 350 degrees. Line a baking sheet with parchment.
Stir all ingredients together in a large bowl.
Pour coconut onto prepared baking sheet, spreading out as much as possible.
Bake for 20-25 minutes, stirring at least once. When coconut starts to brown and looks toasted, it is done.
Enjoy on a sandwich, in or with eggs, on pizza, in pasta, or anywhere you might use bacon. Store in air-tight container in fridge for up to one week.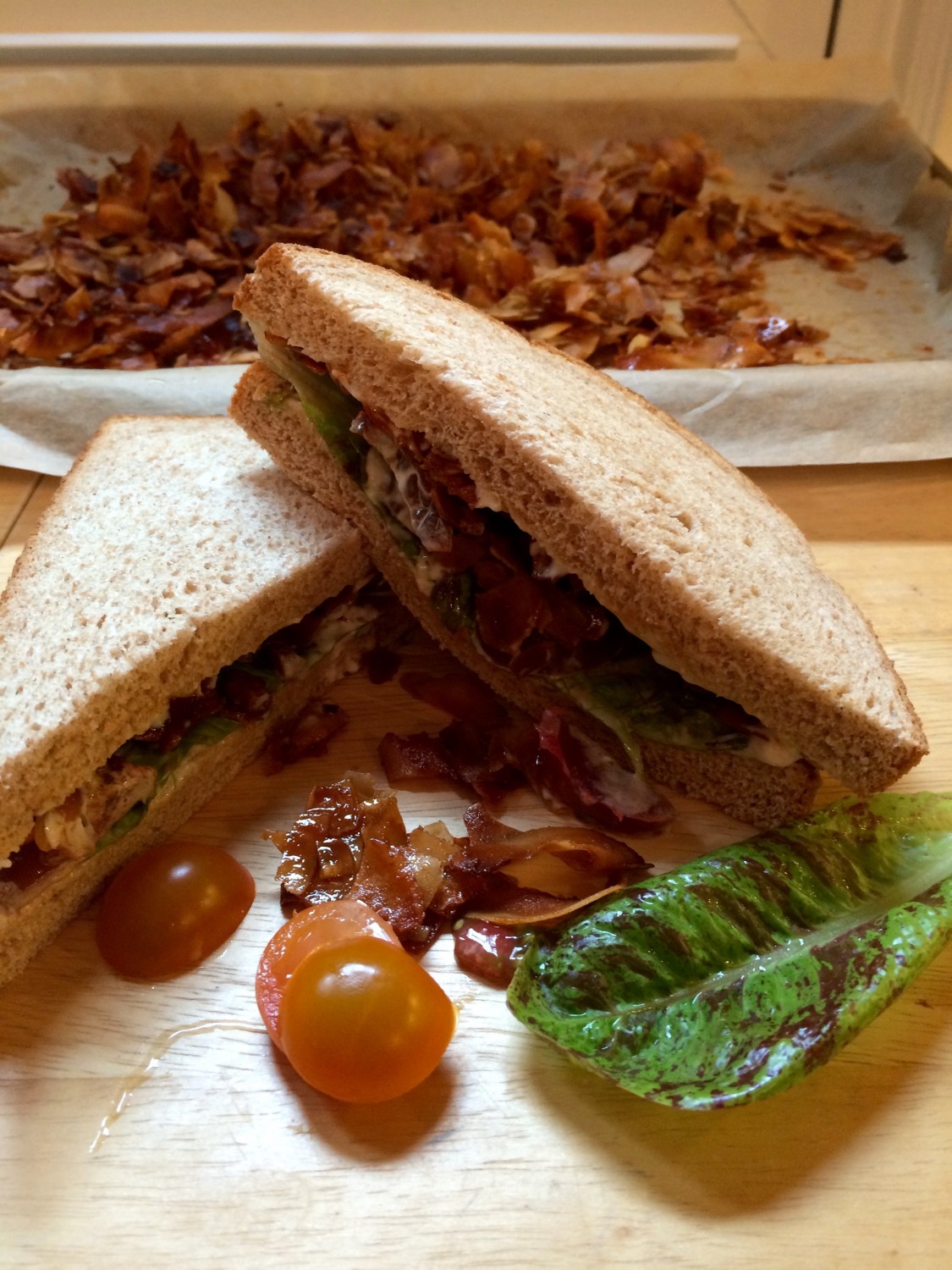 Sandwich with smoked coconut, cherry tomatoes, lettuce and mayo on whole wheat.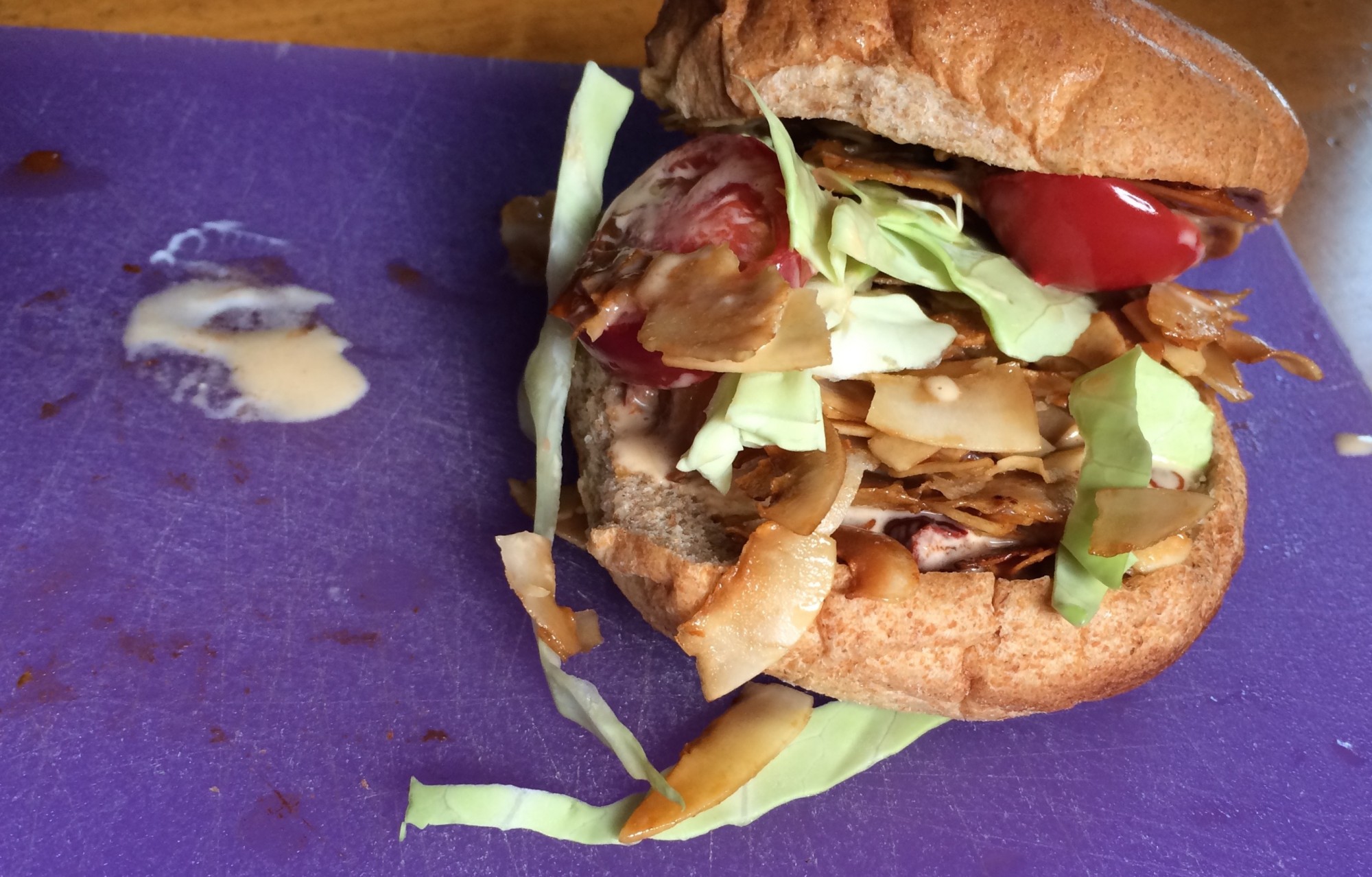 Smoky coconut with tomato, cabbage and chipotle mayo on whole wheat bun.