A few weeks ago I wrote about how difficult it is to stay ahead of bad habits in the summer. Today marks the unofficial end of summer (although the temperature outside sure feels like mid-July) and the start of fall holidays (yep, I said it). Back to school parties, fall picnics, football get-togethers, Halloween, Thanksgiving, etc. All of which involve eating and drinking.
As the weather cools down I find it easier to get outside to run or go to the gym to get in a weight workout or a yoga class. Unfortunately, the extra calorie burn doesn't always compensate for the overeating at gatherings. I have read many strategies people use to avoid the non-stop grazing that can happen when they are at a party. Some people fill up beforehand. Some people purposely sit or stand as far away from the food as possible. Some people savor one little bite of each "bad" food and then load up on veggies (someone always brings a veggie tray, right?). Some people pick one or two items that they want to indulge in and steer clear of the rest. All great ideas, but you have to have a lot of discipline and self control to use them successfully. I wish they worked for me!
I know my weakness is crunchy, fattening snack foods. When the table full of chips and dip and cheese and crackers is set up I find I lose my mind a little. I start obsessing about all those foods that I purposely avoid having in the house. I will try to stay away from the table and get involved in a conversation or the game, but what I am really thinking is "will anyone notice if I make another trip over to grab more potato chips?" I literally have found myself completely unaware of what is going on around me because I am so focused on getting over to the spinach artichoke dip! And one or two little bites is definitely not going to cut it! The only thing I have found to help me deal with my problem (yeah, it's a problem) is to try and eat super healthy, both leading up to the party and for the day or two afterwards. I make sure I get good workouts in and try not to beat myself up too badly about all the calories I consumed. Last night we had a rather impromptu neighborhood Labor Day picnic. On Saturday I made a big pot of miso soup and ate that for lunch and dinner and again for lunch on Sunday and today. My snacks are cherry tomatoes and mini sweet peppers, no dip. I went to a great yoga class on Saturday and today I went for a nice walk followed by a strenuous resistance workout. And it was worth it for all the BBQ potato chips I got to indulge in!
If you see me at a party I apologize in advance if I seem distracted. It isn't you, its the bowl of onion dip and chips that is calling my name!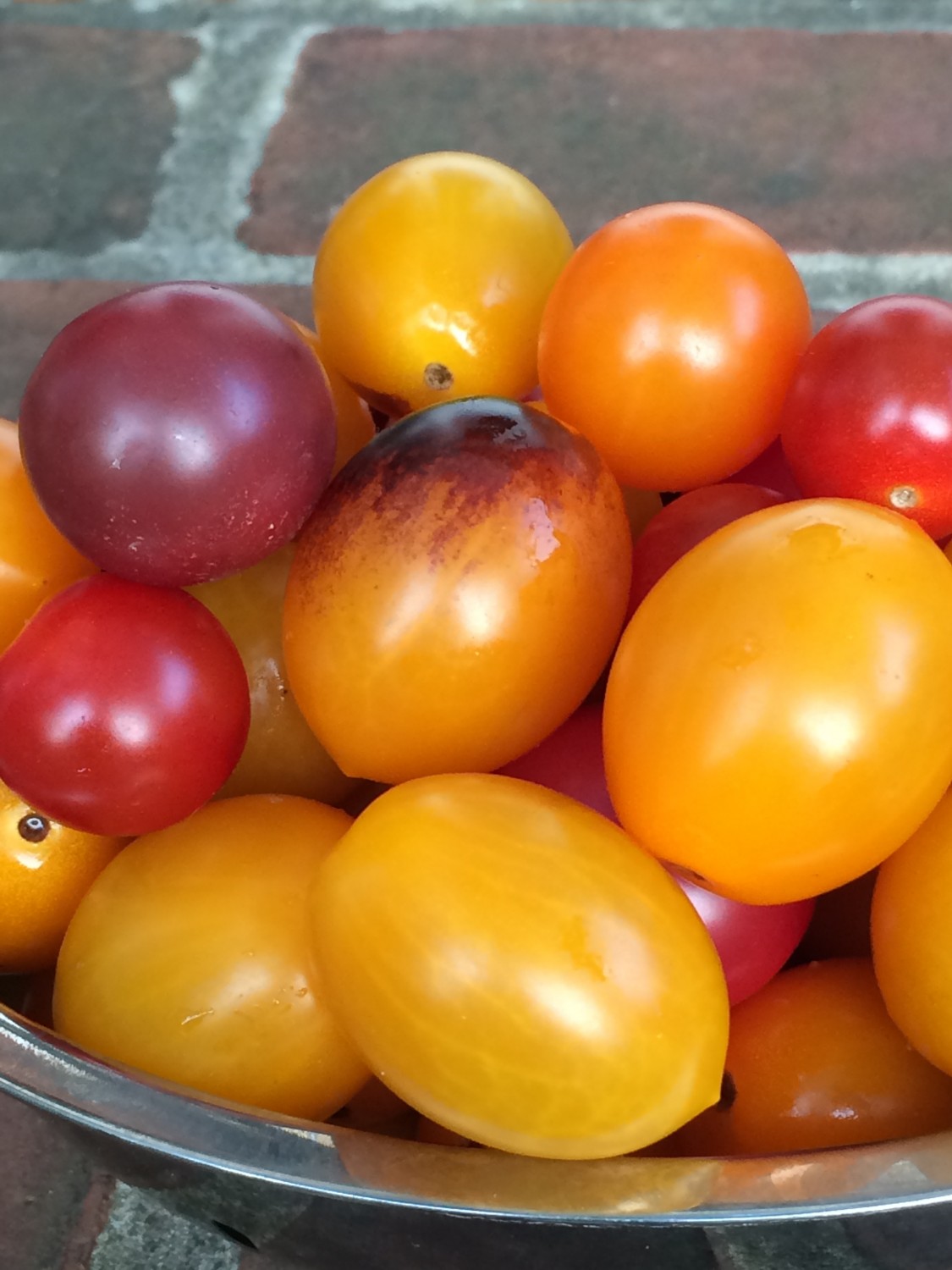 A great snack!
Let's talk pesto. I posted my favorite way to use pesto on pasta a couple of years ago. I find that many people think pesto is always made with basil and pine nuts. While that combination makes absolutely delicious pesto, you do not have to be limited to them. As I wrote back then, spinach, arugula and ramps make awesome pestos. Many different nuts work well in place of pine nuts, such as walnuts, almonds, pistachios and sunflower seeds. Broccoli, sundried tomatoes and cilantro can all be stars in pesto. Use your imagination! It is a great way to use up extra produce and it freezes well. I love defrosting a batch of pesto in the middle of the winter. It brings back the taste of summer! This week's recipe is my combo of arugula, parsley and walnuts. I served it over tortellini, prepared like I posted two years ago, and topped it with chopped fresh cherry tomatoes and grated parmesan cheese.
Arugula, Parsley and Walnut Pesto
Ingredients:
1/4 cup grated parmesan cheese, plus more for serving
1 large garlic clove, peeled and coarsely chopped
2 tablespoons fresh squeezed lemon juice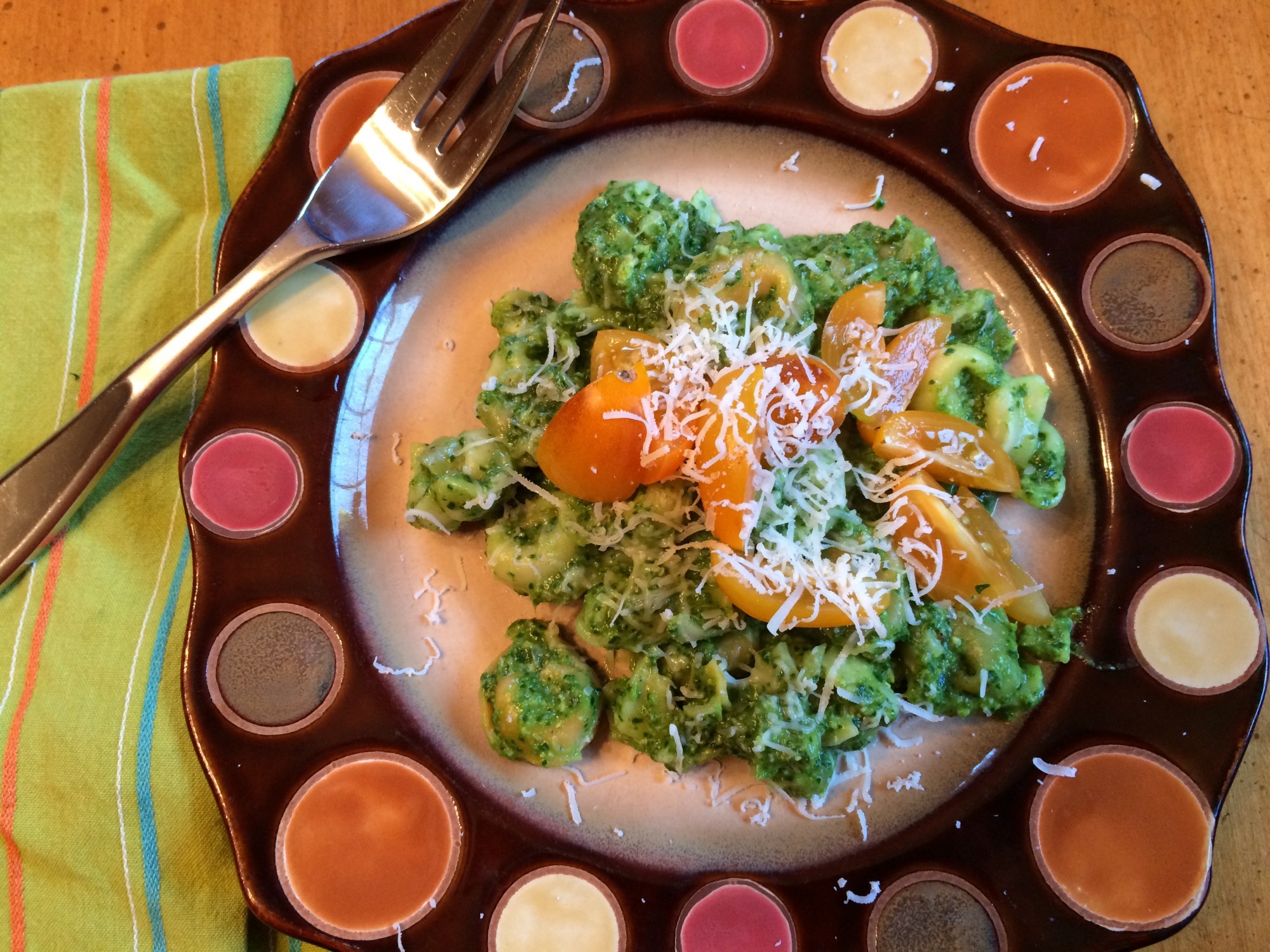 1 bunch of arugula, rinsed and patted dry (about 4-6 cups)
1 cup parsley, rinsed and destemmed
1/4 cup roasted walnuts, unsalted (I roast my own in a small sauté pan)
Generous pinch of salt
fresh ground pepper to taste
1/3 to 1/2 cup of good quality extra virgin olive oil
Directions:
Place cheese, garlic and lemon juice in a food processor and process until garlic is finely chopped. You may need to scrape down sides and under blades a couple of times.
Add arugula and spinach. Process until they are broken down. You may need to do this in two batches, depending on the size of your food processor. I start adding the olive oil at this point to help the greens break down. Just drizzle through the top opening until everything is moving nicely.
Scrape down processor and add walnuts, salt and pepper. Process and continue to drizzle olive oil until pesto is desired consistency. I tend to leave it a bit thick because it will loosen up when I add pasta cooking water before serving. Taste the sauce and add extra salt or pepper or lemon juice if needed.
Serve over pasta, on pizza, as a dip or a sandwich spread. Enjoy!