Ever watch a Christmas movie with a character who waits until the very last minute to shop and ends up at a convenience store because it is the only thing open on Christmas Eve? The next thing you know he (because the character is usually depicted as male) is handing out windshield wiper fluid and Twinkies to his loved ones. It is usually good for a laugh because who goes to a convenience store for any reason other than to get gas and a bag of ice, right? Turns out the generation dubbed the Millennials (ages 18-34) are choosing convenience stores for dinner! 11% of people in that age group are stopping at convenience stores to grab food because it is cheap and, well, convenient.
I went to 7-Eleven's website because I just couldn't imagine what they offered that would qualify as a meal. I found they sell deli sandwiches, hot dogs, chicken wings, potato wedges and a shelf full of snack foods and sweets. So, processed meats, processed sides and processed desserts. Everything that is pumped full of chemicals and ingredients that are altered to provide a somewhat long shelf life. This generation should be well preserved!
All kidding aside, this information scares me. The food industry has noticed this trend and is pouring millions of dollars into creating food designed for this market. The report reflected on the fact that the Millennials are not eating food for enjoyment, but as fuel to get them through the day. As we learn more about how our bodies work best when given "real" food, I truly fear for the future of these kids as they continually put junk into themselves. I totally understand why so many people try to find the easiest and fastest way to get food on the table when they are being pulled in many directions. Parents have to shuttle kids to various activities, bosses are demanding longer hours and more productivity, aging parents need attention, etc. We are literally poisoning ourselves for the sake of getting to the next commitment. I can remember sitting down to mom cooked meals that rarely included anything from a box. As I got older more and more foods appeared in the grocery store to make cooking easier. Remember Steak-um's? Stouffer's frozen meals? Betty Crocker Potato Buds? Those used to be novelties. Now we have a generation that thinks a meal made with real meat, potatoes and vegetables is a novelty. Somehow I don't think there is a happy ending to this trend unless we start modeling how easy it is to make real food, how to purchase it without breaking the bank and by educating our youth how important it is to feed their bodies in a healthy way so that their bodies stay strong. They need to go back to stopping at the convenience store to fill their gas tank not their stomachs.
Speaking of Christmas presents, did I mention I got a tofu press? If you have been reading my blog for a while, you know I am not a huge tofu fan. Way too mushy and bland. I had heard that a tofu press is wonderful because it gets much more water out of the block of tofu which allows it to soak up more marinade and flavor plus it is less spongy. It is basically two pieces of plastic connected with springs that you ratchet down until the tofu is as dry as possible. I have used it a few times and it is definitely way better than when I used cookie sheets and cans of tomatoes to press the water out.
Tofu Banh Mi Sandwiches
from Real Simple Magazine
3 tablespoons fresh lime juice
3 tablespoons soy sauce (I used liquid aminos)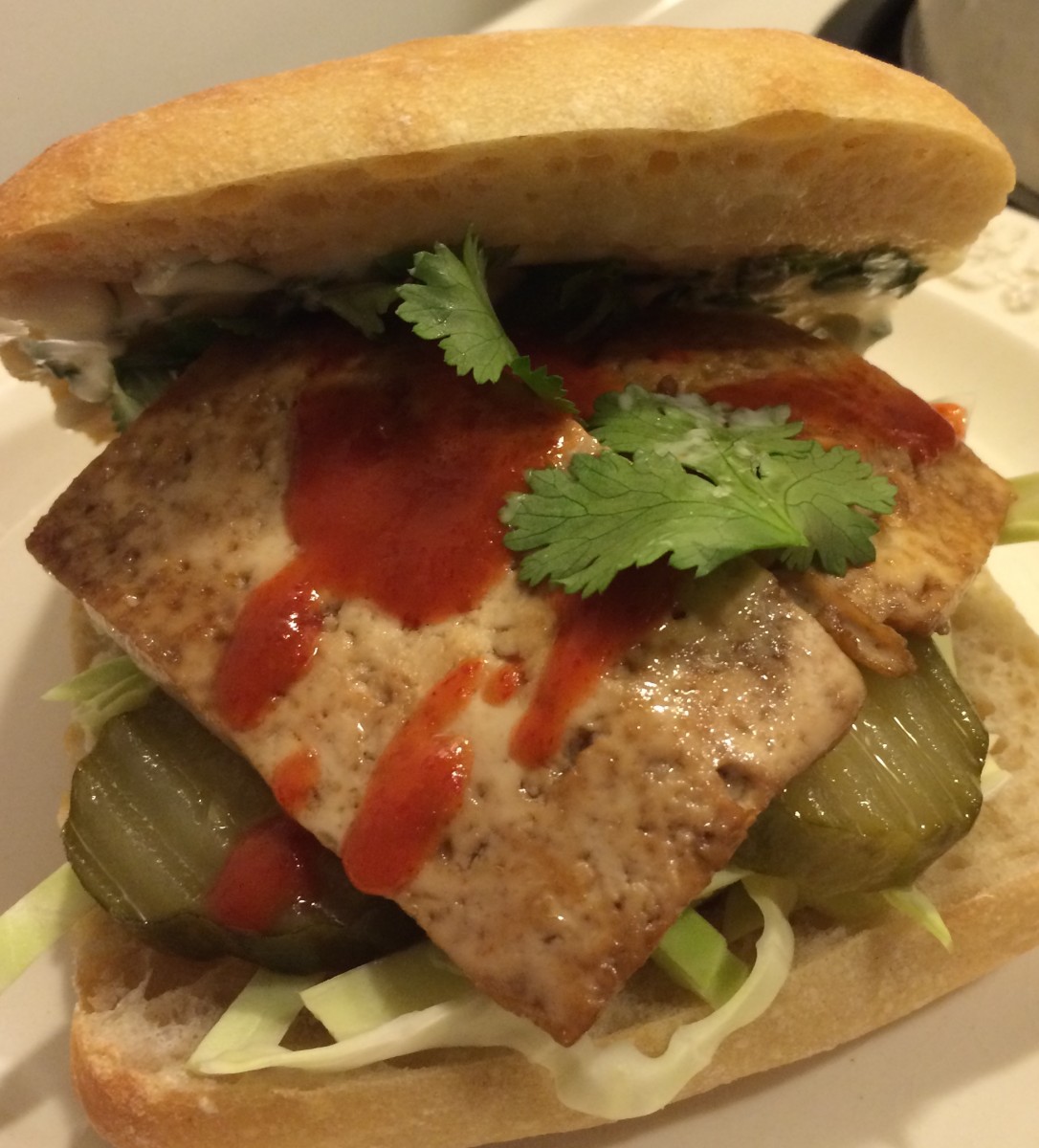 1 tablespoon brown sugar
1 14-ounce package extra firm tofu, drained, pressed and cut into 1/3" slices
1 tablespoon canola oil
1/3 cup mayonnaise
3 medium carrots, shredded (I used cabbage)
1 cup bread and butter pickles (about 10-12 rounds)
4 sandwich rolls
Fresh cilantro and Sriracha, for serving
Whisk together lime juice, soy sauce, and brown sugar in a large baking dish. Places tofu slices in to marinate, turning occasionally, for 10-30 minutes
Heat oil in a large nonstick skillet over medium heat. Cook tofu slices until browned, about 5 minutes per side.
Divide the mayo, carrots and pickles among the rolls. Top with tofu, cilantro and Sriracha.
Enjoy!