So this happened, my husband turned 50 last week. We celebrated over a couple of days, first having friends over for dinner and then going out, where I arranged a small surprise party for him. It is rather hard to imagine we have lived a half century. Where the heck did the years go? One of the best things that has ever happened to me was meeting him 10 years ago. I think we had both accepted that we would probably never find "the One" person to spend the rest of our lives with and then, bam! It happened. One of the things I remember about dating him was going out to dinner or lunch or always trying to find somewhere to go and be entertained. It was quite liberating when we finally agreed that it was okay to stay at home and watch tv for a date. When you are dating someone, you want to look like you are a healthy eater who takes care of herself and this is tough to accomplish if you eat at restaurants a lot. I came across an article in Fitness Magazine that backs this up. It is called Love without the Chub and it is amusing and a wake up call. The most surprising statistic to me was how easy it is to let yourself go after you get married.
"Ironically, happily married couples are more likely to pack on pounds. The reason: Unhappily hitched people stay in shape because they know they might be back on the market."
Come again?! Is this implying that I am doing my best to stay fit because I think I will be getting a divorce? The same with my husband? Um, no. We think just the opposite. We exercise and watch our diet so we can stay healthy and enjoy each other's company for as long as possible. I am thrilled that my husband takes care of himself. It shows he cares enough about himself and me to do everything he can to live another 50 years! Not to mention I find him quite sexy!
While I am talking about date night, here are a couple more interesting tidbits of information from Fitness Magazine. Cornell researchers have found that watching an exciting or thrilling movie can cause you to mindlessly munch more than if you are watching a slower paced show. The best solution? Portion out your treats! The magazine then talks about going to a restaurant. When dessert rolls around, your server knows how to make the most decadent choice sound irresistible. If you are a chocoholic and hear the words "Death by Chocolate" chances are you will be ordering that. I love their solution: ask your server which of the lighter desserts gets rave reviews. When we went out last week with a group of people the solution was to order one dessert and share. (By the way, the mini donuts at Michael's Valley Grill are to die for and perfect for sharing!).
The next two weeks I will be on vacation, so no blogging! Stay warm!
Today's recipe is Cashew Gravy! It is so cold outside I needed some warm comfort food last night. I had a bag of dried bread cubes left from Thanksgiving and what is more comforting than stuffing? I didn't have the ingredients nor the patience to make the mushroom gravy I normally make, so I improvised with cashews. I think this will be my new go-to choice!
Cashew and Shallot Gravy
Ingredients:
1 cup raw cashews, soaked a minimum of 1 hour, drained, water reserved (the longer you soak the smoother the gravy)
2 teaspoons olive oil
1 large or 2 small shallots, minced
2 cloves of garlic, grated or pressed
2 tablespoons nutritional yeast
1 tablespoon amino acids
1/2 teaspoon poultry seasoning
1/2 teaspoon turmeric (optional, for color)
Directions:
Sauté shallots in olive oil over medium heat in a non-stick pan, until soft and translucent, 5-8 minutes.
Add all ingredients to a food processor (except the reserved soaking water) and start to process. Add the soaking water one tablespoon at a time until desired consistency is reached. (I used 14). This may take 2-3 minutes. The longer you process the smoother it will become.
Pour into small sauce pan to warm.
Serve over anything that needs gravy!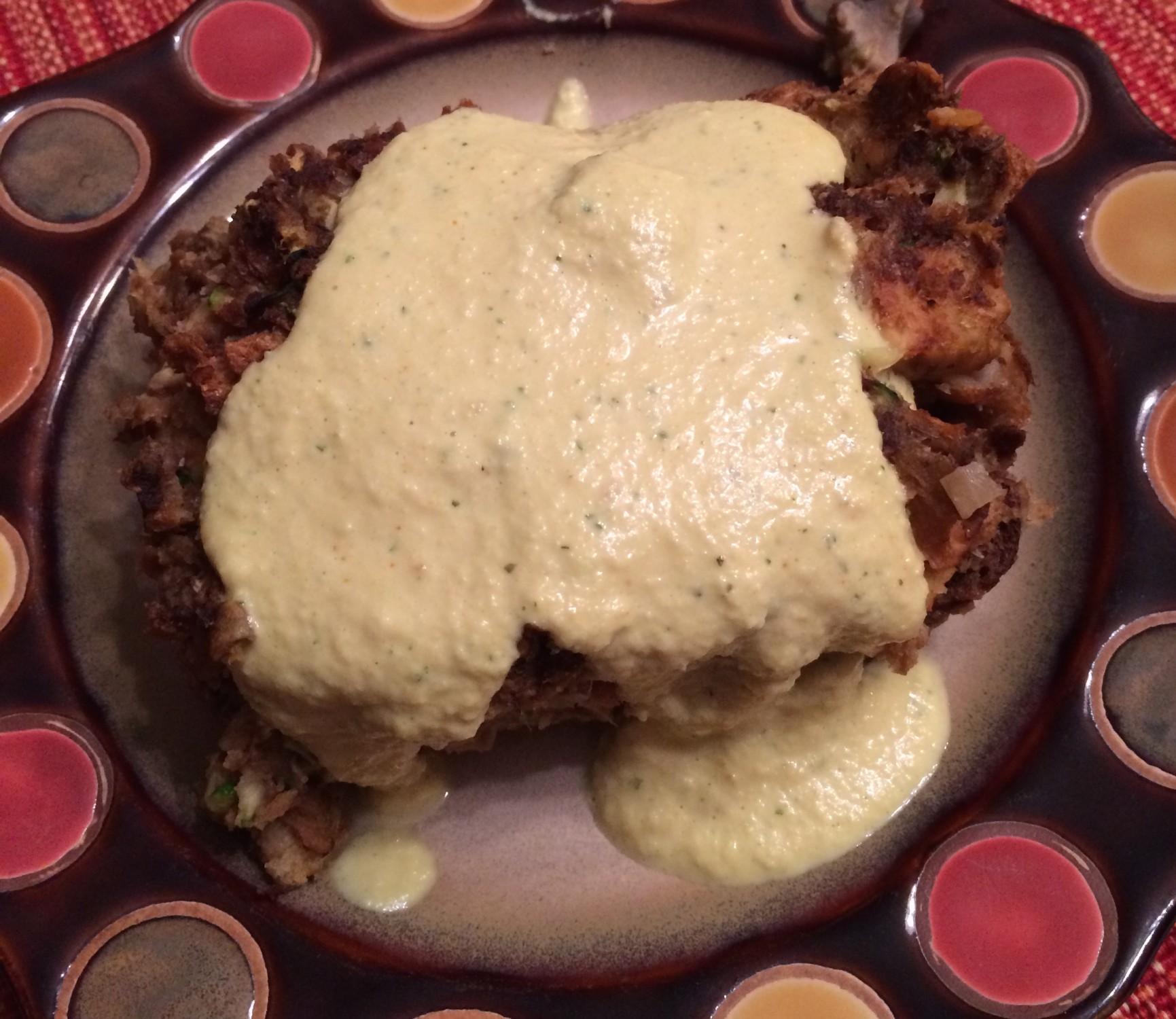 Cashew gravy served over homemade stuffing