Occasionally I go to a friend's house and notice there are tomatoes stored in the refrigerator. That makes me cringe a little because I know that those tomatoes will end up mealy and flavorless. All that cold will suck the tastiness right out of your tomato! So what should go in the fridge? I ran across an article titled Seriously, Stop Refrigerating These Foods, and found it quite informative.
The thing about your fridge is that not only is it cold, it is moist. These two qualities help preserve many types of food and help hasten the demise of others. Ever put your bread in the fridge thinking it will stay fresh longer? While it will prevent mold from growing quickly, you will have stale, mold-free bread. Same thing for coffee. These two items stay fresh longest when stored in an air tight container. When I had a microwave I put my bread in that to keep it fresh. Many fruits and vegetables can live on a counter or in the cupboard. Avocados, bananas, melons and stone fruits will fully ripen at room temperature. Once they are ripe I will put them in the refrigerator to keep them from getting over ripe. Only for a few days, though. I also put them in if they are cut open. (Don't worry if the banana skins get black in the fridge, the fruit inside is good). Potatoes, onions and garlic need a dry, dark environment. Mine are in paper bags (because they allow air circulation) in a cupboard away from the stove area. Also, don't store onions near potatoes because taters emit a gas that will make the onions rot. Same thing with apples! They should be in their own container away from other fruits. Since you buy apples ripe it is a good idea to put them in the fridge to keep them fresh. I take a few out each day to store on the counter so they are easy to grab and eat. The rest of the article mentions processed condiments, honey, peanut butter (not the "natural" kind), spices and oils as items that do better in the cupboard.
So what goes in the fridge? I keep my dairy products (cheese, eggs, cottage cheese, etc.), opened packages of whole grains, miso, any open fruit spreads (jams and applesauce used in baking), lettuce, some fresh herbs (not basil), green onions, celery, carrots, and other veggies for cooking and open jars of olives, roasted red peppers, etc. in my refrigerator. Plus beer and white wine! Also, if you open a bottle of red wine and do not finish it, recork it and store it in the fridge overnight. This will slow down oxidation. Just remember to take it out an hour or so before you are going to drink it to allow it to come back to room temperature. Of course, the refrigerator is the best place for left overs!
I do not need an excuse to eat Mexican food because it is one of my favorites, but since today is Cinco de Mayo we will be having tacos tonight! The below recipe I came across awhile ago and have made it a few times. It is delicious!
Cilantro Hush Puppies Tacos
Adapted from BeardandBonnet.com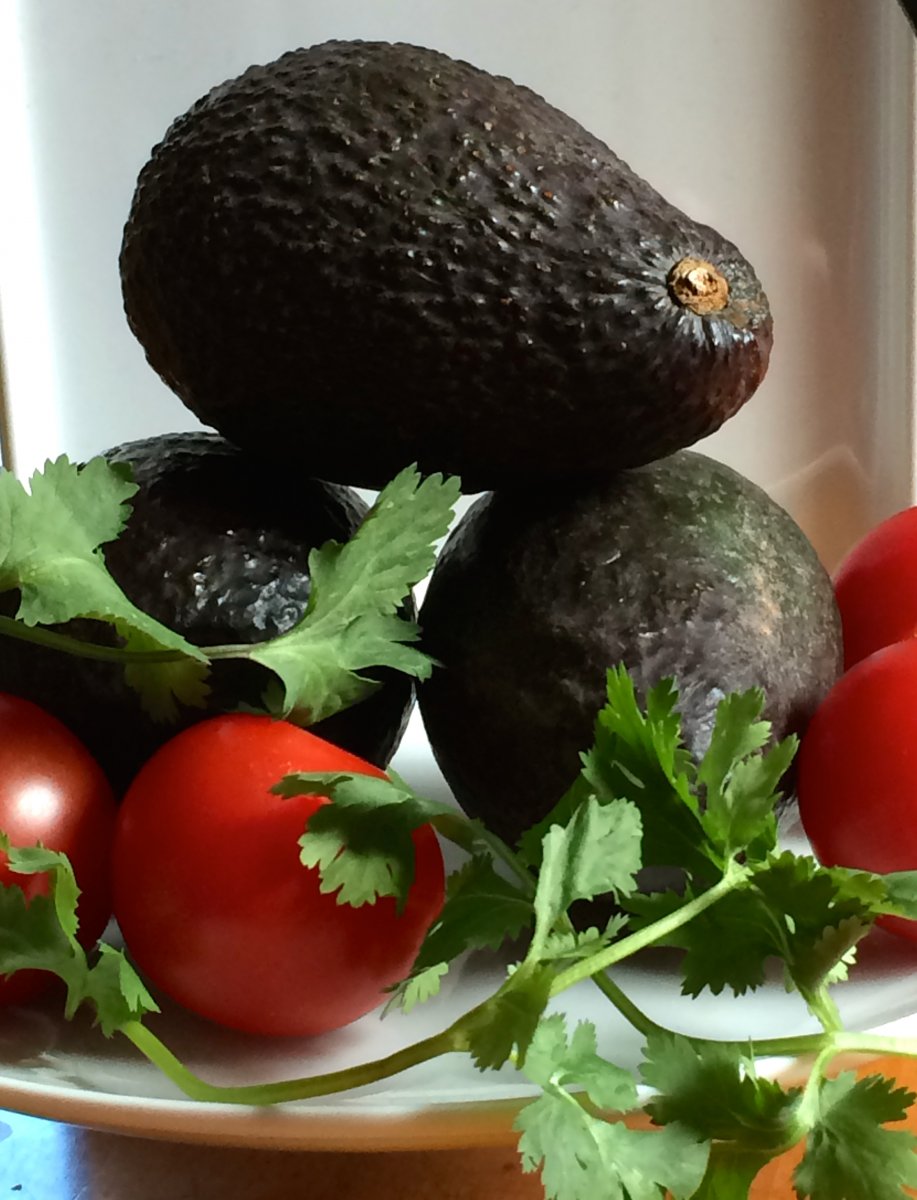 Cilantro Hush Puppies:

1 cup organic yellow corn meal
1/2 tsp. sea salt

1/2 tsp. baking powder
2 Tbsp. minced white onion
1/8 cup buttermilk
1 large bunch of cilantro, washed
1 lime
1 jalapeno
1 egg or egg substitute
2 Tbsp. sunflower or peanut oil
In a juicer combine the large bunch of cilantro, one whole lime, and the jalapeno pepper. Measure out an 1/8 of a cup of the juice for this recipe and reserve the rest of the juice for another use. If you do not have a juicer combine the cilantro, jalapeno, and the juice & zest of one lime in food processor; process into a smooth pesto like paste. Measure out 1/8 of a cup to use in this recipe and reserve the rest for another use, if your batter is too thick to work with add more buttermilk one teaspoon at a time until the batter is easily scooped and it keeps it shape.
Sift the dry ingredients together in a medium sized mixing bowl. Beat the buttermilk, 1/8 cup of cilantro lime juice, egg, and onion together. Add the liquid mixture to the dry ingredients and blend well. Use a small ice cream or cookie dough scoop to form the mixture into balls.
Warm oil over medium high in sauté pan. Flatten balls slightly and fry in pan, 3-5 minutes per side, until golden. Drain on a paper towel and season with salt to taste.
For Tacos:
1 batch Hush Puppies (halved or quartered to fit in shells)
1 batch smokey black eyed peas
Favorite taco accompaniments (lettuce, tomatoes, guacamole, salsa, fresh cilantro, etc.)
Favorite tortillas (flour or corn) or taco shells
Put the above items out for everyone to assemble their own tacos.
Enjoy!