It seems every month when my new issue of Health or Shape I read about a new type of workout or new research to show what is the best way to exercise. Last month was no exception.
I have been hearing about high-intensity interval training (HIIT) for years. The idea is alternate pushing yourself as hard as possible for short periods of time (think 30-60 seconds) with 2-3 minutes of recovery time. For example, on a treadmill, walk at a quick pace for a couple minutes and then run, all out, for 30 seconds, repeat for a total of 20-30 minutes. Plus, you can shorten the time actually exercising because your body is being constantly challenged leading to quicker results. Then in the July/August issue of Health I saw a chart comparing HIIT with low-intensity steady-state cardio (LISS). This workout involves doing some kind of cardio (bike, row, walk, run or elliptical) at a slower pace for long periods of time. The nice thing about LISS is it is much easier on joints. The down side is you have to spend a long time exercising.
I have been working out at a gym for almost 30 years. I often talk to people who are just getting started in exercise, people who have dedicated their lives to exercise and everyone in-between. It seems everyone has an idea about the best way to work out. Stretch first! Stretch last! Low-impact! High-impact! Yoga! Spin! Free weights! Weight machines! My head sometimes swims with all the advice and suggestions. That is why I like the chart comparison of LISS v. HIIT. It spells out the plusses and minuses of each type of workout. Then you can make an informed decision that is best for you, not what someone at the gym has found to be best for them. In my opinion, the best exercise is the one you will actually do. Find an expert, preferably a trained professional, and learn proper form and technique. If you know that HIIT is just not something your body can withstand, talk to a trainer about how to get the most from LISS. Or if you have found LISS is just not enough, get advice on HIIT.
What works for me is a combination. My days at the gym I get in cardio bursts combined with weight training. Or I do HIIT on the treadmill. On other days, I go for long walks (45-60 minutes). I try to get in at least one or two days of yoga as well. And once a week I go to a small group training session at Kick It Up Personal Training to learn new exercises and get the expert advice I recommend. Again, I stress this is what works for me. If you are thinking about starting a workout program or need new ideas or want to get back to regular exercise, do some research about different approaches and then get advice. Most gyms will have a fitness expert available for questions and training. Take advantage of this resource, figure out what works best for you (in other words, what you will stick with) and get moving, either long and slow or high and intense!
When you get home from the gym, try this delicious dinner. It is a take on the Greek soup called Avgolemono, made into a pasta dish minus the chicken.
Avgolemono Linguine with Spinach, Mushroom and Green Beans
original recipe from Vegetarian Times, June 2106 issue
Ingredients: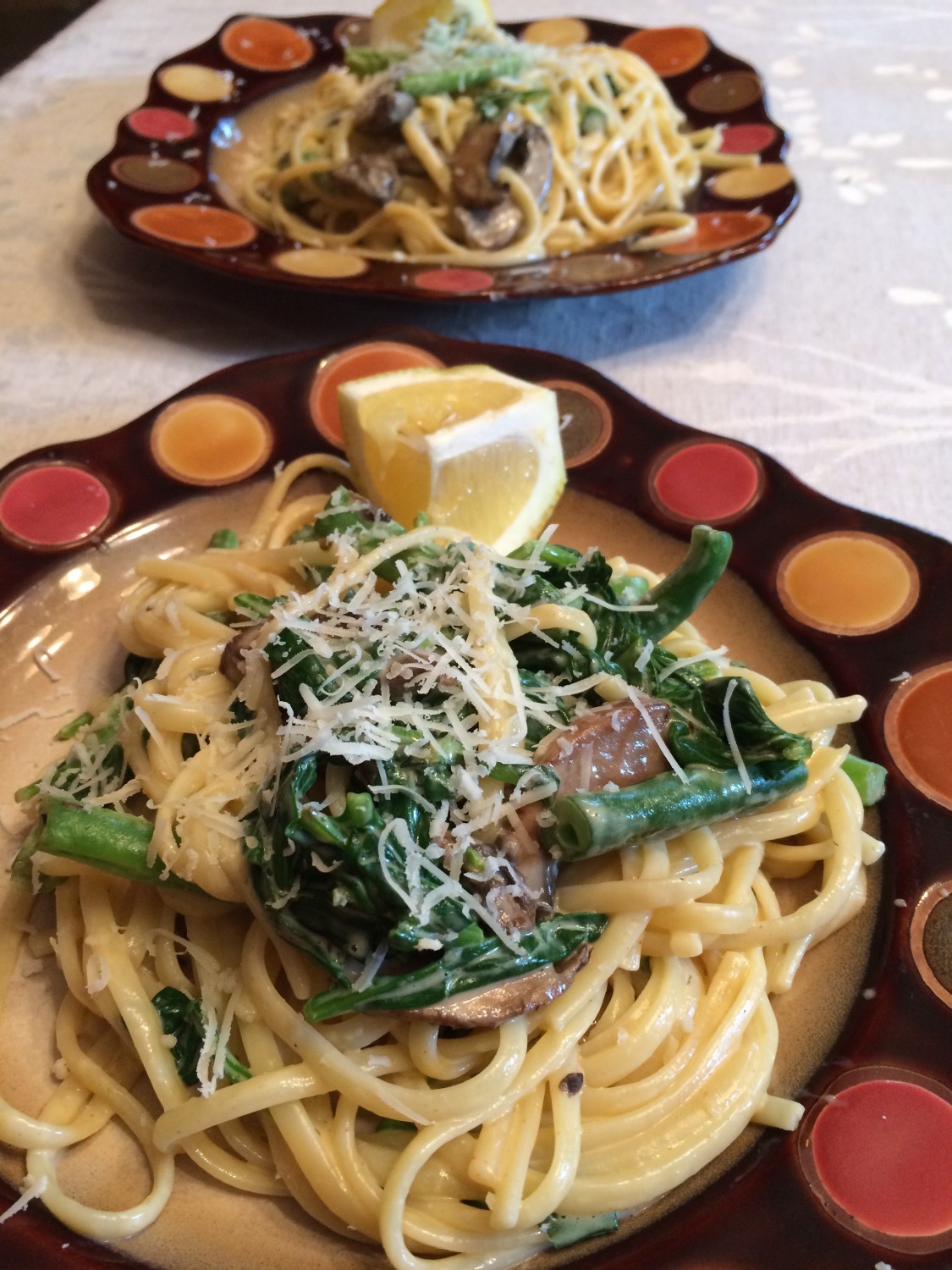 10-12 ounces linguine
3 large egg yolks (save the whites for an omelette)
1/2 cup non-dairy milk (I used cashew milk)
1/3 cup plain Greek yogurt
Juice from one lemon plus lemon wedges for serving
2 pinches sugar
1/3 cup finely grated parmesan, plus extra for serving (optional)
2 tablespoons unsalted butter, divided
2 large portabello mushroom, washed, gills removed and sliced
2 cups green beans, trimmed and chopped
1/4 teaspoon smoked paprika
1 large package baby spinach, rinsed
1/4 cup chopped, fresh basil
Directions:
Bring a large pot of water to boil. Salt generously and add linguine. Cook until al dente, 8-9 minutes, reserve 1 cup cooking water and drain.

While pasta is cooking, whisk together egg yolks, milk, yogurt lemon juice and sugar. Stir in parmesan cheese.

While pasta is draining, melt 1 tablespoon butter in pasta cooking pot over medium heat. Add mushrooms and saute until juices release and mushrooms start to brown, 5-7 minutes. Add green beans and cook until crisp tender, 3-5 minutes. Stir in smoked paprika. Add remaining tablespoon butter. Once melted, add spinach, stir to coat and cook until spinach starts to wilt, 2-3 minutes.

Add pasta back to pot along with 1/4-1/2 cup reserved cooking water. Use tongs to mix well. Stir in egg yolk mixture and basil, using tongs to coat evenly. Continue to cook over medium stirring consistently, until sauce thickens.

Serve with extra lemon wedge and parmesan, if desired

Enjoy!
Of course you can add whatever vegetables you prefer, but I do recommend at least one leafy green such as chard or arugula. This made plenty for left-overs, however my husband, who eats all left-overs cold, declared this would be best reheated.