"When life hands you lemons, make lemonade."
"If you fall off the horse, get back on."
"Every cloud had a silver lining."
There are so many sayings that encourage us not to give up. I am sure we have all experienced times in our lives that have seemed disappointing. Yet we get through them and find we are stronger and, perhaps, happier.
Last week I had an opportunity to volunteer at a golf tournament for juniors and saw the jubilation and heartbreak associated with tough competition. I wanted to hug each one and tell them they are all winners no matter where they end up on the scoreboard. I truly hope each of them had an adult in their life who would convey that to them. Learning how to win or lose or to be in the middle of the pack are important life skills that will be invaluable throughout their lives.
In my life I have dealt with everything from failing tests to unsuccessful relationships to being fired (twice!) to realizing my career is not going to utilize the expensive education I paid for and so on. I have also had many successes from graduating magna cum laude to working my way up to general manager of a restaurant to starting my own business to marrying the love of my life. If I could go back and have a conversation with my 20-year-old self the first thing I would say is stop worrying, it will all turn out great, but not in the way you think. (I would also tell myself to major in nutrition instead of education, but that's a different blog.) The bottom line is there will always be setbacks and triumphs in life. How you deal with them is what makes you the person you are. When I talked to those kids I could empathize with all of them. My life experiences helped me to understand and recognize that they might not have the outcome they hoped for this week, but there is always next week.
A few years ago we went to movie called After that was made here in Rochester. The premise of the movie is how a family deals with a secret that ultimately sends one of the characters into a tailspin. That movie has stuck with me because that character could not look around and see all the positives in life and rejoice. (Notice I am trying not to give anything away. See it if you have a chance!) If you failed to accomplish everything you wanted today, this week or in life, it's okay. If you encounter a setback, a disappointment or a loss, remember there are people around you to help you get through and go forward. Channel your inner Scarlet O'Hara and remember that tomorrow is another day!
The best part of last week was when I was shuttling a boy down to the 18th tee box and he said he was going to get another birdie. I asked if he had one the day before and he said yes, because I told him to! I told every kid to make a birdie, and he listened, made it happen, and had tons of confidence to make it happen again.
After all that it seems appropriate to share a recipe that didn't turn out as I expected, but still tasted good. Have you ever seen a picture of a dish and think it looks so delicious you can't wait to make it? When I saw the recipe for Easy Jalapeño Shrimp Bake I had to give it a try with my own spin. I followed the recipe guidelines, but changed up some of the ingredients. In the directions, she puts the veggies in the pan first and then pours the egg mixture over them to bake. Even as I was doing that I was ignoring my instinct to put the eggs in first or roast the veggies first or not add the flour called for in the recipe. I think any of those adjustments would have made a much prettier dish and the veggies would have been more roasted than steamed. The end result was still tasty, but I am going to write the directions out based on how I think it should have been cooked. Feel free to use whatever protein you prefer as well as whatever vegetables you prefer. This dish is similar to a frittata or quiche.
Jalapeño-Tomato-Zucchini-Tofu Bake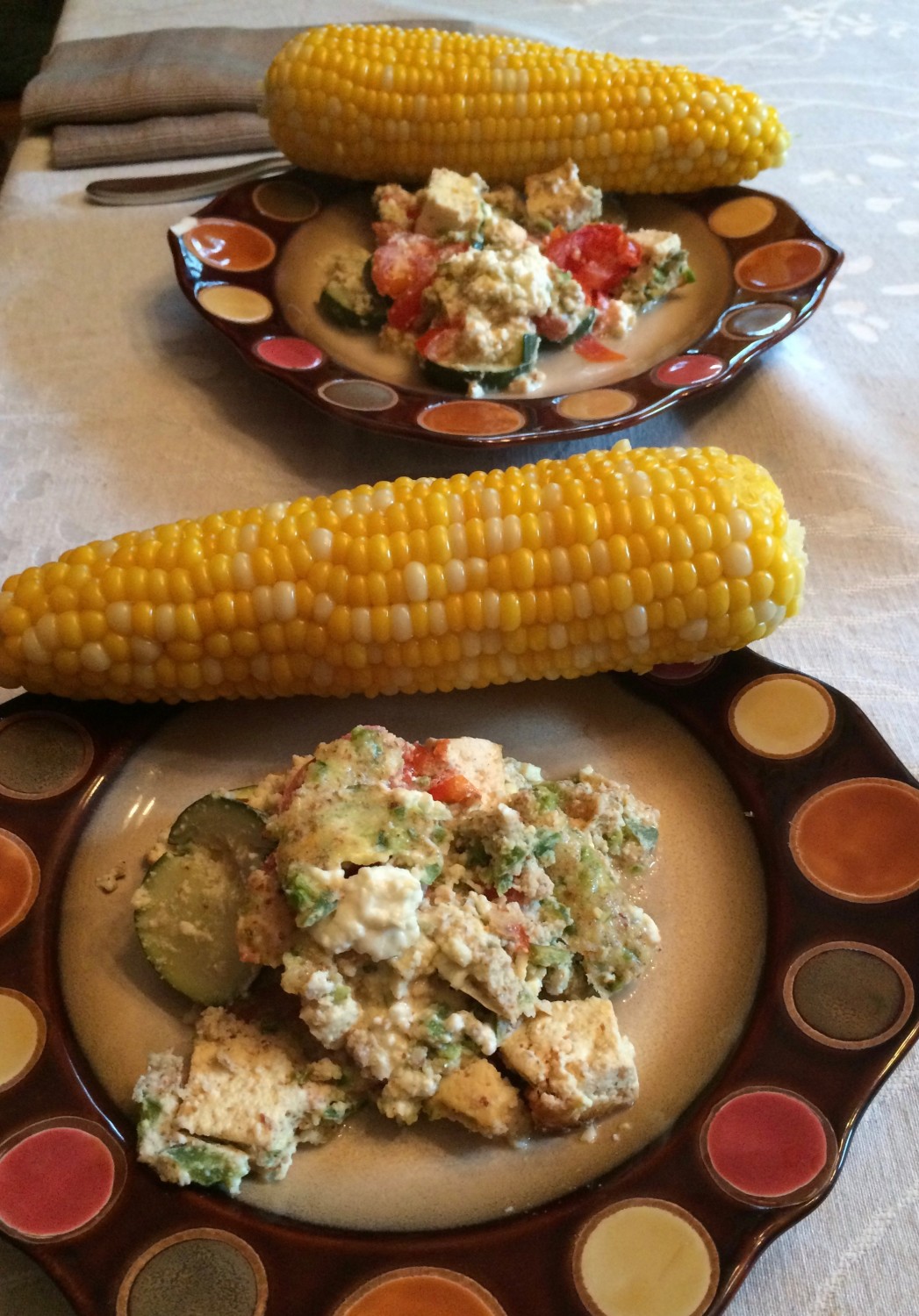 Ingredients:
1/2 package tofu, pressed and cut into bite size pieces
1/4 cup dry white wine
1/4 cup olive oil
2 tablespoons favorite seasoning (I used Chipotle Lime), divided
2 minced garlic scapes or cloves
1/4 cup milk combined with enough plain greek yogurt to make 1/3 cup total
1 tablespoon melted butter
2 eggs, lightly beaten
1 medium zucchini, sliced
1 tomato, seeded and sliced
1 small onion sliced
1 or 2 jalapeños, seeded and deveined if less heat is desired, chopped
1/3 cup feta, crumbled
Directions:
Place tofu in shallow dish. Whisk wine, olive oil and 1 tablespoon seasoning in a small bowl. Pour marinade over tofu and let sit at least 30 minutes.

Place zucchini slices in a colander and sprinkle with a generous pinch of salt. Let sit 20 minutes to draw out moisture. Remove and pat dry.

Preheat oven to 375 degrees. Spray a 9" round or square casserole dish.

Whisk together garlic, milk/yogurt combo, butter, eggs and remaining tablespoon of seasoning. Pour mixture into bottom of prepared pan.

Arrange zucchini, tomato and onion slices over eggs.

Remove tofu from marinade, gently shaking extra moisture off (discard leftover marinade). Place tofu on top of egg mixture and vegetables in pan. Sprinkle jalapeño over top of everything.

Bake for 30 minutes. Remove from oven and sprinkle feta over top. Place back in oven and bake an additional 15 minutes, until eggs are set, feta is melted and vegetables are nicely roasted.

Enjoy! (This was fantastic with a little Cholula Chili Lime Sauce)