When my husband and I were in Palm Desert earlier this year we checked out the main shopping area known as El Paseo. When we came across a shop called Savory Spice, I told him to take a seat and get comfy because I knew I would be in that store for awhile. The same thing happened in Winter Park, Florida a couple years ago when I spent a fun hour in a Penzy Spice store. The Rochester Public Market has Stuart's Spices and Niblack, both of which I love to spend time at looking at all the different spices and blends. KBS Spices are usually at a Holiday Boutique I go to each year and I stock up on my favorites. The great thing about these stores is you can talk to people who use the spices and also taste the variety of spices offered. Their websites also offer many recipes and ideas for using the spices. When I get going my brain starts thinking of so many dishes I can make and so many ways I can change up tried and true recipes. Below are some of my favorites: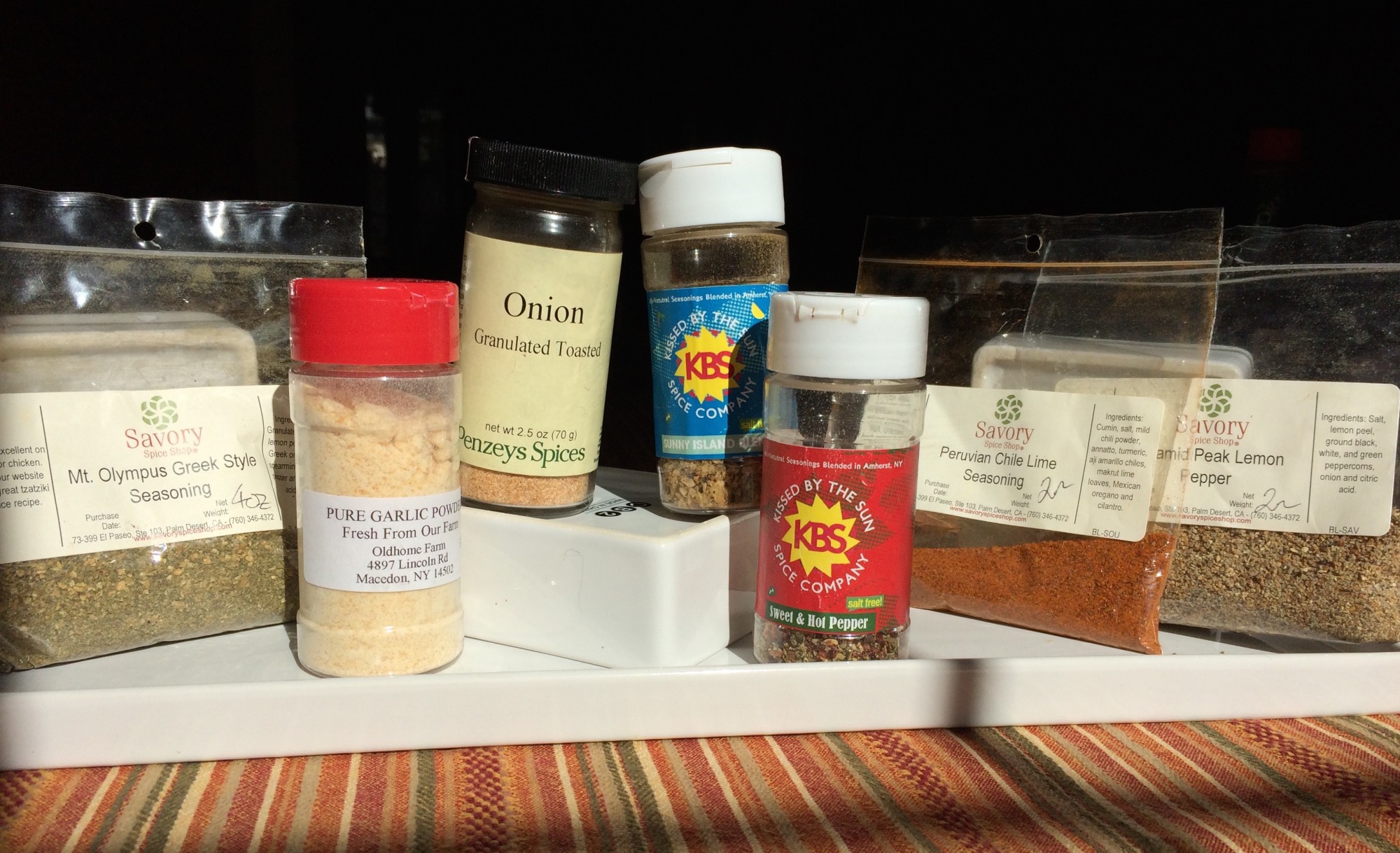 I use them to liven up rice, eggs, potatoes, dressings, pasta, soup, etc. Often I pour a little in a shallow bowl and add olive oil and then use it to dip bread. During the summer I often turn to the fresh herbs I grow to provide flavor for my dishes but, as the growing season ends, dried herbs and spices can do the same job. Dried seasonings are more potent than fresh and the general rule of thumb is to use one third the amount you would use for fresh. So if the recipe calls for a tablespoon of fresh use one teaspoon of dried.
Do you have a favorite spice or blend that you turn to whenever you need to boost the flavor of a dish? I would love to hear what it is and how you use it!
One of my favorite types of food is Mexican or Southwestern. Burritos, tacos, flautas, tostadas, etc. are all good with me! The seasonings that go into these are some of my favorites as well. Cilantro, cumin, chipotle, garlic, onion, and lime are all good with me too! It is also very versatile because you can use beans for the protein or meat, if that is your preference. You can also make it gluten free by using corn tortillas. This week's recipe spotlights a spice blend I bought at Savory Spice, but you can substitute your favorite blend or mix some of your favorites together. For this I think a blend of dried pepper powder (mild or hot), cumin, salt and garlic would work well. Let your imagination play!
Roasted Butternut Squash and Black Bean Tacos
1 small butternut squash, diced
1 tablespoon Savory Peruvian Chili Lime Seasoning
2 tablespoons olive oil, divided
1/4 teaspoon salt
2 medium poblano peppers, sliced into strips
1 medium onion, sliced
1 recipe Smokey Beans (recipe is for black eyed peas but I used black beans for this recipe.)
1 package favorite tortillas (I use Trader Joe's Corn and Wheat tortillas)
Your favorite taco toppings such as diced tomato, avocado, cilantro, greek yogurt or sour cream, cheese, etc.
Preheat oven to 450 degrees. Place two baking sheets in the oven to preheat as well.
Toss the squash chunks with the spice blend and 1 tablespoon oil in a medium bowl. In a separate bowl toss the pepper and onion slices with the remaining tablespoon of oil and salt. When oven is ready remove baking sheets and pour the squash on one and the peppers and onions on the other. You will hear them sizzle! Place back in oven (don't forget the pans are hot!). Bake for 20 minutes, or until vegetables are softened and beginning to brown. Stir once, half way through. Keep an eye on them as the two pans may need different cooking times.
Meanwhile, prepare Smokey Beans.
After the vegetables are done, turn oven off and place tortillas shells in oven for a minute or so, just to warm them up and make them easy to fold. You can put them on a baking sheet or directly on the oven shelves.
To assemble tacos, spread the beans on a tortilla. Top with the roasted vegetables and your toppings of choice.
Enjoy!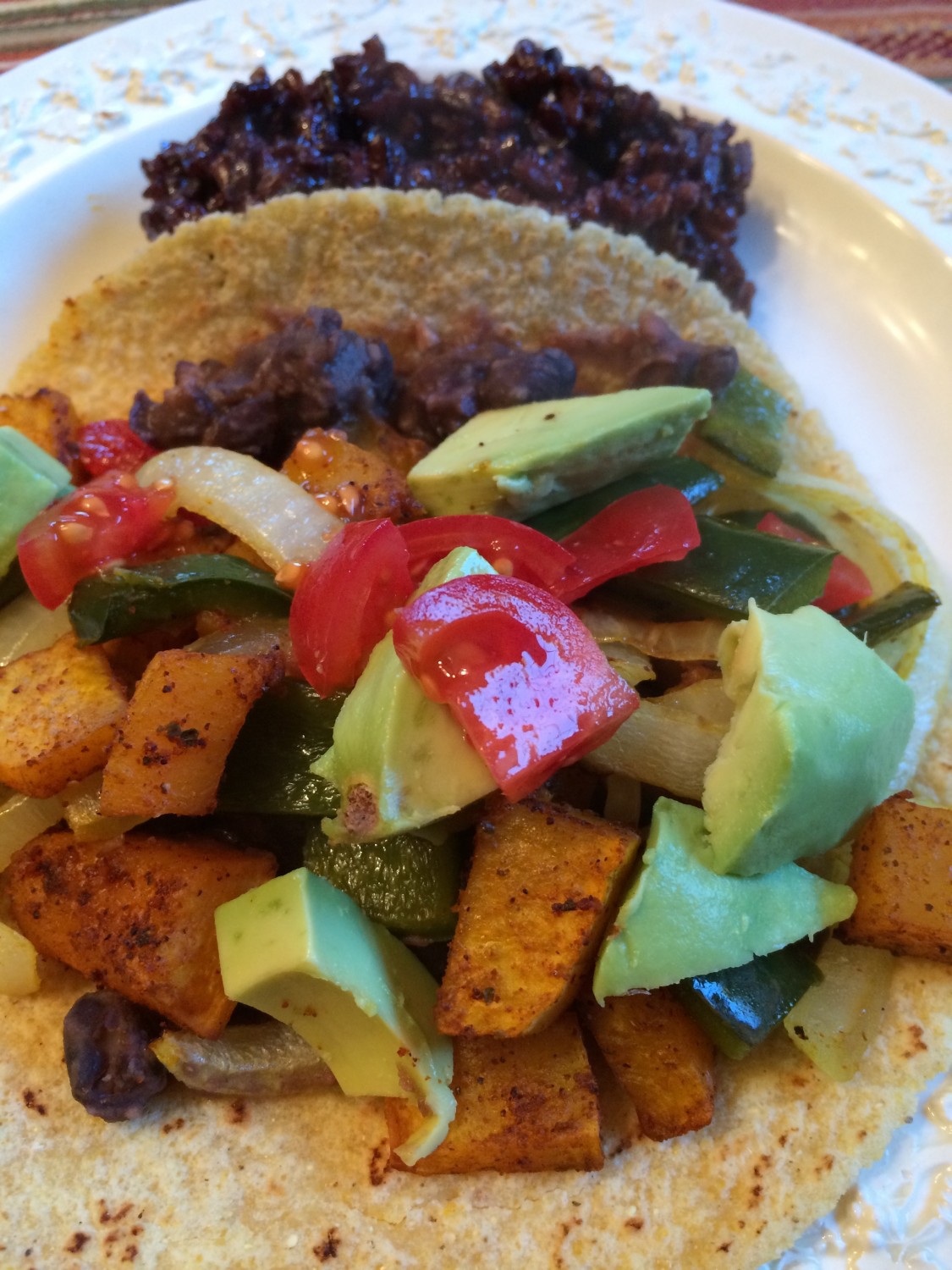 Roasted Butternut Squash Taco served with Black Rice