Have you ever had a day that no matter how well you planned nothing seems to go right? This past Saturday I got ready to make dinner and realized the recipe I planned to make was going to take a lot longer than the 45 minutes I had. I found myself standing in the middle of my kitchen wondering what to make. And just when I figured it out, another dilemma arose…
I have talked before about how important it is to read a recipe all the way through before starting. That advice would have saved me when I planned dinner on Saturday. Here is what the recipe said at the beginning for how long it would take to make: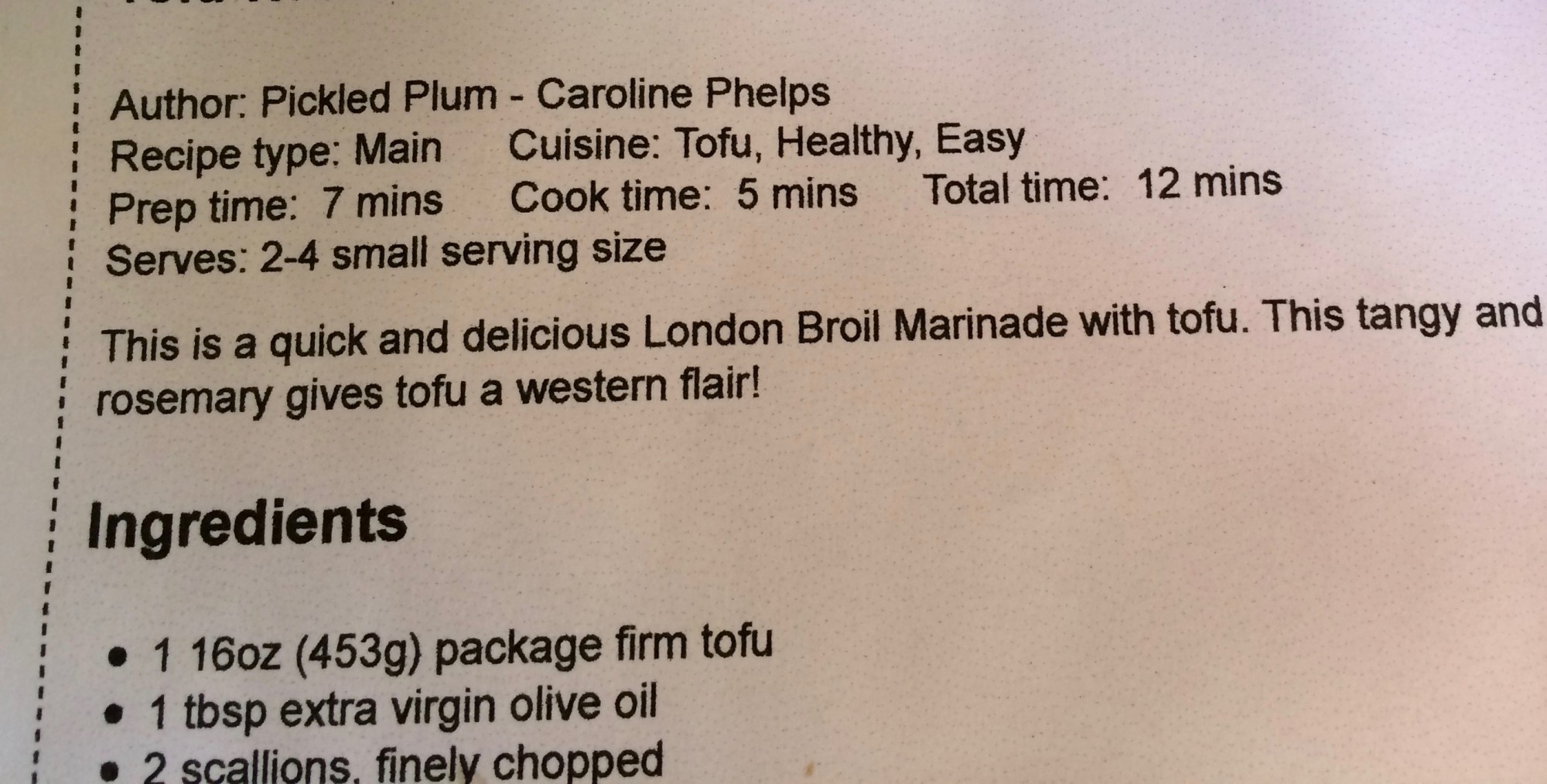 12 minutes! It was 5:15 and I wanted to have dinner at 6, so plenty of time! Then I read the recipe. The author completely forgot to mention the 30 minutes of marinade time. Ok, so now I knew what I was going to make for Sunday night, but I was stuck for Saturday. I always have staples in the cupboard that include beans, pasta, sauce and nuts, so I turned to my clipboard full of recipe ideas and pulled out a soup the sounded delicious. Here is a picture of how I stood reading it (the notations on the recipe I made afterwards):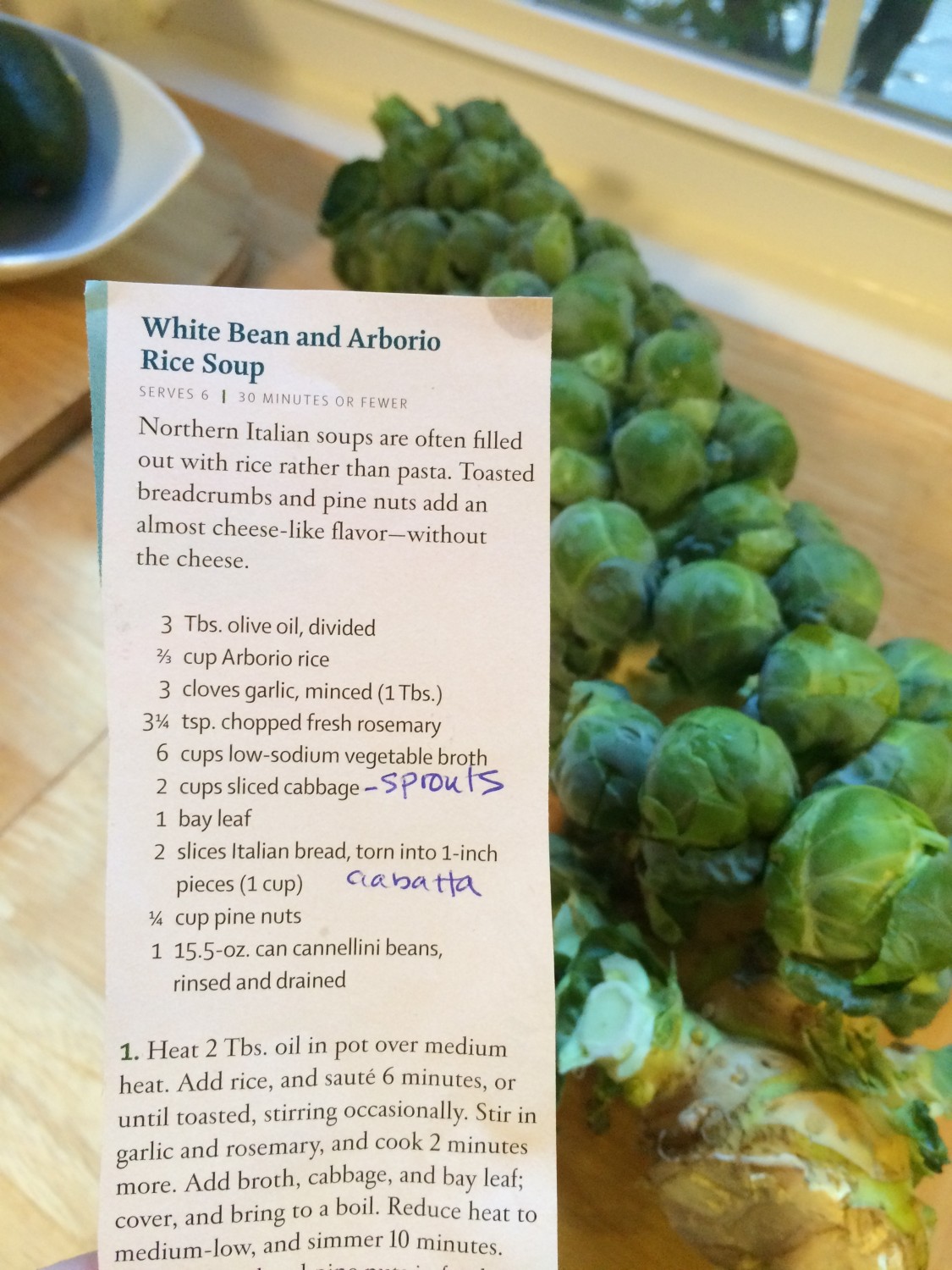 Now my problem was I did not have any cabbage. Take a look at the picture again. Do you see the stalk of Brussel sprouts in the background? I had just gotten them that morning at the Public Market. As I pondered what to use in place of cabbage it hit me! Sprouts! They can be shredded and put into soup! So I immediately got to work. I got a ciabatta roll out of the freezer to defrost, started sautéing the rice, chopped the rosemary, minced the garlic and so on. One of the last steps in the recipe was to add the white beans. I reached into my cabinet to get a can and found I didn't have any! I had garbanzos, red, black and kidney beans and black eyed peas but no white beans. As I stood there trying to figure out which beans to substitute I kept thinking how white beans and rosemary are the perfect pair and I didn't want to use any other kind of bean in the soup. That is when I realized how lucky I am to have fantastic neighbors. I quickly texted one of them and she had a can I could use! The soup was done!
Long story a little bit longer, dinner was on the table at 6:05. I served the soup with the other half of the ciabatta roll I didn't use in the soup and a glass of Pinot Noir. We loved it! My message today is, don't panic! You can put dinner on the table with a little imagination and simple problem solving. By the way, the tofu dish I made on Sunday was delicious!
Risotto and Brussel Sprout Soup
tweaked from Vegetarian Times
Ingredients:
2 1/2 tablespoons olive oil, divided
2/3 cup Arborio rice (risotto rice)
3 cloves garlic, minced
1 1/2 tablespoons chopped fresh rosemary (or 1 teaspoon dried)
6 cups broth, choose your favorite. (I used Imagine No Chicken and added 2 cups of water with a vegetable bouillon cube to make 6 cups)
2 cups shredded brussels sprouts
1 bay leaf
1/2 ciabatta roll, torn apart (1 cup) or bread of choice
1/3 cup pine nuts
1 15-oz can white bean, rinsed and drained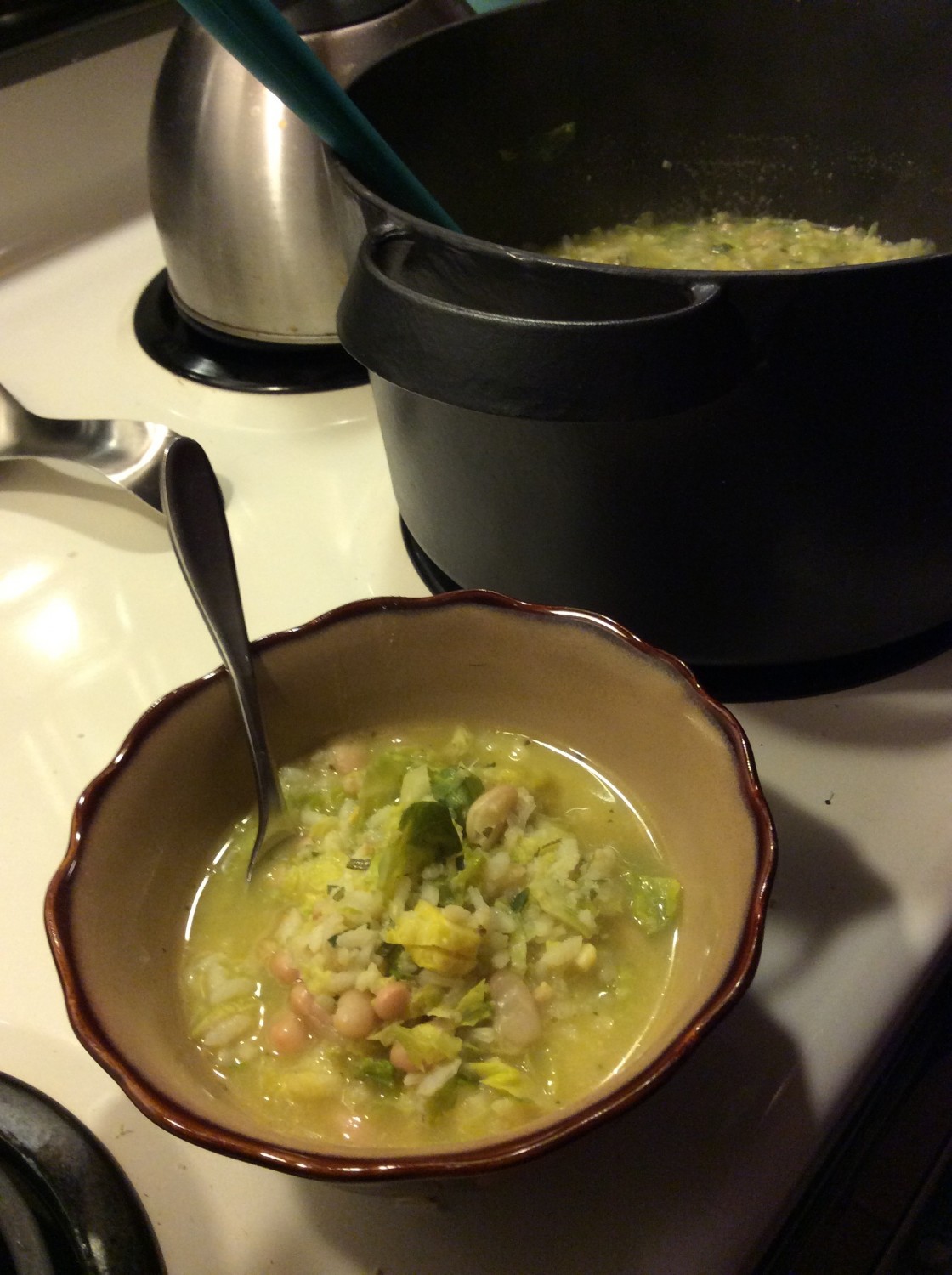 Directions:
Heat 2 tablespoons of oil in a large soup pot over medium heat. Add rice and sauté a few minutes, until rice begins to smell toasty. Stir in garlic and rosemary and cook 1-2 minutes, stirring frequently. Add broth, sprouts, and bay leaf. Bring to a boil, reduce heat, cover and let simmer 10 minutes.
Pulse bread and pine nuts in a food processor to create crumbs. Heat remaining 1/2 tablespoon oil in small pan. Add bread and pine nut crumbs and sauté until mixture becomes toasty. Remove from heat.
Add beans to soup and cook an additional 5 minutes. Add bread mixture and stir in, removing bay leaf when it surfaces.
Taste soup and add salt and pepper if needed or more rosemary.
Enjoy!
Note: Fresh bread is important to use because it won't soak up too much liquid like dry crumbs will. Also, feel free to use other nuts such as almonds or cashews or pistachios. I cut the amount of rosemary almost in half because I feel it can quickly overpower a recipe. Feel free to adjust according to your taste buds.