How do you feel when your birthday rolls around each year? Excited? Depressed? Do you wish everyone would help you celebrate or just ignore it? Do you look forward to a day devoted just to you or feel like pulling the covers over your head and sleeping the day away? I am firmly in the camp of enjoying every minute of my day!
Age has never been an issue for me. I will tell people my age and not feel a twinge of remorse. As for celebrating my actual birthday, I like to think that it is my very own holiday (well, mine and everyone else born on the same day). I love that it falls in the spring and all the flowers are starting to bloom and the trees are all budding with that beautiful spring green that only comes around once a year. The flowering trees are covered in white, purple and pink blossoms and the forsythia are bright yellow. I see all the beauty and I know it is just the beginning of great weather yet to come!
Age has definitely brought some new challenges, however. I have spent the last few days nursing a sore back. There is a knot between my spine and shoulder blade that feels like someone is stabbing me repeatedly. Can't tell you how or why it happened, but I am sure it is my body reminding me it isn't 25 anymore. It is also time to start getting all those medical tests that I always thought were for when I was "old". Occasionally I look at my nieces and think how they will outlive me and see and do things that I will never know about.
Age does bring a bigger understanding of life, though. I would never want to live through my teenage years again. All those worries about being accepted and fitting in were awful! Nor would I like to be in my twenties or thirties again. I worked way too much and had way too many first dates! My forties were great because I found the love of my life, but it was also a time of settling into a whole new life. My fifties have started well and I am pleased that I can be active and feel comfortable in skinny jeans. Once I figure out what I want to be when I grow up, life will be complete! I might save that for my sixties!
My message today is don't let a birthday bring you down. There are plenty of sayings about how you are only as old as you feel and they are true! Be good to yourself and know that each birthday that rolls around is another year you get to see the lilacs bloom, get a hug from a loved one, witness beautiful sunrises or sunsets, eat your favorite foods and participate in your favorite pastimes!
I came across this recipe from one of the newsletters I subscribe to by email. Normally I would take a recipe and use it as a guideline while putting my own spin on the dish. However, this recipe looked so good, I changed very little. I cut the cheese in half and used capers instead of olives (only because I didn't have any olives). I also cut back on the oil a bit. Also, it called for basmati rice, but I used brown rice instead.The biggest change was with the pomegranate molasses. When I first read the recipe I thought it called for pomegranate-balsamic vinegar, so I picked some up at the store. When I went to make it I realized my mistake so I mixed some of the vinegar I bought with some molasses. Okay, maybe I changed a lot! The flavors in this dish blend so well with the sweet, salty and minty all playing off each other! YUM!
Baked Rice with Feta and Mint-Pomegranate Relish
Original recipe from epicurious.com
Ingredients:
Relish: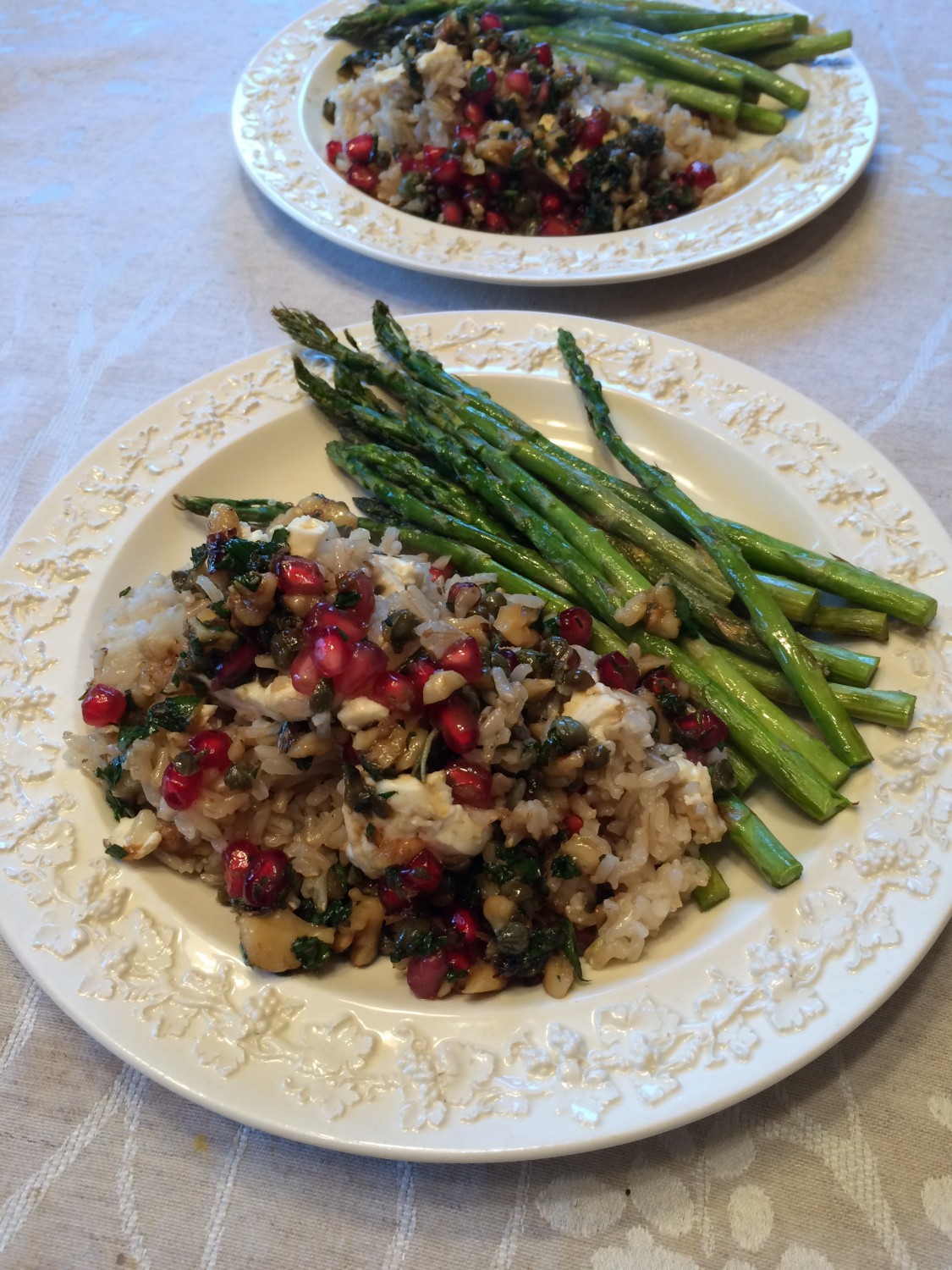 1/2 cup walnuts, toasted* and chopped
3/4 cup pomegranate seeds
1/2 cup chopped capers (or green olives)
1/3 cup good olive oil
1/4 cup chopped, fresh mint
1/4 cup chopped, fresh parsley
1 tablespoon molasses
1/2 tablespoon pomegranate-balsamic vinegar
1 garlic clove minced
Salt and pepper to taste
Rice:
2 cups uncooked brown rice, rinsed and drained
3 tablespoons butter, cut up
1/2 teaspoon salt
15-20 fresh mint leaves
3 1/2 cups water
4 ounces feta, thinly sliced*
Directions:
Preheat oven to 450 degrees. Spray a 13"X9" baking dish with cooking spray.
Make relish by mixing all ingredients in a medium bowl. Set aside for flavors to develop.
Pour rice in prepared baking dish. Stir in salt and dot top with cut up butter. Pour in water and top with mint leaves. Carefully place in oven and bake 35-40 minutes, until water is absorbed and rice is tender. Remove from oven and pluck out mint leaves. Fluff rice and top with feta slices. Return to oven for 5-10 minutes, until feta starts to melt and brown.
Spoon pomegranate relish over to serve.
Enjoy!
*To toast walnuts, place in toaster oven for 5-8 minutes, until browned or place in sauce pan over medium heat and cook until browned. (keep a close eye on them as they can go from toasted to burnt quickly).
*I recommend using French feta for this. It is worth the extra cost. As my cheese guy told me, it is the cadillac of feta!