Every once in a while we have a week where we seem to eat out more than normal. Sometimes we have a lot of dates planned together or with friends and other times life gets so busy that it is much more enjoyable to let someone else do the cooking. Unfortunately, that can lead to a week of unhealthy eating. I love when researchers come out with lists of the worst foods you can order in chain restaurants. Some seem pretty obvious. Any meal labelled as a 3 meat plate being served at a barbecue joint is probably not the healthiest choice. Then when I read it has over 3000 calories, 190 grams of fat, almost 7000 mg of sodium and 150 mg of sugar (that's over 35 teaspoons!) it really makes me crave a salad! Others might not seem so obvious. One milkshake or a pasta served with chicken doesn't sound so bad. However, when the ingredients and cooking styles get analyzed, it becomes obvious that anything can be transformed into a bad choice.
For this reason I was happy to read a recent article in Health magazine (sorry, I can't find a link online) about what nutritionists order at chain restaurants. It is possible to eat out, not sabotage your healthy eating and still enjoy the food. Many of the people interviewed stressed customizing your order. Ask for less cheese, sauce, dressing, etc., and have it put on the side of the meal. Stay away form deep fried foods and all-you-can-eat options. Do you hear me slapping my forehead and saying no kidding! What I liked about the article, is it actually gives menu choices from Cheesecake Factory, Chipotle, TGI Friday and Olive Garden. For example, at Cheesecake Factory, order a turkey burger off the SkinnyLicious Menu and substitute lettuce for the bun (I do this at Red Robin as well and substitute in a veggie burger). At Panera order off the You Pick Two menu and get black bean soup with a salad. Instead of dressing, ask for a side of avocado and lemons and make your own. At Fridays you can order a Florentine flatbread with a side of broccoli and stuff yourself for only 590 calories. At Olive Garden, the home of never ending bread sticks, choose grilled salmon, baked tilapia with shrimp or garlic-rosemary chicken. And limit or eliminate the bread sticks! These are just a few of the items listed. You can do a quick google search for what to order at a restaurant for more ideas. This is a good article and the eat this website has a lot of information as well.
With all these choices, it seems we could eat out everyday and still stick to a good plan for healthy eating. What doesn't get mentioned is that you have to have will power and control in order for this information to be effective. Often, when people go out to eat, it is easy to fall into a trap of thinking that it is okay to "treat" yourself and throw the better choices out the window. I try to think that the treat is not having to cook and being taken care of by the restaurant staff. If the french fries or Key Lime Pie are calling my name, I make sure I can share with someone or I take a quick trip to the bathroom to look in the mirror. That may sound vain, but if I get a visual reminder that I like the way I look, it helps to avoid eating food that might sabotage that feeling. Another tip is to check out the menu before you leave the house, make your choice and then don't look at the menu again at the restaurant. In other words, make a plan!
This week's recipe is a way to get restaurant style taste at home. I made this for a recent get together to watch The Masters.
Buffalo Chickpea Pizza
Serves 6-8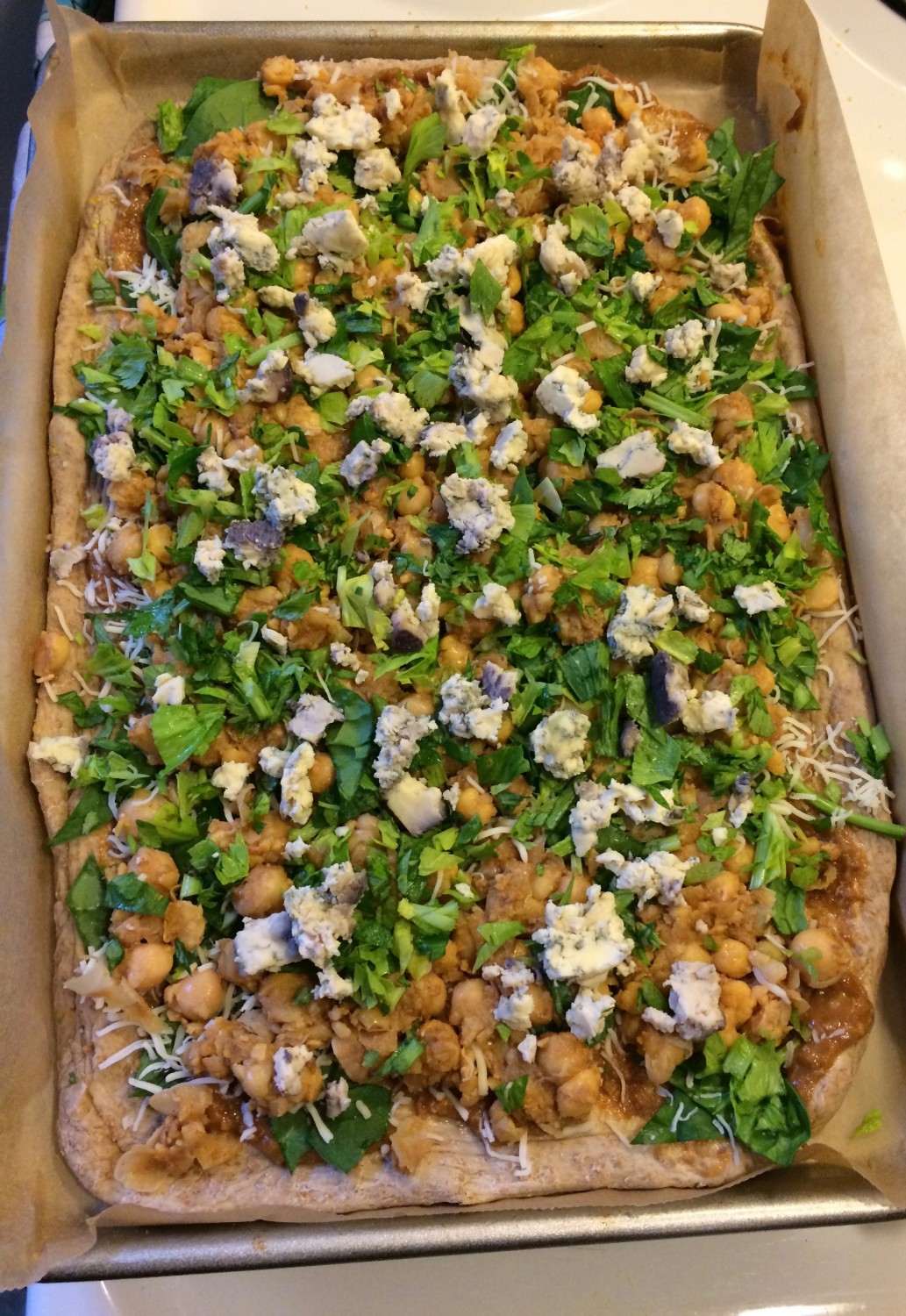 Ingredients:
1 store bought, whole wheat pizza dough (or make your own)
1 batch of Red Lentil Buffalo Sauce
1 can chickpeas, drained and rinsed
1 tablespoons olive oil
1/2 teaspoon salt (optional)
1/2 bag fresh spinach, sliced
1 cup shredded mozzarella
Leafy tops from one bunch of celery, diced
1/3 cup blue cheese crumbles
Directions:
Preheat oven to 400 degrees. Line a cookie sheet with parchment.
Roll out dough in a rectangle the size of a cookie sheet. Transfer to prepared sheet. Brush the dough with Buffalo sauce, about 1/3-1/2 cup. More or less depending on how saucy you like your pizza. Spread spinach on top of sauce and top with mozzarella.
Place chick peas in medium bowl with olive oil, salt, if using, and 1/8 cup Buffalo sauce. Mash with a potato masher or the back of a fork. You want a chunky spread so if some beans remain whole it is okay.
Spread chickpea mixture over top of mozzarella. Finish with celery tops and blue cheese.
Bake 20-30 minutes, until dough is browned on bottom. Serve with extra Buffalo sauce.
Enjoy!
Tip: when using spinach or another leafy green on a pizza, put under the cheese to prevent it from burning and to hold it in place.