Kersplat! That is the sound I made as my feet went out from under me and I ended up on my rear in the parking lot of Trader Joe's yesterday. No need to worry, I am okay. A bit sore and stiff today, but I will be fine in a day or two. It does have me thinking about how we can create our own luck, though.
Last week I talked about how it is easier to cut out 500 calories from your daily intake than it is to burn an extra 500 calories daily in order to lose weight. In other words, exercise should not be your main focus if that is your goal. However, exercise is essential to living an active, high quality life. As I picked myself up off the icy, wet pavement yesterday I did a quick assessment and realized I was a little shook up but nothing seemed broken. I am sure I looked like those videos on America's Funniest where the person's feet go up and they land flat on their butt. I had a bag of groceries in each hand and I managed to keep them intact as well. Later I realized how lucky I was not to have smacked my head on the ground or to have gotten a more serious injury. I attribute that to staying in shape. It may take me a bit longer to get everything moving well in the morning, but by having a regular exercise routine my body heals faster from curve balls thrown at it such as a fall. I truly believe if I wasn't taking care of myself physically I would probably be looking at a longer recovery. I challenge my body with regular cardio activity, I keep it strong with regular strength training and I do yoga weekly to help my flexibility and balance (no laughing!). This allows me to pop back up from a fall, brush myself off and get back to a regular routine more quickly than if my body wasn't in shape.
As we all get older it can be harder to get ourselves motivated to work out. I miss those days when I could jump out of bed and be running as my feet hit the floor. Without regular workouts, though, the day will come faster when my body will protest any amount of exercise and recovering from injuries will take longer. 50 is approaching fast for me, but I refuse to use that as an excuse. I want to maintain a high quality of life, therefore I will continue to create my own "luck" by keeping myself strong. And maybe invest in some boots with better traction!
I certainly don't want anyone to get hurt, but please remember that taking care of yourself physically is an important part of staying healthy and getting back to healthy when you get derailed. You might think you will be happier sleeping in or skipping a workout, but you never know when you will need your body to react and exercise will help prepare it.
Falling on ice just makes me more exasperated with the cold! This week's recipe has a little tropical flair to it to help me think of warm weather! Break out your George Foreman grill to make these. You will need to start this a couple hours in advance to allow time to marinate.
Portobello and Pineapple Teriyaki Burgers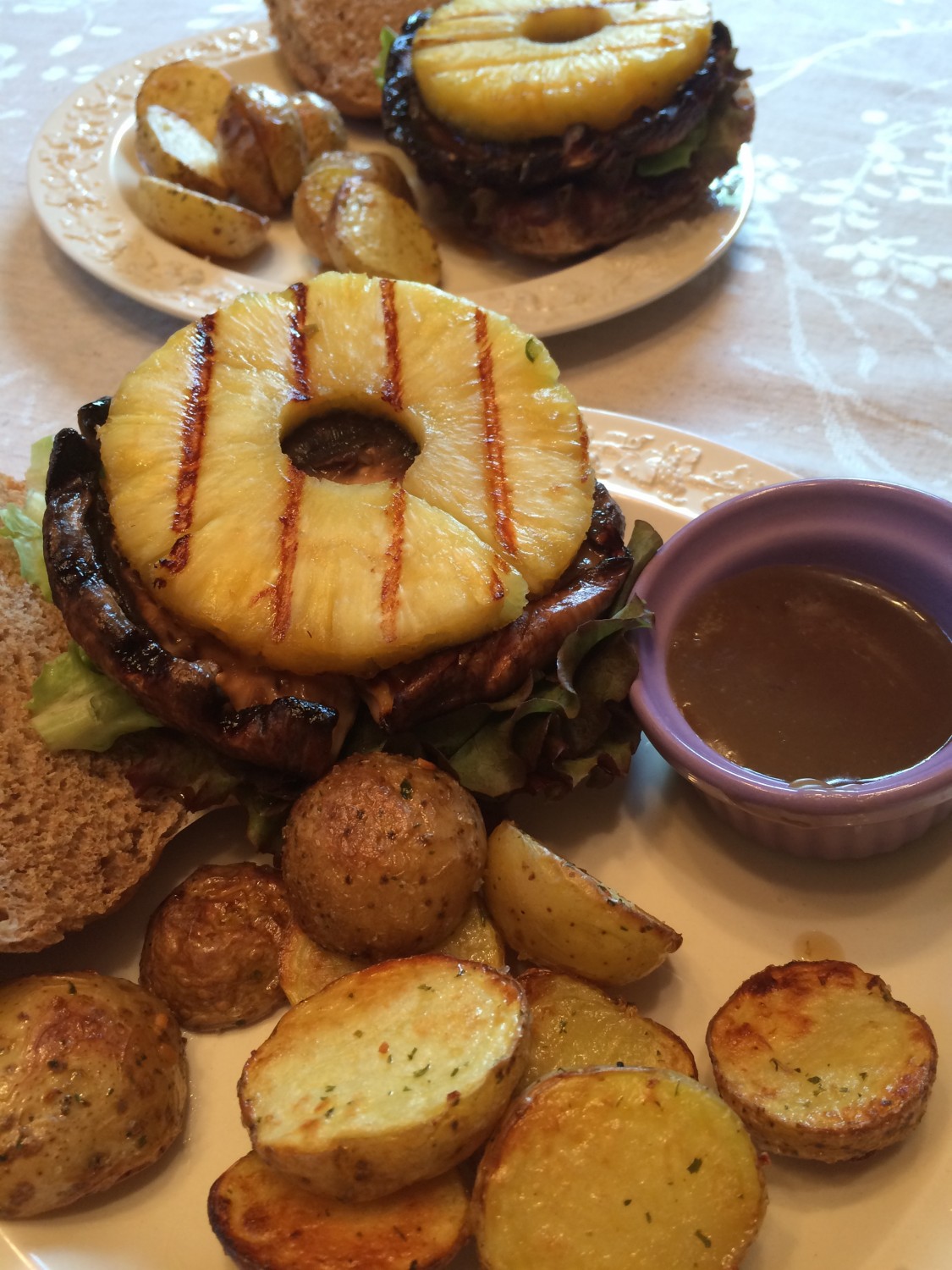 from Whole Foods
4 (5 to 7 inch) portobello mushrooms, stemmed
1 (20 ounce) can pineapple rings, juice reserved (look for all natural, no extra sweetener)
3 Tbsp soy sauce, tamari or Braggs Amino Acids
2 Tbsp light brown sugar
1 Tbsp finely chopped garlic
1 Tbsp grated fresh ginger
1 Tbsp toasted sesame oil (I use a little less as this is a strong oil. You can sub your favorite flavored oil if you prefer)
1/4 cup water
1 Tbsp cornstarch
4 whole wheat hamburger buns, toasted
Lettuce for dressing the burgers
Using a small spoon, delicately scoop out and discard the dark brown gills from the underside of each mushroom. Wipe them gently with a moist paper towel to remove any remaining dirt then transfer to a wide, shallow baking dish along with the pineapple rings.
Put 3/4 cup of the reserved pineapple juice, soy sauce, sugar, garlic, ginger and oil into a small bowl and whisk to make a marinade. Pour marinade over mushrooms and pineapple, cover and set aside, turning occasionally, for 1 to 2 hours.
Grease the grill plates on a counter top grill, such as George Foreman. (You could also do these in a grill pan on the stove). Meanwhile, drain leftover marinade from mushrooms and pineapple and transfer to a small saucepan; bring to a boil over medium high heat. In a small bowl, stir together water and cornstarch, then whisk into marinade and boil until thickened, about 1 minute more. Set aside.
Working in batches, grill the mushrooms and pineapple, gently flipping once, until hot throughout and tender, 3 to 5 minutes a side. Transfer to buns, top with lettuce and serve with teriyaki sauce on the side.
Enjoy!