Feeling a little sluggish? Maybe a little irregular? Perhaps your insides feel out of sorts? Perhaps you need to try a detox diet! The claims are astounding! Clean out your liver and colon! Get rid of all the toxins you are ingesting and breathing! Feel like a new person with improved energy and attitude! Lose weight and feel better! Seems like a no-brainer, right?
Screech! That is the sound of me putting my brakes on and looking into the idea of detoxing your body with certain foods or products. I read a bunch of articles to learn more and found some interesting information. The reality is, your liver and colon do not need detoxing. The way they work involves chemical reactions that result in eliminating any poisons that have entered your body. Toxins do not get stored nor do they build up in either organ. Manufacturers who tout that our colon has toxic sludge sitting in it for weeks, months and years have apparently never consulted with a doctor. Millions of colonoscopies are done every year. There is no documented proof or evidence of deposits of toxic sludge. And our livers? Unless you are abusing your body with drugs and alcohol your liver will do its job of converting bad stuff into a form that your body can excrete. (By the way, the medical term of detoxification refers to recovery from drug and alcohol abuse). In other words, our colon and liver are doing the job they were designed to do.
So what can you do if you recognized yourself when reading my first paragraph? There is no denying that what we put in our bodies can seem toxic because it might leave us feeling less than wonderful. It would be awesome if we could just take a supplement or go on a kale juice diet for a week and clean out our insides. The problem is if you don't change how you were eating to begin with, you will end up right back to feeling less than wonderful. One sentence I read hit home:
"The ultimate lifestyle 'detox' is not smoking, exercising and enjoying a healthy balanced diet."
Catherine Collins, NHS Dietician in Great Britain
Yep, everything we already know and I try to encourage in this blog. Americans seem to love magic bullets (and I don't mean the blender by that name, although it is pretty amazing). Convenience and ease seem to trump healthy and nourishing. It is a constant battle for me because going out to eat or buying Cheez-Its are two of my favorite things! But I have to balance them out with eating whole, unprocessed foods that supply my body with the nutrients it needs to work it's best. Like I keep saying, if you aren't planning to be healthy and have a high quality of life, what are you planning?
I encourage you to do your own research on this as well. Three articles I found helpful are here, here and here.
This week's recipe is perfect for Cinco De Mayo or anytime you are craving Mexican (which is everyday in my household). It was delicious and made from whole foods! I used corn tortillas that had the fewest ingredients to make the tostadas.
Chipotle Roasted Sweet Potato and Black Bean Tostadas
recipe from Connoisseurus Veg
Ingredients:
For the Chipotle Roasted Sweet Potatoes
•1 large sweet potato, peeled and diced into ½ inch cubes
•1 tbsp. olive oil
•1 tsp. chipotle chili powder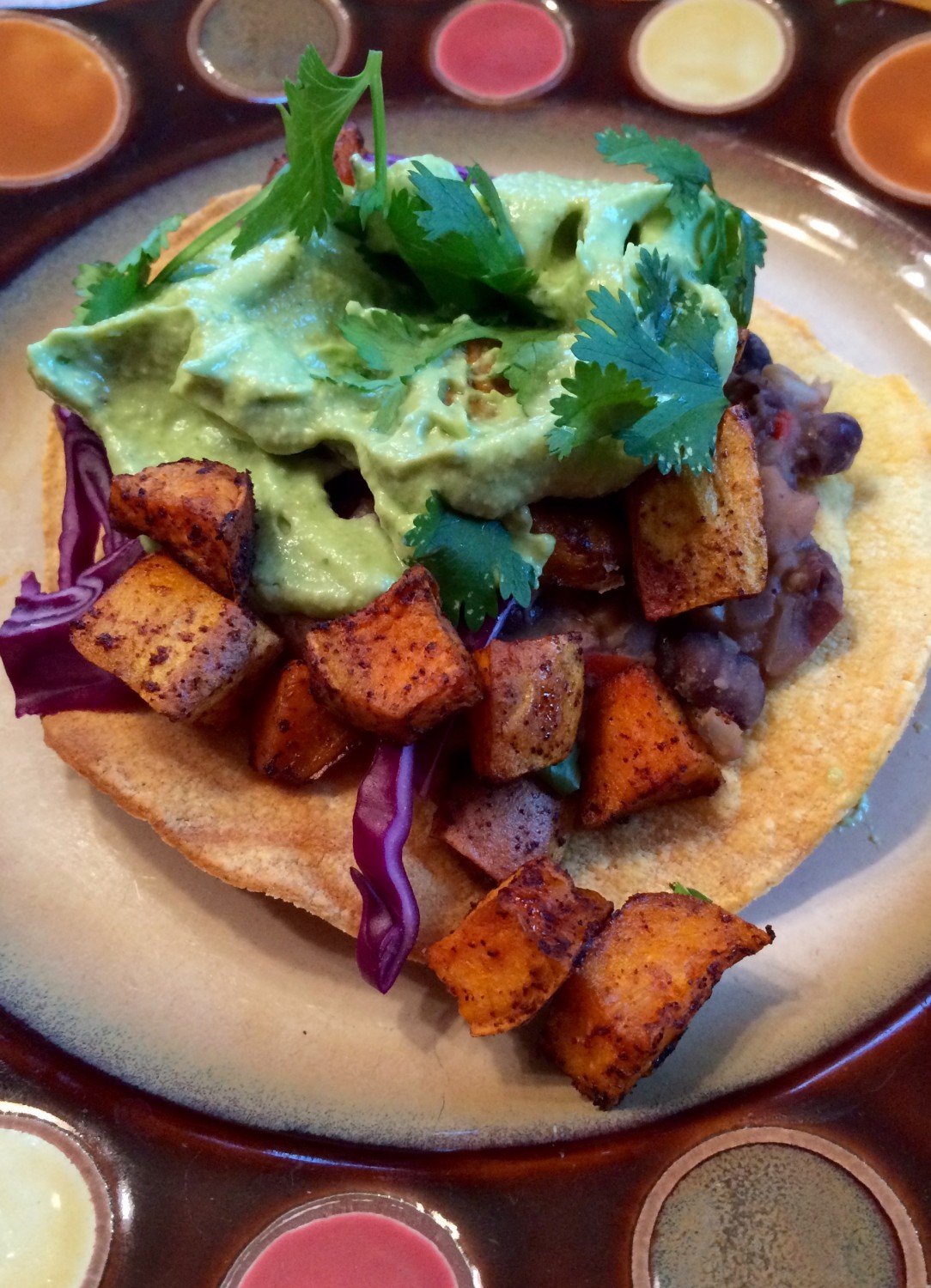 •¼ tsp. salt
For the Avocado Lime Crema
•1 ripe avocado
•¼ cup unflavored soy or almond milk
•¼ cup fresh cilantro
•2 tbsp. lime juice
•¼ tsp. salt
For the Tostadas
•6 corn tortillas
•2 tsp. olive oil
•few dashes salt
For the beans, I used my recipe for Smoky Black Eyed Peas and substituted Black Beans
Favorite toppings, such as lettuce, cabbage, cilantro, jalapeños, etc.
Directions:
1. Make the Chipotle Roasted Sweet Potatoes:
Preheat oven to 400º. Line a baking sheet with parchment. Toss sweet potatoes with olive oil, chipotle chili powder and salt to coat. Arrange in an even layer on baking sheet. Bake until tender and lightly crispy on the outsides, about 25 minutes, tossing halfway through.
2. Make the Avocado Lime Crema:
While sweet potatoes roast, place all ingredients in blender or food processor bowl and blend until smooth and creamy, stopping to scrape down sides of bowl or pitcher as needed.
3. Make the Tostadas:
Brush both sides of tortillas lightly with olive oil and place on baking sheet. Sprinkle lightly with salt. When your sweet potatoes have about 10 minutes of cook time left, place baking sheet into oven. Cook until tortillas are slightly darkened and crispy, about 10 minutes, turning once halfway through.
4. Assemble Tostadas:
Place tostada on plate and spread with black beans. Top with sweet potatoes, avocado crema and toppings of choice.
5. Enjoy!