So this happened yesterday: I turned 50. I have never been one to obsess about my age or milestone birthdays. As matter of fact, I love my birthday. It is my day, my very own holiday (well mine and every other person born on May 3rd). It is amazing to me how quickly I seemed to get to 50, though. I honestly feel like college graduation was just a few years ago. Writing this blog gives me an opportunity to reflect on how much I have learned about myself and others, some of which I have shared with you.
How often did we hear our parents, aunts, uncles, grandparents, etc. tell us our whole life was ahead of us when we were in our twenties? I find myself saying the same thing to my nieces! The truth is, the future was really scary to me back then. I never trusted my decisions. I was what you would call book smart. Yes I could ace a test and write an essay, but relationships, job hunting, socializing and other real world situations made me cringe. My self confidence was non-existent and heaven forbid I if I ever had to talk about myself. I never felt like I fit in with any group. Now, after 30 years of living I finally do feel like I have my whole life ahead of me! I can look in the mirror and say I am looking great for a 50 year old! I have started my own business. I have a handsome husband that I still feel giddy about when I look at him. I've joined some different groups that correspond with my interests. I take care of myself and my body by exercising and eating healthy (most of the time). I have accepted myself as someone who will never have a ton of close friends, but I do have a handful of people I consider dear friends. I am a homebody who likes to spend an afternoon or evening reading a book or doing a jigsaw puzzle rather than go to a movie or a bar. But every once in awhile I do like to get out. To sum up, I am me.
Okay, that sounded a little corny, but what I have come to realize is that now is the best time of my life. I have the chance to be myself and do what I want to do instead of what I think I have to do. Now if I can only figure out what I want to be when I grow up!
I would love to hear from you about anything you have learned as the birthdays go by. What has changed in your way of thinking as you have gotten older? Please share with the rest of us!
After that navel gazing, here is a simple recipe that works great as a pasta sauce, a base for pizza, a base for soup, a topping for potatoes or grains or as a side dish. You can add vegetables or different seasonings or even substitute a different hearty cooking green, such as escarole, bok choy, kale, etc. In other words, make it your own!
Sautéed Leeks
Ingredients:
3 medium to large leeks
2 tablespoons olive oil
2-3 cloves of garlic, minced
1 cup broth*
2 tablespoons butter
Salt and Pepper to taste
Directions:
Chop off and discard roots, outer leaves and dark green parts of the leeks. Slice white and light green parts on a diagonal. Place in a large bowl full of water and swish around to separate dirt from the leeks. Let dirt settle to bottom of bowl and then scoop leeks out using a fine mesh strainer and place on clean kitchen towel. Pat leeks mostly dry.
Warm olive oil in a large sauté pan over medium heat. Add garlic and cook, stirring frequently, until softened, about 1-2 minutes. Add leeks to pan, stirring to coat with oil and garlic. Cook until leeks start to wilt a little, about 3-5 minutes.
Add broth, butter and salt and pepper and stir. Raise heat to high to bring to a boil, then lower heat, cover pan and allow to simmer about 20 minutes, stirring occasionally.
Leeks are done when you taste them and they seem like they melt in your mouth!
Add any seasonings, herbs or extra cooked vegetables desired.
Enjoy!
*If you would like to make this into a soup you can cook it in a dutch oven and add extra broth. Potatoes are a great addition to leek soup. Chop them into bite size pieces and add with the broth.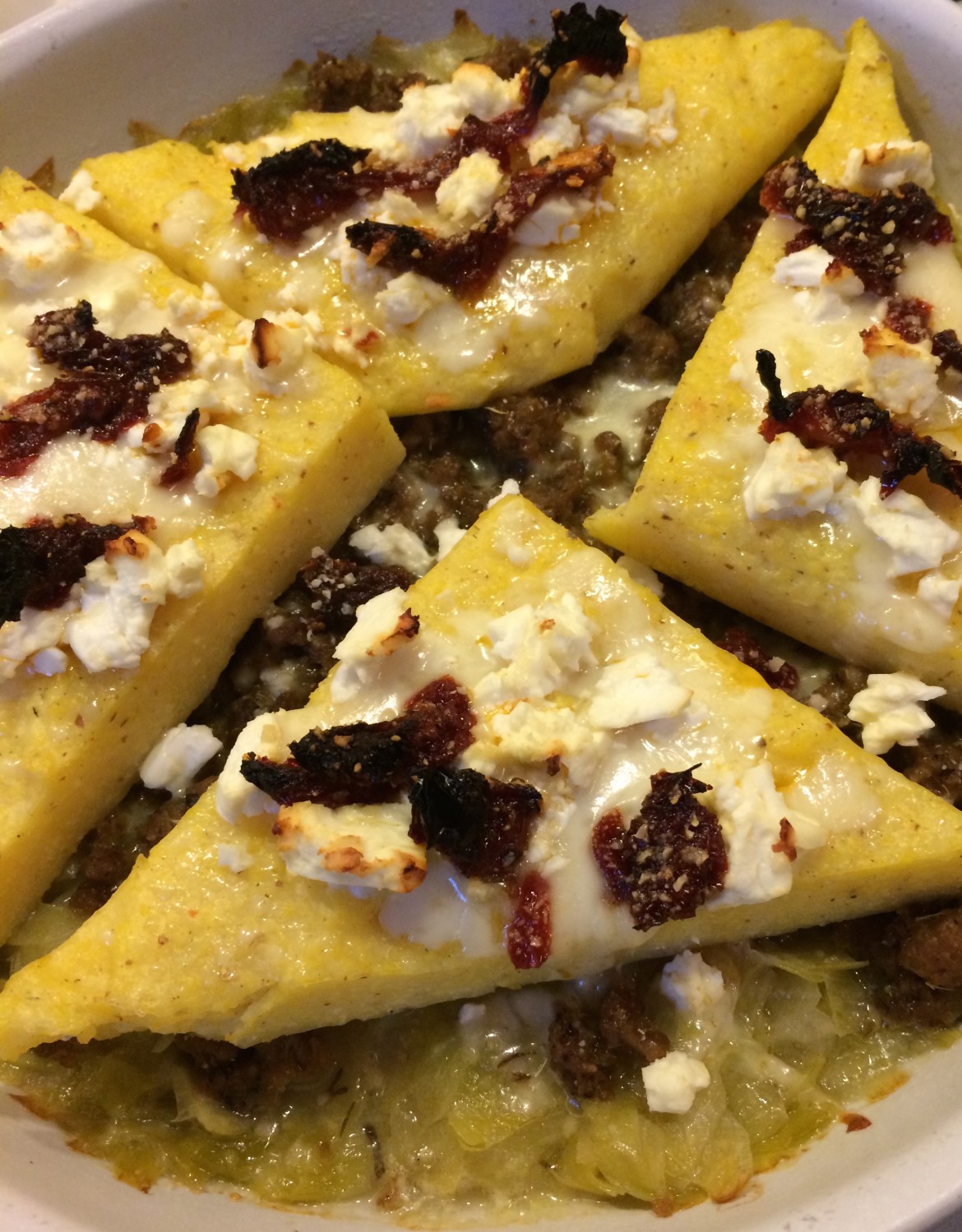 Baked polenta on sauteed leeks with veggie sausage, feta and sundried tomatoes