I am reminded occasionally that being vegetarian is still considered different from many people's idea of normal. This past week it happened twice.
The first one was when I was chatting with a vendor at the public market whom I have gotten to know over the years. He asked me how the "vegetarian thing" was going. Then he asked if I thought it was going to "stick." I think he was being a bit facetious because we both laughed, but it was an interesting question. Many people remember the exact date or year they chose to be vegetarian, but I don't. I know it was in the late 80's, after I graduated from college and that is as exact as I can get. Still, 25+ years later, I think it is sticking!
The second time was at an event I attended. You know the ones where you pick between entrees, usually red meat, fish or chicken. A vegetarian option is sometimes offered as well, which is what I had that night. I was the only one at my table eating the vegetable stack and someone noticed and was quite surprised to find out I am vegetarian. She asked me many questions about what I eat and was genuinely interested in what I had to say. I always feel bad when people try to justify to me why they eat meat, which is what ended up happening. She told me when she doesn't eat meat for a day she doesn't feel well the next day. I asked her what she was eating and the reply was macaroni and cheese. I quickly figured out why she didn't feel well the next day! Processed carbs with high fat and no lean protein . Yep, your body will not be happy! The point I try to make to people, both in person and through this blog, is that it is your choice what you put in your body. If you are picking wisely, your body will function at it's best. It doesn't matter to me if it is plant or animal based since that is a personal decision. While we were discussing my eating habits (by that time more people at the table had joined in) I heard a familiar comment. Most women tell me the could easily be vegetarian (or eat fish every day) but their families would not tolerate having no meat to eat. I always find this kind of strange because if they are cooking a delicious, meat-free meal, why would their family object?
I think it goes back to my original statement that eating vegetarian is still a very different idea of normal for many people. As with any lifestyle change you need to completely alter your way of thinking to be successful. It has been so long since I stopped eating meat that it is second nature to prepare meatless food, but when I first went vegetarian it involved a lot of research and work. Today there are many more recipes and options available. If you would like to try to cut down on your consumption of animal products, google Meatless Monday. You will find 950,000+ entries, including one on Wikipedia. Mark Bittman has written a book called VB6 that provides recipes and advice for eating vegan everyday before 6:00 pm. No one has to give up meat if they don't want to. However, I feel there is a real interest in the thought of eating less meat when I get so many comments and questions just because I get a vegetarian dinner at a function. I hope some of the recipes I have provided help you see that it is possible to prepare a vegetarian meal that does not consist only of vegetables and a bowl of rice or pasta (which is often what I end up with at events).
Which brings me to this week's recipe. It is super yummy and looks impressive for family or guests. Remember, you can use whatever herbs you prefer or have on hand. The leftovers were great the next day!
Sweet Potato, Chick Pea and Fresh Sage Tarts
Recipe from The Humane Society Meatless Monday Newsletter (sign up here), courtesy of Annie Shannon
Ingredients:
2 medium-sized sweet potatoes, sliced thin (try using a mandoline for uniform thickness)
1 small red onion, chopped large
1 can garbanzo beans, drained and rinsed
2 sheets prepared puff pastry sheets, defrosted
3 tablespoons olive oil
1 tablespoon + 1 teaspoon soy sauce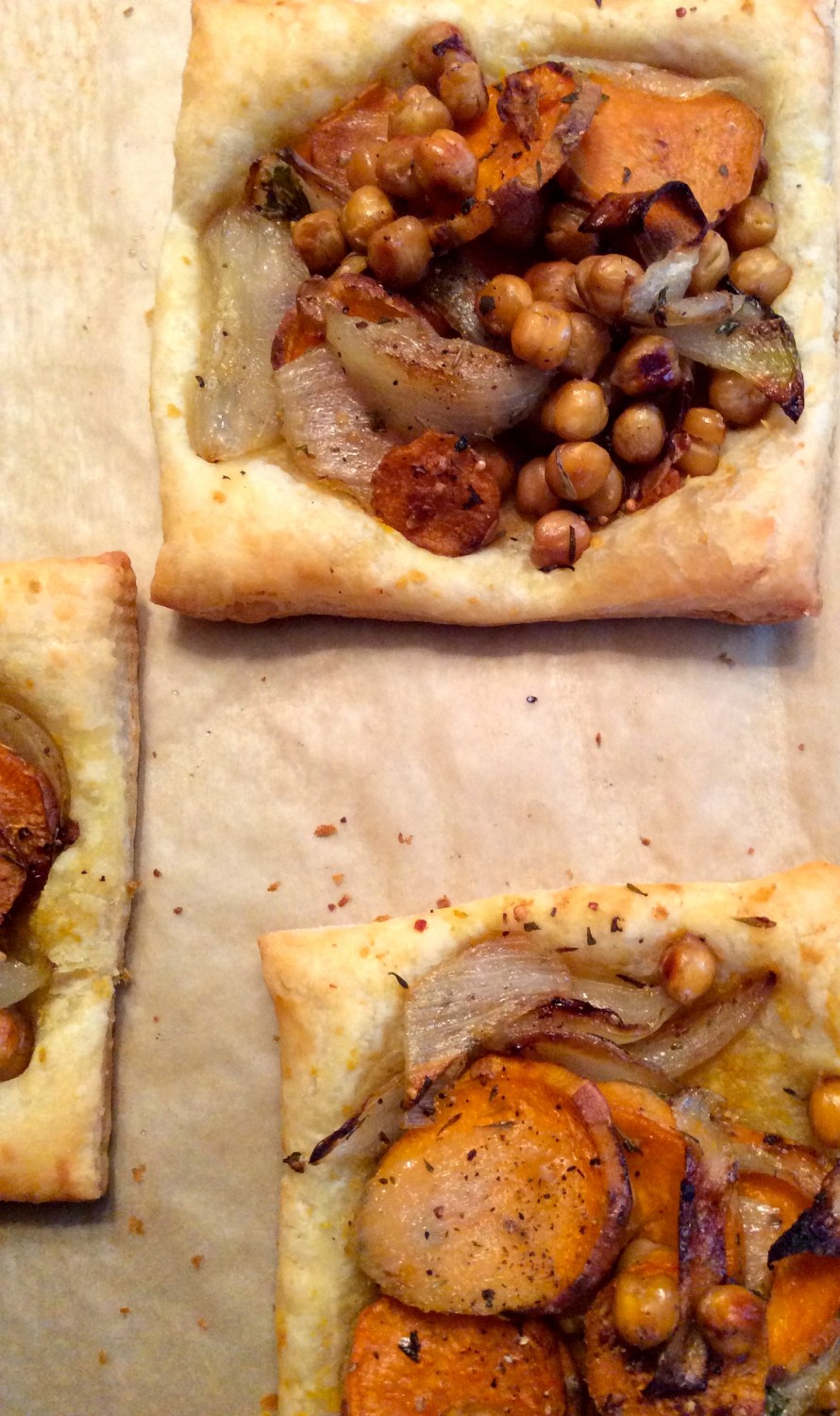 1 teaspoon thyme
1 teaspoon rosemary
1 teaspoon crushed mustard seeds
Pinch of celery seed (I used celery salt)
2 tablespoons olive oil
1-2 tablespoons nutritional yeast
5 whole fresh sage leaves, chopped
2 pinches of crushed black peppercorns
Preparation:
1. Preheat oven to 400 F. Line a baking sheet with parchment paper. You may need two sheets so as not to crowd the vegetables.
2. In a large bowl, whisk together your oil, soy sauce, thyme, rosemary, crushed mustard seeds and celery seeds. Then, toss your sweet potato slices, onion and beans in the mix until everything is lightly coated.
3. Pour your vegetables, beans and oil onto baking sheet(s) and spread it out to make an even layer. Place in oven to bake for 15-20 minutes, depending on thickness of the potatoes. Potatoes are ready to be removed from the oven when they are tender enough to be pierced all the way through with a fork, but not so soft that they break apart.
4. While your potatoes are baking, unfold your puff pastry sheets. Using a wheel pizza cutter, slice each sheet into 4 equal square portions, for a total of 8 squares. Place the puff pastry on a baking sheet lined with parchment paper.
5. Brush olive oil over your puff pastry squares, leaving about a half-inch clear along the edge to create a crust. Then, sprinkle a generous amount of nutritional yeast over the oiled part of your puff pastry.
6. Spoon out an even portion of vegetables and beans onto each puff pastry, fanning out the ingredients for presentation. Sprinkle chopped sage leaf and a pinch of peppercorn on top of each tart.
7. Put your tarts in the oven to bake for 15- 20 minutes, until your puff pastry fluffs up and is a soft golden brown. Serve warm.
8. Enjoy!