Sorry for not writing last week. The weather was so amazing I played hooky! I hope you all got a chance to get outside and enjoy the warm up we experienced. Spring is definitely on its way!
This week I want you to try an experiment. Find a picture of yourself and another with some female friends. First look at the other women and think about what you notice. Most of us will see beautiful ladies with gorgeous smiles, hair, outfits, etc. Now look at the picture of you. What do you notice? The majority of us will look at our perceived flaws and declare it a bad picture. I fall into this trap all the time. I look at my thighs, to see how fat they look. Then I look at my stomach to see how much it is sticking out. Lastly I look at my eyes to see how noticeable it is that they are two different sizes. If I am in a picture with other women, I find myself comparing my looks to theirs, and usually I come up lacking, in my opinion. As I write this I am making myself sad at how easily I tear myself down. Why do I do this? Unfortunately, I know I am not alone when it comes to finding fault in myself. Women are masters at self criticism.
Recently we were at a large event. There were two women sitting at the table with my husband and I and they decided to take a picture of themselves to post on social media. I am not exaggerating when I say they took about 25+ pictures before declaring they had one that was acceptable to both of them. After each shot they examined themselves and decided if they looked okay. It became somewhat of a joke, but in reality it was a commentary on how we can easily pass judgement on ourselves to the point of absurdity. We all want to put what we think is our best face forward and then sit back and hope we get people to click on the like button. I was reading an advice columnist recently who dealt with a question of how to get a friend to remove an unflattering picture of the writer from the friend's timeline. Who judges if it is uncomplimentary? I would be willing to bet that the friend thinks the picture she posted was a good picture of her friend. (If you have friends who are purposely posting bad pictures of you, unfriend them!). We have all heard the expression that we are our own worst critic and social media gives us too many opportunities to judge ourselves. The advice columnist wrote that the direct approach is best, just ask your friend to take the picture down. I think better advice would have been to ask the friend why she chose that particular picture. She might think it is an awesome picture because it captured her friend in a natural, beautiful way.
Next time someone tells me they like a certain picture of me, I am going to try to take my own advice. Rather than roll my eyes and declare how awful I look, I am going to ask why she thinks it is a good picture. Seeing myself through another set of eyes might help me see myself in a better way. No more self criticism!
One thing I think I am good at is cooking and this week's recipe was fun to make! I came across this article in Eating Well magazine about new uses for your muffin tin and knew I had to try a couple of the recipes. This is my version of their lasagna. You could adapt your favorite lasagna recipe. The secret is using wonton wrappers to stand in for regular noodles.
Asparagus-Mushroom Mini Lasagnas
Ingredients
*Béchamel:
1 cup milk (I used half 'n half just to use up a container I had, but regular, skim, or non-dairy would be fine)
1 tablespoon white whole wheat flour
3/4 cup grated parmesan cheese
Fresh grated pepper to taste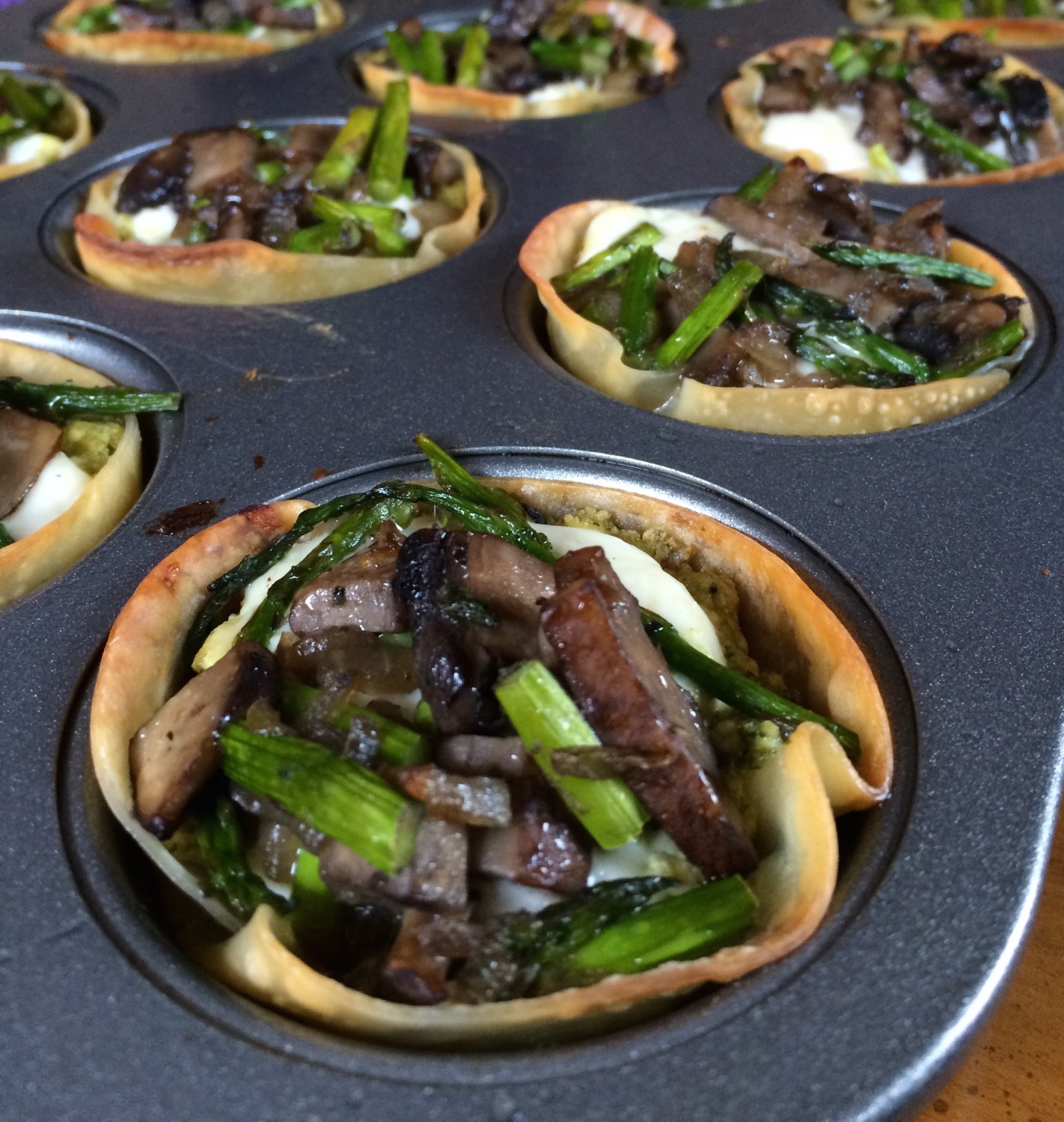 Vegetable filling:
1 tablespoon olive oil
1/2 medium onion, diced
3 medium portobello mushrooms, cleaned, gills removed and diced
1/2 bunch asparagus, sliced into 1" pieces
*Tofu Ricotta:
1 14-ounce block extra firm tofu, pressed
1 1/2 tablespoons tahini
1/2 teaspoon granulated garlic
1/2 teaspoon granulated onion
2 tablespoons chopped basil
3 tablespoons nutritional yeast
Pince freshly grated nutmeg
1 1/2 tablespoons miso
1 tablespoon fresh squeezed lemon juice
salt and pepper to taste
1/4 cup prepared pesto
24 wonton wrappers, square or round
Directions
Spray a 12 cup muffin tin with nonstick cooking spray. Preheat oven to 375.
Whisk milk and flour in a small sauce pan. Bring to a boil over medium-high heat, whisking constantly, until bubbling and thickened. Remove from heat and stir in parmesan and pepper.
Heat oil in large skillet. Add onions and cook until translucent, 3-5 minutes. Add mushrooms and cook until juices release and evaporate, 5-10 minutes. Add asparagus and cook an additional 3-5 minutes, just until asparagus softens. Remove form heat.
Crumble tofu in a large bowl and mix in all ingredients until well incorporated.
Press a wonton wrapper into the bottom of each muffin cup. It should come about halfway up sides. Spoon about 2 tablespoons of tofu mix into each cup. Spread about 1 tablespoon of béchamel sauce on top of each. Top with 2-3 tablespoons of vegetable mixture. Place another wonton over top and press down. Sides should come up over top to create a cup. Repeat layering of fillings. Coat tops with cooking spray.
Bake until tips of wonton wrappers are golden brown and filling is bubbly, about 15-18 minutes. Let cool a few minutes and loosen with paring knife.
*To make completely vegan, skip béchamel.
*I ended up with extra tofu ricotta which I used in a frittata later in the week. You can also use regular ricotta. You will need about a cup. Simply mix with the prepared pesto (I used some I had made last season and frozen).