Funny story: I wrote a post last week and forgot to actually post it! I even told people I needed to get it up and then got distracted by life. Today I opened up my file to write a new post and saw last week's sitting there! Just another example that no one is perfect and even the Task Tamer can slip up on tasks!

We all know the saying it's not what you say, it's how you say it. I believe this to be true in plenty of situations. But there are many times that what you are saying is as important as how you are saying it. There are a lot of studies that show how teachers talk to students can make a difference in self esteem and confidence. For example, a good grade on a math test by a boy can elicit "good work" and a girl may hear "how lucky you are." See the effect this can have on each student?
Turns out this can happen in the gym with an instructor. A trainer who comments on working out to improve appearance or weight may not be as effective as one who emphasizes abilities or getting strong. When we work out in a crowded gym or in a class and we are feeling self-conscious, we can fall into the trap of comparing ourselves. I often hear women commenting on how they cannot lift as much as someone else, or can't keep up with another person. But if they stop and focus on themselves, they would see they are doing wonderful things because they showed up and they are giving it their all. Every body and everybody is different and we have to do what is best for our own body. That is what makes us strong. Once we feel that inner strength, our beauty will shine through, stronger than ever! And if you are working out with a trainer, this is where the focus needs to be, not on appearance or comparisons.
This week's recipe is for Reuben style tempeh. I posted this recipe a few years ago and it is still one of my favorites. A quick note about tempeh: unlike tofu, it needs to be cooked before you eat it. You can steam, broil, sauté or bake it, but make sure you do something. Otherwise it is super bitter! I make sandwiches with this recipe or serve it over a grain or salad. Reubens are usually served with sauerkraut, which I don't like, so I caramelize onions for a topper. Then I make my own thousand island style dressing with vegenaise, chopped pickles, capers and tomato paste.
Reuben Style Tempeh
Recipe from Vegetarian Times
Ingredients:
8-oz. pkg. tempeh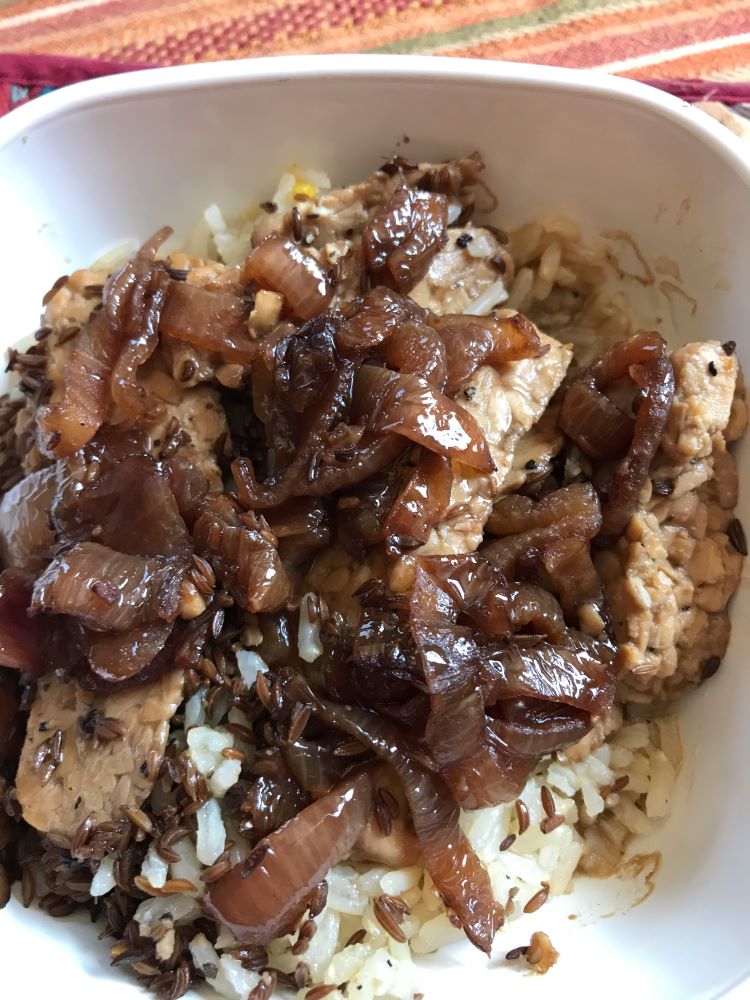 1 1/2 cups water
1/4 cup apple cider vinegar
2 Tbs. tamari or low-sodium soy sauce or amino acids
1 Tbs. black peppercorns, coarsely crushed
1 Tbs. caraway seeds
1 Tbs. olive oil
Directions:
Using sharp knife, cut tempeh crosswise at 45-degree angle into 1/4-inch-thick slices.

Combine water, vinegar, tamari, peppercorns and caraway seeds in large saucepan. Add tempeh, spooning mixture over it. Bring to a boil, reduce heat to low, cover and cook 15 minutes. Remove pan from heat.

Heat 1 Tbs. oil in nonstick skillet over medium-high heat. Reduce heat to medium, and add tempeh slices, in batches if necessary. Cook until golden brown, 3 to 4 minutes per side.