Last week I told you I had written a post the week before and forgot to post it after I finished writing. I got to thinking about how often I get distracted and lose track of what I am doing. The other day I was reading the paper on my iPad and it pinged with a reminder to take my medication (yes, I have to have my technology remind me). I got up and went into the kitchen and noticed some dishes needed washing, so I did them. The medicine remained untouched. I went back to the paper and noticed the reminder again. I got back up and grabbed my empty french press and coffee cup to bring out to kitchen where I decided to wash them. The medicine remained untouched. I went back to the paper and saw the reminder again! Third time was the charm. Another day I was doing laundry. I put baking soda in with my detergent instead of fabric softener. I buy a 13 pound bag at BJ's, but it requires scissors to open. It took two trips upstairs to get the scissors because the first trip morphed into me grabbing towels to wash instead of the scissors. It then took three trips before I remembered to bring them back upstairs even though I left them sitting on the dryer in plain sight and each time I said to myself "this time I will remember them." But then I got distracted hanging up clothes, putting another load in the machine, scooping cat litter….
Should I be worried? I like to think it is just because I am trying to be too efficient by combining errands, activities or tasks. I often use Siri to remind me about things I need to remember to do later. She will set my alarm and turn it off for me. She will pull up recipes or tell me how many tablespoons in a half cup. She will put things on my calendar and remind me of appointments. She will even tell me the traffic or weather. Perhaps I have become too reliant on my technology? Would using my brain to do all these things be better? I wish I had an answer. The worst, though, is when I get a phone call, say from my dad, that I don't answer. She will then make a "suggestion" that I call him back. Guilt trips from my phone!?
I am going to go with the theory that since I am using a tool to keep me on track, that makes me an excellent problem solver who seems really savvy! Yes, I am sticking to that story! Now if I could just get her to find my glasses!
I came across this week's recipe in an email from Bon Appetit. The picture looked so amazing I had to give it a try. My husband and I loved it! It will definitely be in our regular rotation. It tasted great that night and the left overs were delicious as well, warmed up just to room temperature. Also, the tempeh would taste great on pasta, in a sandwich or on a salad.
Peanutty Noodles with Tempeh Crumbles
Ingredients: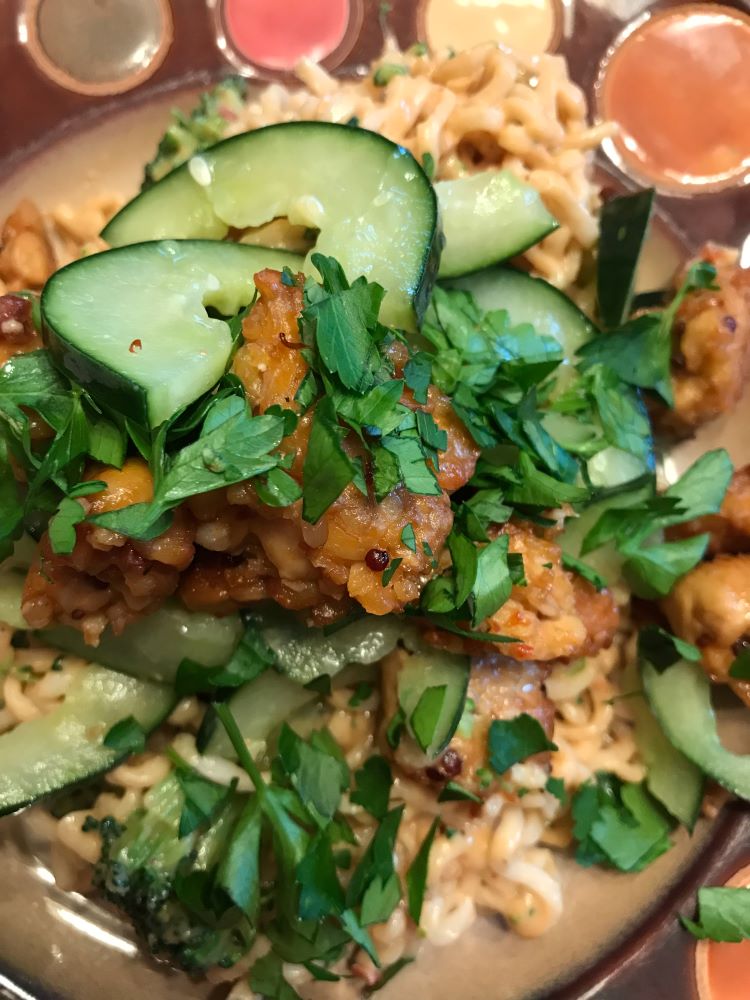 1 English cucumber, (or a regular cucumber, seeded) sliced into thin half moons

Salt

Juice from 3 limes (about 4 tablespoons)

A neutral oil, such as grapeseed, for sautéing

1 1/2" piece of ginger, peeled and finely chopped or minced

2 garlic cloves finely chopped

1/2 cup creamy peanut butter (Try to stick to one that has only peanuts as an ingredient, stirred well)

2 tablespoons + 2 teaspoons amino acids (or low sodium soy or tamari)

1 tablespoon samba oelek or Sriracha

2 teaspoons honey

8 oz package tempeh, crumbled to largish pieces

10 oz curly noodles

small head of broccoli, cut into bite size pieces

cilantro or parsley for garnish
Directions:
Place cucumbers in a colander and sprinkle with salt. Massage them, gradually increasing pressure, to release most of liquid and make pliable. Drain excess liquid and place in a small bowl with 1 tablespoon lime juice. Toss to coat.

Heat small amount of oil in large skillet. Cook ginger and garlic for 1-2 minutes, stirring constantly, until soft and golden. Transfer to a large bowl and add peanut butter, 2 tbsp. lime juice, 2 tbsp. amino acids, 2 tsp. sambal oelek, 1 tsp. honey and 1/3 cup hot water. If sauce seem too thick, add a tablespoon of water at a time until sauce seems thin enough to use to coat noodles.

Using same skillet, heat a generous amount of oil to coat bottom of pan. Add tempeh pieces and cook, stirring occasionally, until browned all over. Meanwhile, in a small bowl whisk together 1 tbsp. lime juice, 1 tsp sambal oelek, 1tsp. honey and 1 tbsp water. Add to browned tempeh and stir occasionally, until liquid evaporates and tempeh is coated and crispy. Set pan aside, off heat.

Meanwhile, cook noodles, according to package. Add broccoli pieces during last few minutes of cooking time. Drain and return to pot. Pour peanut sauce in and stir well, using tongs. If it seems too thick, add some hot water.

To serve, place noodles on a plate and top with tempeh and cucumbers and parsley. Provide aminos and hot sauce to use as desired.

Enjoy!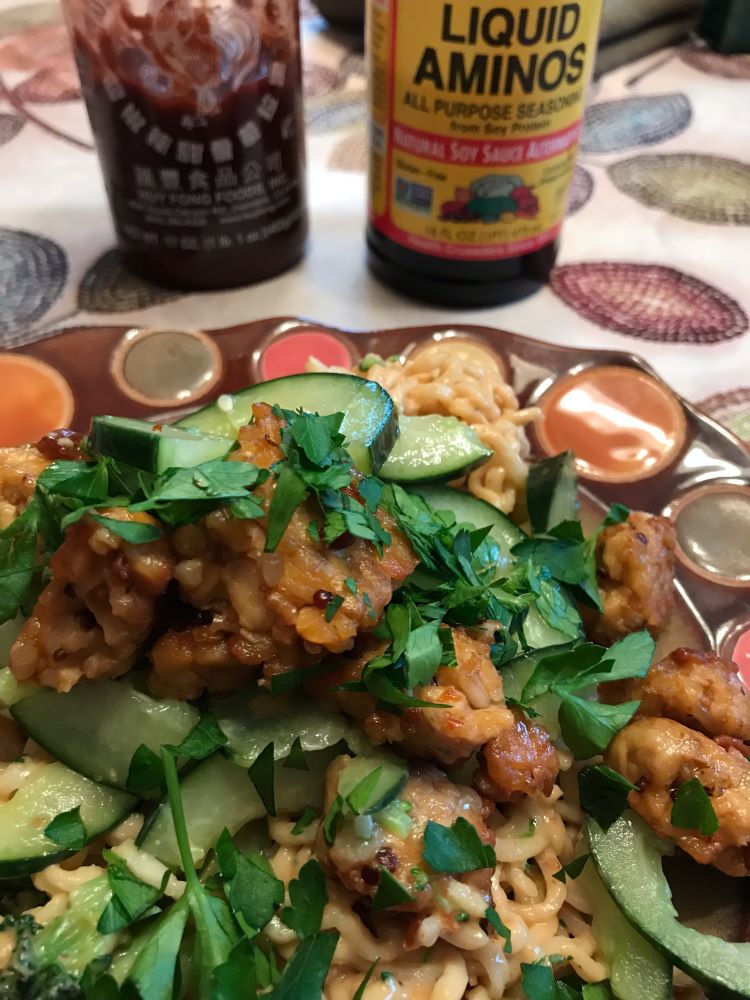 Make sure you have extra aminos and Sririacha for serving!